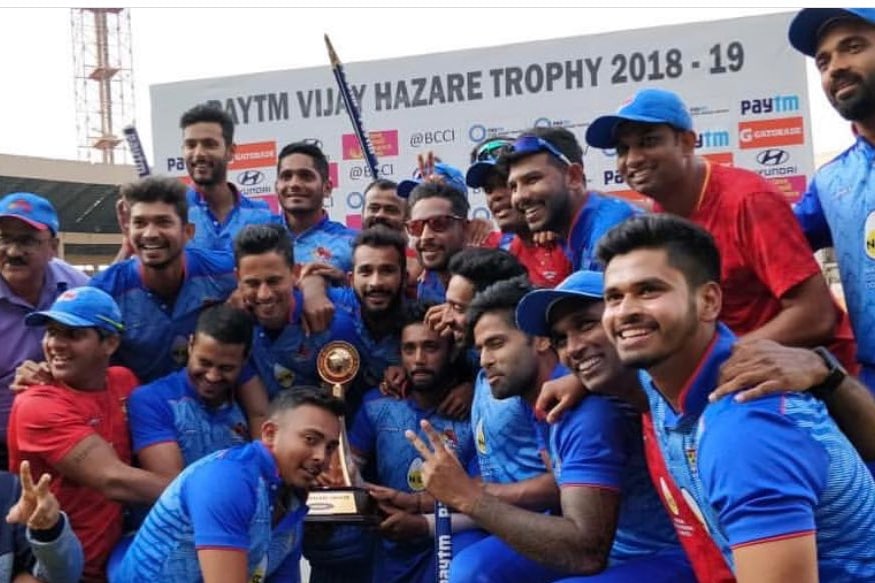 The Duleep trophy marked the beginning of the Indian 2019-20 domestic season, which continues with the Vijay Hazare Trophy, the 50-over tournament.
The tournament starts on September 24 and runs till October 25. The group stages will be played across four cities, with Bangalore, Baroda and Jaipur hosting the Elite matches while Dehradun hosts the Plate games.
FORMAT
A total of 38 teams will participate in the tournament, split into four groups - Elite Groups A, B and C, and the Plate group. Each team will play every other team in their group before the knockouts begin. Groups A and B have nine teams each while Group C and Plate have 10 teams each.
Group A: Mumbai, Saurashtra, Andhra, Chhattisgarh, Hyderabad, Karnataka, Jharkhand, Goa, Kerala
Group B: Delhi, Odisha, Maharashtra, Punjab, Vidarbha, Haryana, Baroda, Himachal Pradesh, Uttar Pradesh
Group C: Gujarat, Bengal, Tamil Nadu, Rajasthan, Jammu & Kashmir, Tripura, Madhya Pradesh, Services, Railways, Bihar
Plate Group: Nagaland, Manipur, Meghalaya, Sikkim, Arunachal Pradesh, Mizoram, Assam, Uttarakhand, Puducherry, Chandigarh
The top 5 teams from Group A & B, top 2 from Group C and the top team from Plate group will qualify for the quarter-finals.
DEFENDING CHAMPIONS
Mumbai are the defending champions, having defeated Delhi in the final last year in Bangalore.
THE NEW TEAM
Chandigarh will play as a separate team in Indian domestic cricket for the first time beginning with the Vijay Hazare Trophy. Manan Vohra is a notable name in the Chandigarh team.
Bihar, meanwhile, have been elevated to Group C from Plate last year.
BIG NAMES
Shreyas Iyer will lead Mumbai this season, having successfully led them to the title last year.
Ambati Rayudu is back too, having revoked his retirement. He will play for Hyderabad.
The Delhi squad, led by Dhruv Shorey, has India internationals Rishabh Pant and Navdeep Saini in it. The DDCA has also said Shikhar Dhawan will feature in 'some matches'.
Tamil Nadu will be led by Dinesh Karthik. Their squad include M Vijay, Vijay Shankar and Washington Sundar.
Deepak Chahar will play for Rajasthan.
Robin Uthappa has shifted to Kerala for this season. He will lead them in the limited-overs formats.
Stuart Binny, another Karnataka player, has shifted to Nagaland.
Hanuma Vihari has been named Andhra captain, while Shubman Gill is part of the Punjab side.
BUT WILL ALL OF THEM PLAY?
India's Test series against South Africa runs from October 2 to October 23. Rishabh Pant, Shubman Gill and Hanuma Vihari are a part of the Indian Test squad, and are unlikely to be available for the entire Vijay Hazare tournament.