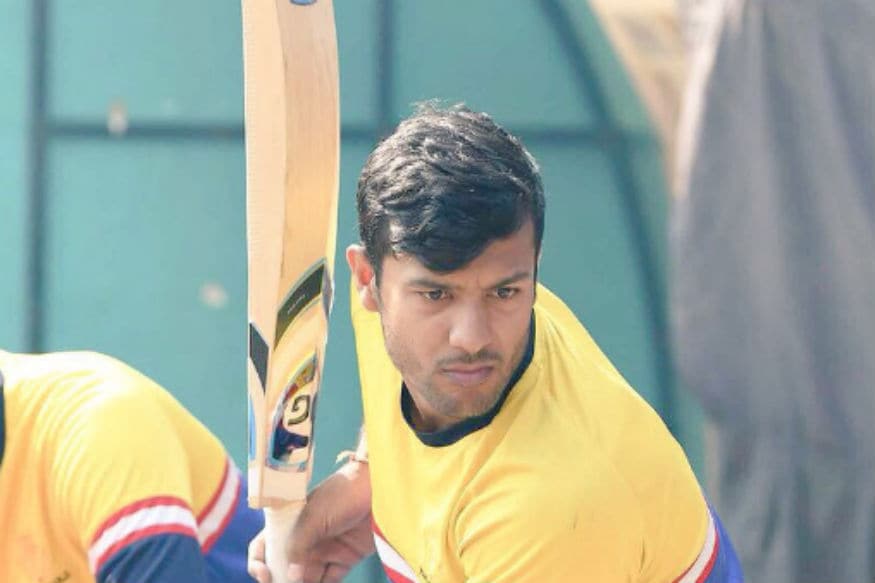 New Delhi: Mayank Agarwal will look to shrug off the disappointment of being ignored for national selection and Ravindra Jadeja would try to remain relevant in shorter formats when a formidable Karnataka take on Saurashtra in the final of the Vijay Hazare Trophy, here on Tuesday.
Agarwal, with a whopping 2,051 runs this season across three formats, was overlooked by the MSK Prasad-led selection committee for the T20 tri-nation series in Sri Lanka and Jadeja, despite being a fine limited overs cricketer, is no longer in scheme of things as far as 50-over cricket is concerned.
Mayank's mental toughness will be tested as to how he deals with personal disappointment on a day when his team will be playing the most important match of the season while Jadeja will once again be playing through pain and let his willow do the talking like it has been in the semi-finals against Maharashtra.
Despite his 633 runs (highest in the history National One Dayers) scored in the championship till date, it will be the day where his temperament will be scrutinised more than his technique. "He (Mayank) is mentally very tough and I don't think the non-selection will affect his confidence too much. Personally, I believe he missed the bus by a whisker and sooner than later, he will get his chance in the Indian team," Karnataka coach Sashikant said on the eve of the finals.
For Karnataka, it was a case of so-near yet-so-far as half an hour madness cost them a Ranji Trophy semi-final against Vidarbha. They also missed out on Mushtaq Ali finals. "We have come close but couldn't win two tournaments and we don't want to lose this one," Sasikant said.
When Saurashtra coach Shitansu Kotak was asked after semi-final about tackling Agarwal, he smiled and replied: "We have a strategy in place but obviously I am not going to tell you." However Agarwal will have some of his in-form colleagues to complement him with opener Ravikumar Samarth, skipper Karun Nair -- all of whom have been among runs.
With three all-rounders in Stuart Binny, Krishnappa Gowtham and Shreyas Gopal, Karnataka's batting order is an envy for any opposition. The pace bowling unit will have young M Prasidh Krishna trying to make a mark, having already taken 14 wickets in company of Gopal, who has 13 wickets.
His pace bowling partner will be T Pradeep, who has nine wickets this season. The unheralded pace duo along with Gopal and Gowtham have shared the white ball. For Saurashtra, Chetehswar Pujara, despite his 289 runs, will look to score at a brisk pace after his disappointing show against Maharashtra, when he scratched around for 53 balls to score 16 runs.
The batting will depend a lot on young guns Arpit Vasavada (273 runs), Samarth Vyas (296 runs) and Avi Barot (174 runs), who have all done well. Sauarshtra's biggest strength are their bits-and-pieces all-rounder. Prerak Mankad (202 runs and 3 wickets) and Chirag Jani (152 runs and 10 wickets) have made telling contributions apart from left-arm spinner Dharmendra Jadeja (16 wickets).
A bowling action similar to his illustrious senior left-arm tweaker, Jadeja's tight bowling in the middle overs has been another big plus for Saurashtra.