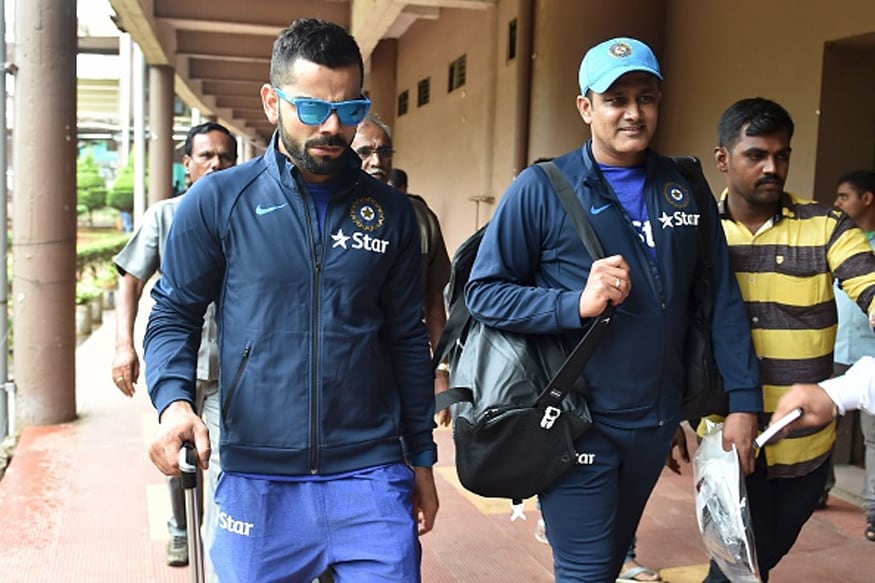 New Delhi: With the one-off Test between India and Bangladesh starting in Hyderabad on Thursday, Virat Kohli and his boys are heading back to work after enjoying a short break post their T20 series triumph against England.
Speaking to CricketNext, a member of the Indian team management confirmed that preparations for the Test starts from Monday as the boys re-group after the emphatic series win against England.
"The boys headed back home for a short break after the series win against England and they are re-grouping on Monday to gear up for the Test against Bangladesh in Hyderabad (the match will be played at the Rajiv Gandhi International Stadium in Uppal)," he said.
In fact, Test vice-captain Ajinkya Rahane even took to Instagram to post a picture of him heading for the airport on Monday morning with his kit bag showing in the background.
The post read: "Off to Hyderabad 👍👍".
Having missed the T20 series against England, not picked in the squad, Rahane will be looking to shut detractors with a quality knock in the Test match. Rahane has been working not only on his batting skills, but also has been spending a lot of time training in the gym.
Personal coach Pravin Amre revealed that spending time in the gym is just as important as working on cricketing skills these days.
"I have always believed that a fit body leads to a fit mind and that helps in making quick decisions. See, nowadays these boys are on the road for close to 200 days in a year and it is very important to stay fit so that you can adapt to the different demands. And I have always ensured that Rahane works as much on his fitness as he works on his game," he told CricketNext.
Also Read: Ajinkya Rahane Follows Skipper Virat Kohli to the Gym
The Bangladesh unit is already slogging it out in Hyderabad as they are playing a warm-up game against India A to prepare for the Test against Kohli and Co.
The warm-up game also gives the likes of Hardik Pandya, Jayant Yadav and Abhinav Mukund an opportunity to impress Kohli and coach Anil Kumble going into the Test match. While Mukund may still not make the cut as first-choice openers KL Rahul and Murali Vijay are fit, one between Jayant and Pandya might make the cut as the all-rounder.