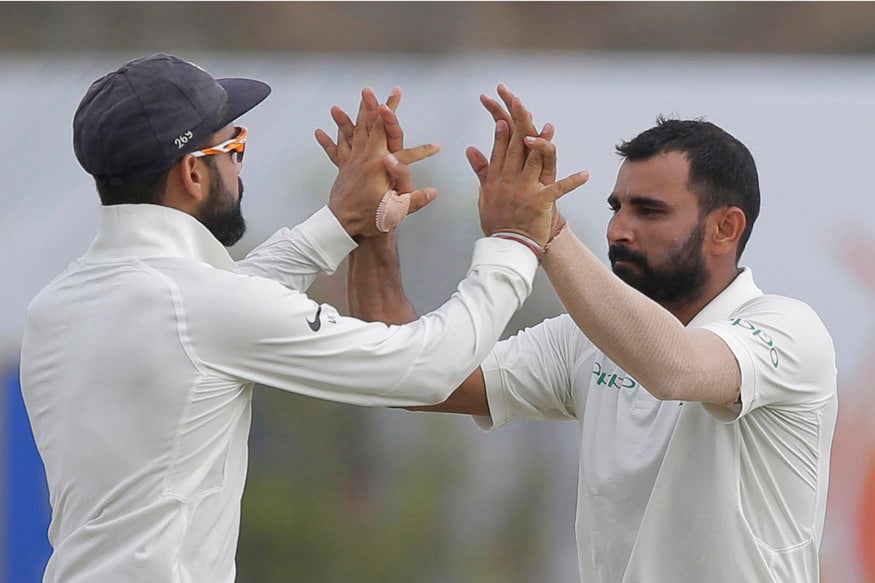 Pallekele: India captain Virat Kohli has rated speedster Mohammed Shami among the "top three fast bowlers" in international cricket right now with all the wherewithal of becoming a world beater.
Shami bowled with lot of fire taking 10 wickets in three Test matches at an impressive average of 17.70.
"I certainly rate Shami among the world's top three fast bowlers for sure. Because of his wicket-taking ability and the kind of impact he has on games. When he makes up his mind to come out and give it his 120 percent, then he can bowl like this 145, 140 clicks on a regular basis and troubling the batsmen," Kohli said at the post-match press conference.
Shami's career has been plagued by injuries but if that part is taken care of, he can be a world-class bowler consistently, feels Kohli.
"It is not just reckless bowling. So he is a quality bowler. He has all the ingredients of becoming a consistent world-class bowler, provided the fitness factor can be maintained and hopefully he is not hampered with any more injuries," said Shami.
"He is a very valuable bowler for us and when he is on song, it's delightful to watch. We all really enjoy standing on the field and watching him bowl like that. He is very special," Kohli added.
As he has waxed eloquent about Hardik Pandya, the skipper once again said that the all-rounder should be judged by his on-field performance rather than off-the field demeanour.
"Performance has spoken for itself. People might have problems with the kind of demeanour he has or the belief he carries with himself, but we certainly in the team have no doubts on that.
"We let him be who he is, we let him express himself. You know, a guy who can get a 50 and a hundred in his first three games batting at No 8 has to have something special in him," skipper's words of praise said it all.
"And the innings that he played here, after we were 320 for 6, it wasn't just mad slogging. He actually used his brain and batted with the tail, which I think is a great sign for us. All doubts aside from the outside, inside the team, we absolutely have 120 percent faith in him," Kohli stated.
For Kohli, India's bench strength has been phenomenal in last couple of years.
"Our strength in the last couple of years has been bench strength. That's why we have been able to get the results that we have because we have played different players on different
occasions, but everyone has been fit and ready to come and do the job," he explained.
"Mostly we have played people depending on the conditions where we feel they will be most effective. That depth has really helped us capitalise more situations in favour of the team and end up winning Test matches and series. That you can say has been the defining factor," he concluded.