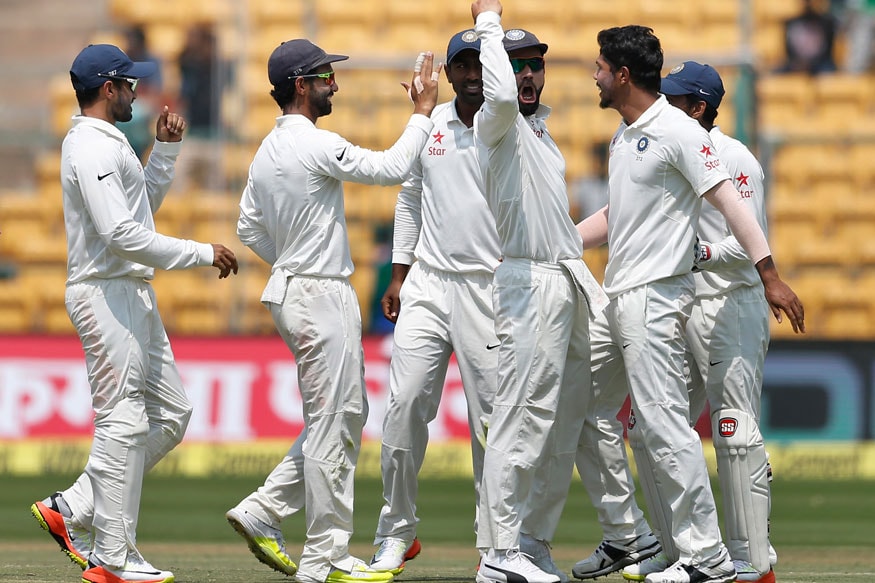 New Delhi: The Indian cricket team touched down in Capetown early in the morning on Friday, ahead of the tough tour which begins with the first Test at the Newlands Cricket Stadium, on January 5.

Skipper Virat Kohli and his troops straightaway made their way to the hotel after landing in the city. India are scheduled to play three Tests, Six ODIs and 3 T20Is in a two-month long tour that will finish on February 24.


After a long flight #TeamIndia make their way to the team hotel here in Cape Town, South Africa 🇿🇦 pic.twitter.com/lFr3ktBvlX

— BCCI (@BCCI) December 28, 2017



The team chose to relax on the first day of the tour and middle-order maestro Cheteshwar Pujara even uploaded an image on social media and his post read: "Chilling with the boys"


Chilling with the boys 😎 pic.twitter.com/PjtFWEteJx

— cheteshwar pujara (@cheteshwar1) December 29, 2017



Before boarding the flight for South Africa, chief coach Ravi Shastri had mentioned that the next 18 months will decide the course of Indian cricket, and it's future position. In the final press-conference in the Mumbai, skipper Kohli also echoed the same sentiment.

"We have got rid of all the mental pressures of touring abroad and wanting to prove to people. We are not wanting to prove anything to anyone and our duty is to go out there, give our 100 per cent effort for the country and get the result that we want to.

The skipper said that one needs to be realistic that "sometimes the team will get results and sometimes it won't". "We need to be realistic with what we are doing and that the only way we will be staying in the present and execute the things we want to. We are going there to just play cricket and it does not matter whether we are in South Africa, Australia, England or India," straight-talking India captain said.

"When you do things in conditions that are more challenging, that gives you more job satisfaction, that is for sure," the skipper spoke about the biggest incentive. Indian teams over the years have struggled with the bounce that South African pitches offer, having won only two Test matches over the years. The best result came during the 2010-11 series, which India drew 1-1.

"It all depends on the kind of mindset you get into as batsman. Any place, even Indian conditions can be very difficult if you are not in a good frame of mind, so cricket is played with ball and bat and if you are not there mentally, it does not matter the conditions you are playing in.

"You need to take up challenges mentally and then every conditions seem like home conditions. If you get accustomed to where you are going and you start feeling comfortable embracing the culture, people, it becomes easier," he explained.

First Published: December 29, 2017, 5:58 PM IST