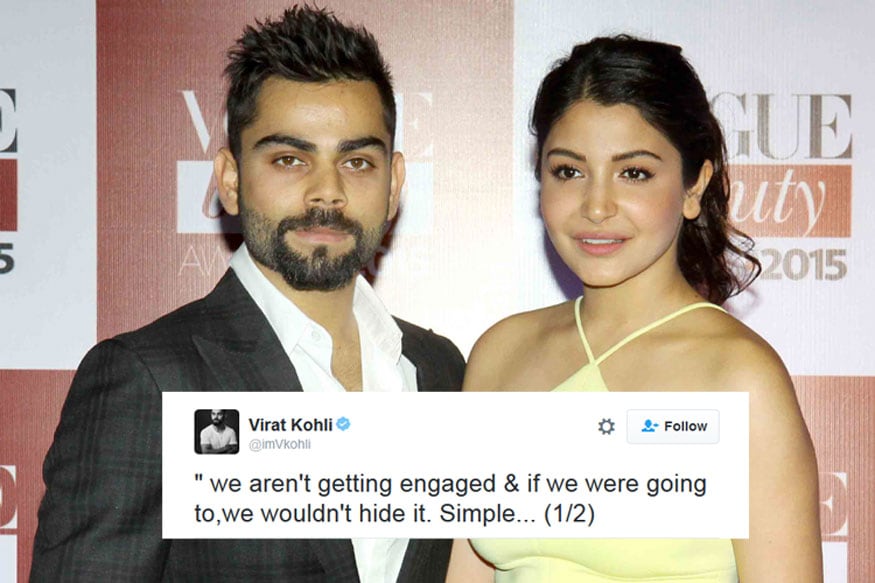 New Delhi: Indian Test captain Virat Kohli has broken his silence over the news of his impending engagement with Anushka Sharma.
Earlier, it was reported that the duo were supposed to get engaged at hotel Ananda, Narendra Nagar in Uttarakhand on the January 1.
But Kohli has ended those speculations on Twitter and denied the news.
" we aren't getting engaged & if we were going to,we wouldn't hide it. Simple... (1/2)

— Virat Kohli (@imVkohli) December 30, 2016
Bollywood superstar Anushka Sharma also gave her consent to Virat's views, retweeting the cricketer on the social media platform.
(2/2)Since news channels cant resist selling false rumours & keeping you confused, we are just ending the confusion :)

— Virat Kohli (@imVkohli) December 30, 2016
It was earlier reported that the couple were all set to get engaged in the presence of their families and close friends.
The couple are currently holidaying in Uttrakhand with their parents.
Earlier even Kohli's aunt had said she had no idea about the engagement.
Also Read: Virat Kohli, Anushka Sharma Getting Engaged? His Aunt Says She Has No Idea