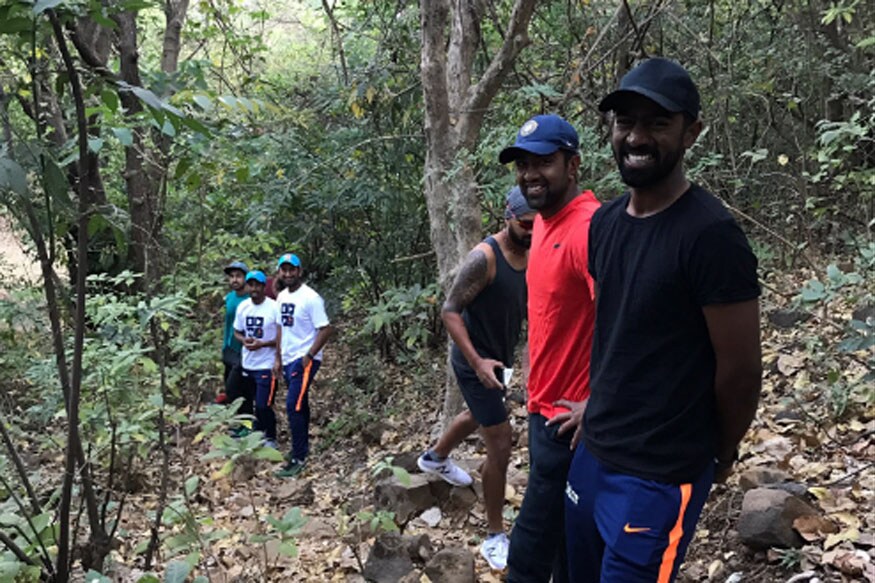 New Delhi: After levelling the four-match series against Australia in thrilling fashion at Chinnaswamy Stadium in Bengaluru on Tuesday, the Indian cricket team are taking a much-deserved short break ahead of the third Test in Ranchi.
Due to Holi festivities in the middle of the month, the penultimate match is scheduled to be played from March 16 — eight days after the second Test finished in Bengaluru.
Virat Kohli and boys are making the most of their time off from the cricket field, with couple of them even posting on social media how they are utilising their time away from the game.
Ace India spinner Ravichandran Ashwin went for trekking at an unnamed location and he was joined by compatriots Cheteshwar Pujara, Murali Vijay, Karun Nair, Wriddhiman Saha and Abhinav Mukund.
R Ashwin's twitter post read: Going away from the battle is equally important as staying in it.
Going away from the battle is equally important as staying in it. pic.twitter.com/A6EbpdUxV2

— Ashwin Ravichandran (@ashwinravi99) March 10, 2017
This is not the first time that the Indian team have gone out for a hike. After their disastrous show in first Test, Virat Kohli-led Indian contingent visited Tamhini Ghat, which is situated around 80km from Pune.
Also Read: Virat Kohli and Boys Go Trekking To Unwind After Pune Debacle
However, this time Kohli chose to head back home to 'detox' after battling hard against the Aussies. Virat's twitter post read: Detox at home. Love it.
Detox at home 😃👌. Love it 🔝💯💯 pic.twitter.com/UvgJgF5g2F

— Virat Kohli (@imVkohli) March 10, 2017
The Indian team will be hoping this short break will recharge their batteries ahead of the crucial third Test, as Steven Smith's troops have already shown they aren't here just to make up the numbers.
@media only screen and (max-width:740px) {
.quote-box{font-size:18px; line-height:30px; color:#505050; margin-top:30px; padding:22px 20px 20px 70px; position:relative; font-style:italic; font-weight:bold}
.special-text{font-size:24px; line-height:32px; color:#505050; margin:20px 40px 20px 20px; border-left:8px solid #ee1b24; padding:10px 10px 10px 15px; font-style:italic; font-weight:bold}
.quote-box img{width:60px; left:6px}
.quote-box .quote-nam{font-size:16px; color:#5f5f5f; padding-top:30px; text-align:right; font-weight:normal}
.quote-box .quote-nam span{font-weight:bold; color:#ee1b24}
}