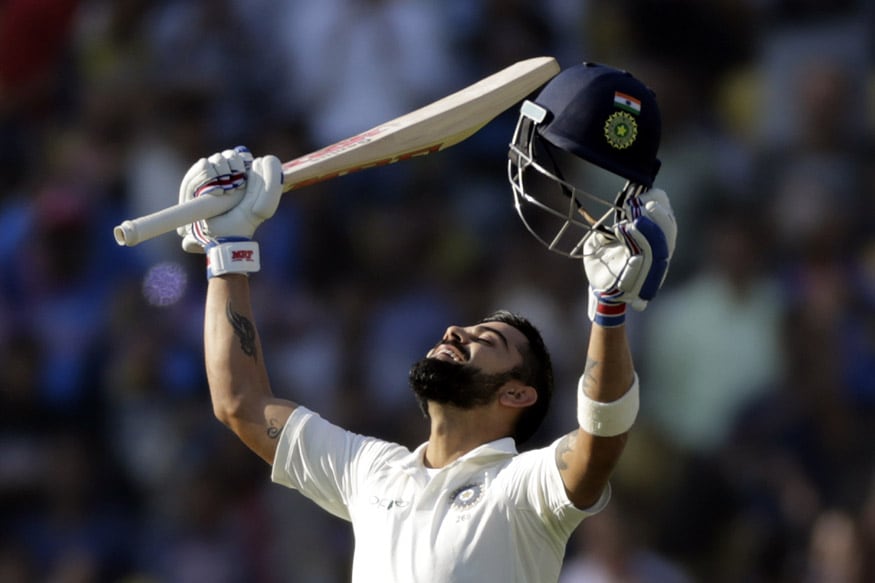 New Delhi: Skipper Virat Kohli put on a man of the match performance in the second Sri Lanka Test at the Vidarbha Cricket Association Stadium in Nagpur, as his double ton on the third day of the match guided the hosts to a mammoth win, on Monday.
Kohli struck a magnificent 213 while the bowlers made short work of the Lankan batsmen on the penultimate day of the Test as India recorded a comprehensive victory by a margin of an innings and 239 runs.
Kohli played an instrumental role in this massive win as his double ton paved way for a huge first innings lead of 405. And by slamming a double ton, Kohli added multiple new milestones into his already illustrious cap.
After reaching the milestone of most centuries by an Indian skipper (12) — previously held by Sunil Gavaskar (11) — Kohli went on to score a double hundred which was his fifth in the longest format of the game.
This was also Kohli's fifth double century as captain, which is the joined highest in world cricket, along with West Indian legend Brian Lara. Other Indian captains like MAK Patudi, MS Dhoni, Sachin Tendulkar and Sunil Gavaskar have one each.
BC Lara (WI) 5
V Kohli (India) 5
GC Smith (SA) 4
Bradman (AUS) 4
MJ Clarke (AUS) 4
Kohli has scored all his double hundreds in 2016 and 2017. Here is the full list:
200 West Indies 2016
211 New Zealand 2016
235 England 2016
204 Bangladesh 2017
213 Sri Lanka 2017
However, he still a long way behind some of the legends of the game, when it comes to the worldwide list of most centuries by a skipper in the longest format of the game.
1. Graeme Smith: 25
2. Ricky Ponting: 19
3. Allan Border: 15
4. Steve Waugh: 15
5. Don Bradman: 14
6. Michael Clarke: 14
7. Mahela Jayawardene: 14
8. Brian Lara: 14
9. Clive Lloyd: 14
10. Greg Chappell: 13
11. Steve Smith: 13
12. Alastair Cook: 12
13. Virat Kohli: 12
Overall (all formats), Kohli has 22 International centuries as captain in 99 innings, behind South African Graeme Smith's 41 (368 innings) and Aussie great Ricky Ponting's feat of 41 (376 innings).
With the help of this latest century, Kohli also became the captain ever to score 10 tons across formats in a calendar year. Kohli broke the record of Ricky Ponting (9 in 2005 and 2006) and Graeme Smith (9 in 2005) to set this latest milestone.