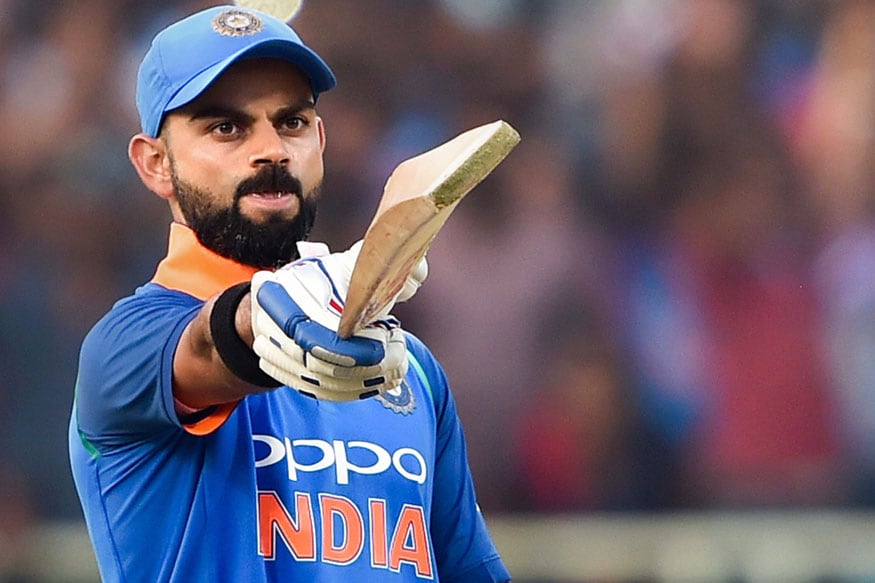 Virat Kohli said he felt "grateful and blessed" after he became the quickest batsman in terms of innings and balls to breach the 10,000-run mark during the second One-Day International between India and West Indies in Visakhapatnam.
The Indian captain, who has already notched up plenty of batting records in a glittering ten-year career, added another feather to his cap when he became the fifth Indian batsman and 13th overall to pass the 10k-run milestone in the 50-over format. He took just 205 innings to reach the landmark, an incredible 54 innings lesser than the previous record holder, Sachin Tendulkar.
In an interview with bcci.tv., Kohli said that he "never imagined" he will join the 10k-run club when he first started as an international cricketer back in 2008.
"I feel really grateful, I feel really blessed. I never imagined I would get to this stage in my one-day career, but it's happened and I'm very thankful to God, I'm very grateful right now," Kohli said.
"To understand that you have come this far in your career, playing for 10 years, is something which is quite special to me because I love the sport so much, and you want to play it more and more, and that to me is the most important thing.
"I'm just happy that I've been able to play for this long and hopefully many more years to come."
The 29-year-old, who is ranked No.1 on the ICC batting charts, is inarguably the best batsman in the 50-over format currently in the world. In 213 ODIs Kohli has amassed 10,076 runs with 48 half-centuries and 37 centuries at an average of 59.62. In fact, since the start of 2016, his average reads a Bradmanesque 95.44.
Despite such glowing numbers, Kohli insisted that records meant nothing to him in front of representing India.
"I never thought I could achieve this feat or that I would get to this stage. I always just thought, 'I want to play for India', I never thought this day would arrive one day," he said. "It tells me that if you're just focused on the process, just focused on the right things then these things become irrelevant after a while.
"It's a great honour for me to represent my country. Even after playing 10 years I don't feel like I'm entitled to anything, you still have to work hard for every run that you score playing at the international level for your country because there are many people who want this very badly, and when you're in that position yourself, you should have that same hunger and passion. You should never take things for granted, never take it easy at any stage."
Further emphasising his point about not playing for records, Kohli said that all his efforts every game goes into what the team needs. A prime example of that came during his innings during the last ODI where he smashed a belligerent 157* in sweltering conditions but still ran every run as hard as he could for the sake of the team.
"I've been able to push my physical abilities and my mental abilities by just focusing on what the team needs and in that process more runs have been scored than maybe I would have otherwise," Kohli said. "I've just focused on the situation, and I'm glad that I've been able to help the team by contributing with the bat.
"My duty is to score runs and having done that for a long period now everything else collected together for this moment, but the intention should be every game to just look for what the team needs and score as many runs as possible."