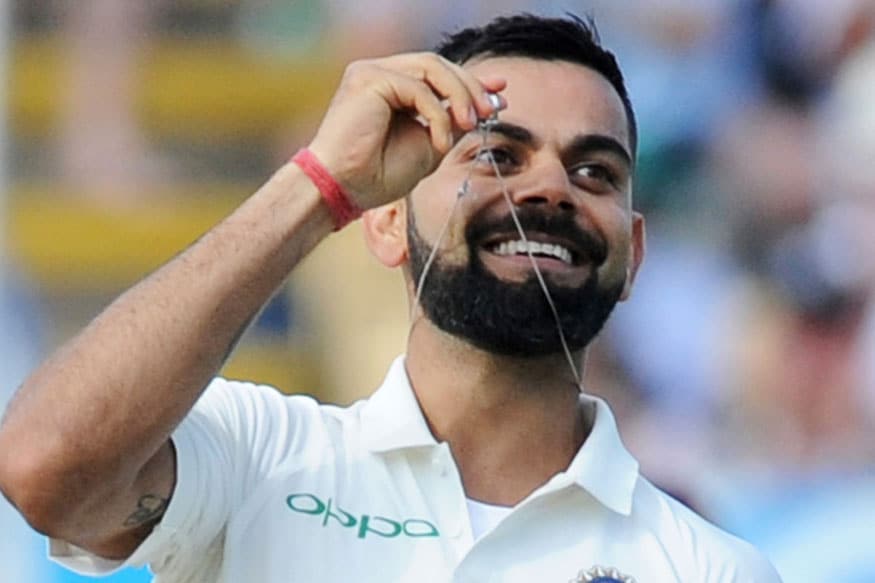 Former England captain Nasser Hussain believes that India skipper Virat Kohli is the best player in the world right now and he is up there with the likes of legendary India cricketers Sunil Gavaskar and Sachin Tendulkar.
Having had a wretched series the last time he was in the country, the 2018 England tour was for long dubbed as the 'final frontier' for Virat Kohli. There has been a general perception that the Indian captain has trouble facing the swinging ball, which largely gained voice after Kohli's horror show in 2014 where he could only manage 134 runs across 10 innings.
The 29-year-old, however, made sure he made his bat do all the talking and in just three Tests he has shown that the ghosts of 2014 have indeed been laid to rest. Kohli has so far amassed 440 runs in six innings with two half-centuries and two hundreds at an immaculate 73.33. His dominance has earned him plaudits from all corners with most English experts hailing him as the best batsman in the world.
In his column for Sky Sports, Hussain wrote that according to him, Kohli was "definitely the best player on the planet right now."
"I like the balance he has between intensity and having a relaxed nature - he will talk to the umpires, talk to Anderson, Stokes and Jos Buttler but the moment he is on strike, boy, does he switch on," wrote Hussain.
"Kohli might not feel he had a point to prove in England after his 2014 tour but world cricket was waiting to see if he could get runs here to cement himself as a great and be up there with Sachin Tendulkar and Sunil Gavaskar for India.
"He has put any doubts well and truly to bed, with 400 runs in conditions that have been very bowler-friendly. He is far from a flat-track bully. It's been an outstanding performance from a great, great player. I believe he is the greatest player on the planet right now."
Kohli is by far the highest run-scorer so far in the series. Such has been his dominance that he leads Jonny Bairstow, who is second on the run-scoring chart by a good 234 runs.
Following his masterclass at Trent Bridge where he scored 97 and 103 in the two innings to help India wallop the hosts by 203 runs, Kohli has reclaimed the No. 1 spot on the ICC rankings charts that he lost after the second Test.
"There are many really great players but he is the stand-out across all the three formats of this era by a country mile," Michael Vaughan told Test Match Special. "He's got the gift to play all around the wicket in every single format."
"On this tour he has left well and made the bowlers bowl to him," Vaughan added. "It looks to me as though he has been working on this for some time and come with a clear plan. There were questions about if he could bat in English conditions. No question in my mind; he is the best batsman in the world across all three formats."
Hussain was also effusive in praise of the Indian side in the way they staged a comeback after being outplayed in the first two Tests.
"India had a similar path in South Africa where they lost the first two Tests and then showed a lot of fight and character in the third and it's been a similar story here, though another slow start to a series could ultimately cost them," wrote Hussain.
"They have tightened up their techniques, with the openers, Shikhar Dhawan and KL Rahul, deserving a lot of credit for setting up both innings. Cheteshwar Pujara has also enjoyed some success. He is a player I have always liked and In England, you need that type of player."
The fourth Test between India and England will commence on 30 August at Southampton.