New Delhi: India skipper Virat Kohli and former captain Mahendra Singh Dhoni were the reason behind the cricketers getting a massive pay hike, according to Committee of Administrator (CoA) chief Vinod Rai.

The BCCI have introduced a new grade system altogether - Grade A+ : Rs 7 Cr, Grade A: Rs 5 Cr, Grade B: Rs 3 Cr, Grade C: Rs 1 Cr. Earlier, there was no Grade A+ in the list while Grade A players used to get Rs 2 Cr and Grade B and C cricketers received Rs 1 Cr and Rs 50 Lakh respectively.

In an interview to a cricket website, Rai revealed that the duo put forward their ideas in front of the COA about the new pay structure that needs to be in place.

"This suggestion originated from Virat (Kohli) and MS (Dhoni) in the discussions. The players wanted this category to be dynamic and to feature only the best performers," Rai was quoted as saying by ESPN Cricinfo.

"Their logic was this category would have only players featuring in all three formats, players who are in the top-10 rankings. They wanted a category of pure excellence where you perform and you are rewarded. And hence the players would not occupy a permanent slot in this category because if you don't perform then you slip down the order," he added.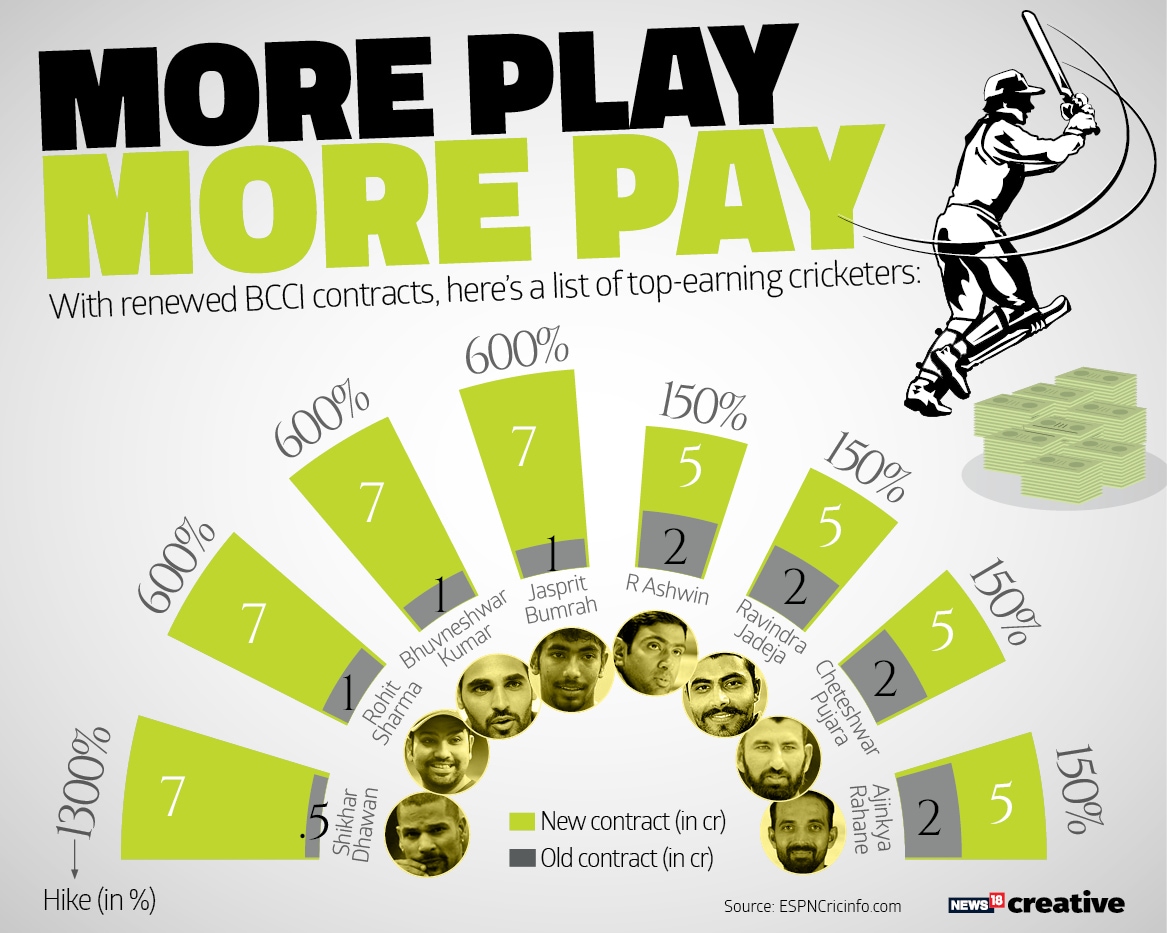 Rai also revealed that they wanted Test specialists to be rewarded for their duty to the national team. They argued that players like Cheteshwar Pujara, who don't have a lucrative Indian Premier League contract, should be paid for their good performances otherwise.

"They said we don't care how much money they get as long as the middle-level players are paid handsomely. That is a very fair thing to say," Rai said.

"If you look at a corporate salary structure, the CEO gets an X-amount, which is easily at least five times that of his No. 2. So what we did is we had five players at the top of the pyramid earning INR 7 crore. The next step - Grade A - are getting INR 5 crore followed by Grade B at 3 crore and Grade C 1 crore," he added.

Five players will recieve Rs 7 Cr annualy from BCCI as they have been placed in the top grade - Virat Kohli, Rohit Sharma, Shikhar Dhawan, Bhuvneshwar Kumar and Jasprit Bumrah. Meanwhile, former India skipper Mahendra Singh Dhoni remains in Grade A and will receive Rs 5 Cr per annum. Dhoni hasn't been playing Test cricket for a long time now and that is being seen by many as the reason why he wasn't promoted to Grade A+.

Dhoni is one of the seven players to be named in Grade A and the others are - Ravichandran Ashwin, Ravindra Jadeja, Murali Vijay, Cheteshwar Pujara, Ajinkya Rahane and Wridhhiman Saha. Grade B players will be richer by Rs 3 Cr per annum and the seven cricketers are: KL Rahul, Umesh Yadav, Kuldeep Yadav, Yuzvendra Chahal, Hardik Pandya, Ishant Sharma and Dinesh Karthik.

Kedar Jadhav, Manish Pandey, Axar Patel, Karun Nair, Suresh Raina, Parthiv Patel and Jayant Yadav will receive Rs 1 Cr each for being named in Group C.

First Published: March 9, 2018, 2:19 PM IST