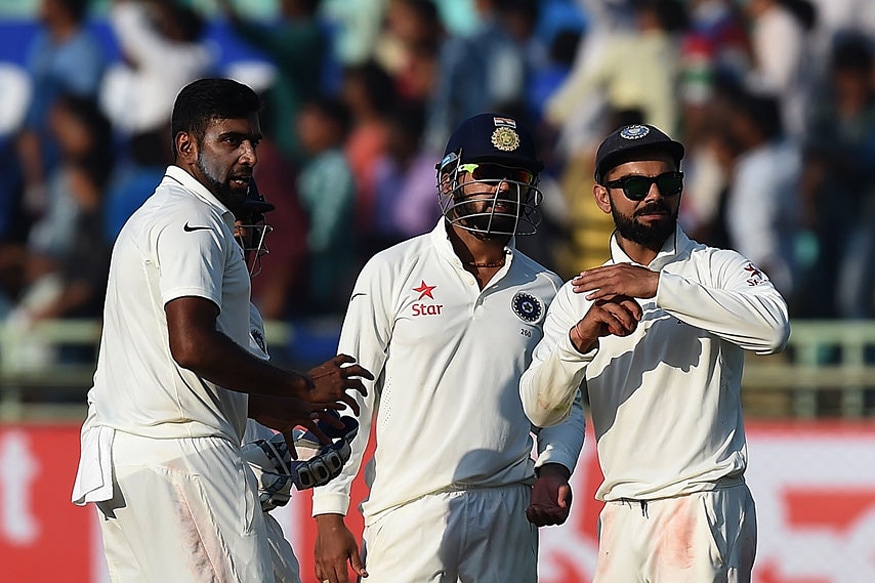 New Delhi: India skipper Virat Kohli was dismissed shouldering arms to Nathan Lyon in the post-lunch session on the opening day of the second Test in Bengaluru on Saturday. More than the dismissal, Kohli straightaway using the DRS to review the decision raised eyebrows.
With the ball pitching on off and coming in, Kohli surprised many by deciding to not offer a shot. But to then go ahead and waste a review when partner KL Rahul had made it clear that Kohli was out, shows the Indian skipper's refusal to trust his teammates when it comes to the DRS.
The on-air commentators called Kohli's decision to not offer a shot as a lapse of concentration and former India skipper Sunil Gavaskar even said that Kohli looked uncertain about his off stump. But then, what about his refusal to listen to Rahul and go ahead with the review?
Replays clearly showed how Rahul had nodded in approval after the umpire raised his finger. And despite the non-striking partner being in the best position to adjudicate if a decision should be reviewed or not, the Indian skipper didn't feel the need to pay heed to his partner at the crease.
More importantly, Kohli is becoming a regular offender when it comes to reviewing a decision. This is not the first time that Kohli's stubbornness has come into play as far as the DRS is concerned.
In the first Test in Pune, India wasted all four reviews while fielding. And once again, Kohli was guilty of not paying heed to his teammates.
While he decided to review an LBW appeal against Steve Smith off Umesh Yadav in the first innings, even though the ball was clearly going down the leg side, his decision to review two of Jayant Yadav's deliveries in the second innings left a lot to be desired of the Indian skipper when it came to use of the DRS.
Even though both wicket-keeper Wriddhiman Saha and bowler Jayant weren't too sure of the ball hitting the wicket, Kohli decided to trust his own instinct and went ahead and wasted the review in both cases.
"DRS should be strictly used for howlers. And it is a tool to help umpires be as accurate as possible. For me an umpire's call should only be challenged in case of leg before if a player is absolutely sanguine that he has had an inside edge onto the pads," former India wicket-keeper Deep Dasgupta had said after the poor use of the review by Kohli.
Kohli may have been a staunch supporter of DRS in recent times, but clearly it hasn't been his go to thing so far.
In the eight Test matches (including Day 1 of Bengaluru Test) since the start of DRS usage, India have got only 17 correct decisions out of the 56 referrals that they have taken. Clearly not a very healthy ratio for the Indian team.
In stark contrast, Australia skipper Steve Smith has been very careful when it comes to using the DRS and every time the visiting team's captain has gone to the third umpire to review a decision, he has had long chats with both the bowler and keeper Matthew Wade.
@media only screen and (max-width:740px) {
.quote-box{font-size:18px; line-height:30px; color:#505050; margin-top:30px; padding:22px 20px 20px 70px; position:relative; font-style:italic; font-weight:bold}
.special-text{font-size:24px; line-height:32px; color:#505050; margin:20px 40px 20px 20px; border-left:8px solid #ee1b24; padding:10px 10px 10px 15px; font-style:italic; font-weight:bold}
.quote-box img{width:60px; left:6px}
.quote-box .quote-nam{font-size:16px; color:#5f5f5f; padding-top:30px; text-align:right; font-weight:normal}
.quote-box .quote-nam span{font-weight:bold; color:#ee1b24}
}