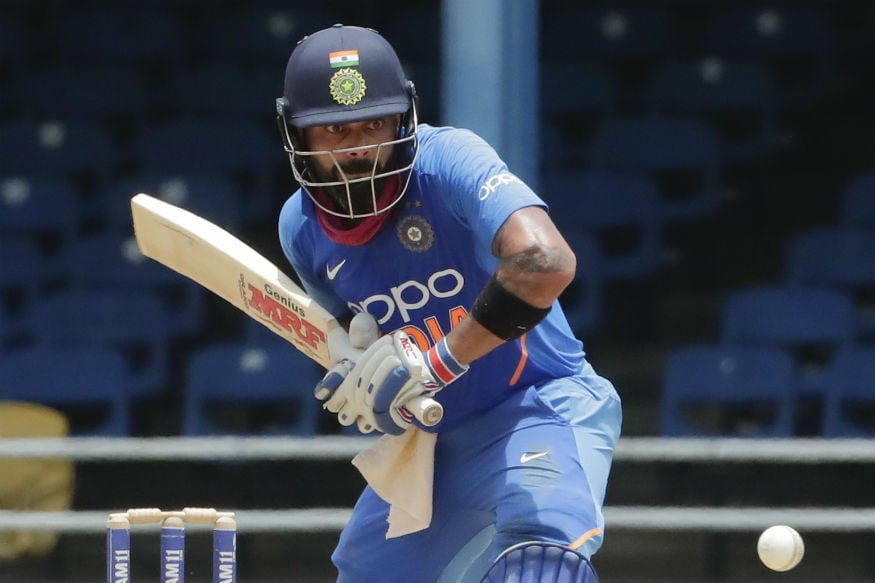 Virat Kohli loves batting. He loves scoring runs. He loves scoring big runs.
In yet another remarkable display of batsmanship, Kohli registered his 42nd hundred helping India to a win over West Indies in Port of Spain on Sunday.
Kohli scored 120 off 125 deliveries and hit 14 fours and a six in his innings as India took a 1-0 lead in the three match series.
The Indian skipper came out to bat in the very first over after yet another failure for Shikhar Dhawan. Rohit Sharma, who had been in ominous form, looked a touch out of sorts and wasn't able to get any momentum into his innings – he took 10 balls to get off the mark.
The onus was on Kohli to provide the early impetus. He had already announced his presence with a signature cover drive off Kemar Roach. He deposited him to the mid-wicket boundary with his quintessential strong bottom-handed whip.
Kohli continued to find the gaps and the boundaries even as Rohit found it difficult to find his timing at the other end. India had been given a platform with Kohli contributing a run-a-ball 38 off the 55 runs they scored in the first powerplay.
He soon registered his fifty off just 57 deliveries and dropped anchor as India lost Rohit and Rishabh Pant in quick succession and West Indies built pressure with a few tight overs. Kohli was happy rotating the strike and showed composure assessing the match situation even as India managed just 33 runs in the 9 over period between overs 15-24.
In Shreyas Iyer he found an able and determined partner and the duo got the momentum back into the Indian innings. India scored 63 runs in the 9 overs between overs 28-37. Kohli hit three fours and a six in this phase of play and showed his wide repertoire of shots – from an exquisite on-drive to the long-on boundary off Roston Chase to a six back over the bowler's head off Jason Holder, from deft dabs to third-man to delicate flicks to fine leg – it was Kohli at his masterful best.
Kohli soon brought up his 42nd ODI ton in just 229 innings – only Sachin Tendulkar has recorded more in the history of the format (49) but in 452 innings. This means that Tendulkar scored a hundred every 9.22 innings. Kohli has done it every 5.45 innings – that is a mind boggling achievement! It is the best frequency of scoring a hundred in ODI cricket history (min. 10 hundreds).
It was a (almost) chanceless innings in hot and humid energy sapping conditions and on a wicket which was not the easiest for strokeplay – two of India's finest strokemakers struggled to get their innings going - Rohit scored at a strike rate of just 52.94 while Pant did not fare much better with a rate of 57.14!
Kohli took India past 200 and put together 125 for the fourth-wicket with Shreyas Iyer at quicker than a run a ball (Kohli contributed 65 off 62 deliveries) before being finally dismissed for 120 off 125 deliveries.
During the course of his innings, Kohli surpassed Javed Miandad (1930 runs) to become the highest scorer against the West Indies in ODI cricket – he aggregates 2032 runs from 34 innings at an average of 72.57 and strike rate of 96.25.
His average against the West Indies is the highest among all batsmen who have scored a minimum of 1500 runs against a particular opposition.
Kohli has recorded 8 hundreds against the West Indies. Only Tendulkar has more against a particular opposition – 9 against Australia.
He also became the second-highest run scorer in ODI cricket from India surpassing Sourav Ganguly (11363 runs) and the eighth-highest overall. Kohli has scored 11406 runs in just 229 innings. His average of 59.71 is the highest in ODI history.
Kohli is also the leading run-getter amongst non West Indian batsmen at Port of Spain. He has scored 457 runs in just 8 innings at the venue at an average of 65.28 including 2 hundreds and 2 fifties.
He has been in outstanding form in ODI cricket and is the leading run-scorer with the highest average in the format since 2018 – he has aggregated 2376 runs in 35 innings at an average of 81.93 and strike rate of 98.34 including 10 hundreds in this time-frame.
Kohli has been a great match-winner for India. His average of 76.44 in wins is the second-highest in ODI history (min. 1000 runs) after Babar Azam (86.5).
33 of his 42 hundreds have led to a win for his country.