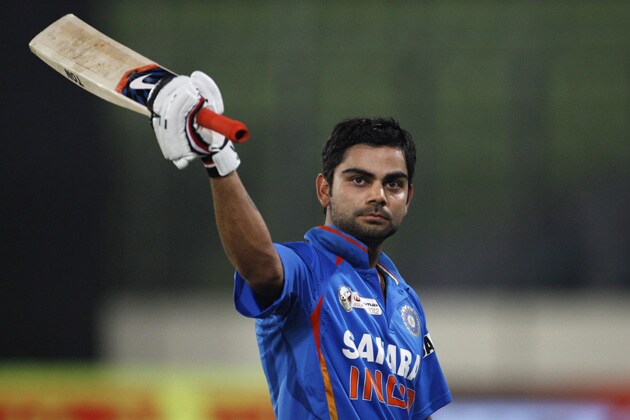 In my first interview with Virat Kohli, I had commented on how, on evidence of his international experience – he had at that time played 18 ODIs – he played the short ball better than some of his contemporaries and that the sight of him swiveling on the pull shot was a treat to watch. Smiling almost shyly, Kohli had shrugged it off by saying that while it was a shot which he liked to pull off, he had plenty of work to do to make it part of his repertoire.
Tonight, during his audacious, career-best 183 that helped India chase down Pakistan's 329, the pull shot was what stood out in Kohli's innings. He hit many power-packed boundaries (22 in all), but the manner in which Kohli took the attack back to Pakistan's quick bowlers early on was pivotal in putting his team on course for a big win.
After the defeat to Bangladesh on Friday, Kohli spoke of how early in his innings he couldn't resist playing the pull against Shahadat Hossain, and had mistimed the shot to midwicket. Upon seeing Kohli surprised by the extra lift, Sachin Tendulkar had walked down to have a word with the youngster. The words of advice eased Kohli's nerve, and he continued to play the pull shot with more comfort.
Against Pakistan, he was facing one of the best pace bowlers in the game, Umar Gul, and another talented left-arm quick, Wahab Riaz, as well as a third seamer in Aizaz Cheema. Compared to Bangladesh's attack, this was a far more talented and faster pace attack. Kohli has often been a slow starter, only opening up after crossing fifty. Tonight, however, he began briskly against a world-class attack and didn't look back. Central to snatching the momentum was Kohli's essaying of the pull shot.
His first commanding boundary came courtesy the pull shot, in the third over as Kohli picked the length from Cheema early and swatted the ball all along the ground past midwicket. It was a spanking shot, and one that probably gave Kohli the desired confidence early in his innings. Then, in the 15th over, Kohli welcomed Riaz – who took five wickets against India in the 2011 World Cup semi-final – into the attack with an even better pull shot for four. This one was more of a pirouette, with Kohli ensuring he rolled the wrists to keep the ball down. He was purring, and Indian spirits were rising.
Kohli repeated the shot against Riaz on the first ball of the 17th over too, this time putting the ball away wide of fine leg for four. As Riaz attacked his body, Kohli adjusted to play the ball finer, for the same result. He continued to play the shot throughout his innings, each time making a point to keep the ball down. All attempts from Pakistan's attack to unsettle him with the short ball proved futile.
Out of a crop of youngsters that struggles to play the short ball proficiently, Kohli is on the verge of mastering it; how he continues to play such fearless cricket could define him and his team's progress as they stumble through a period of transition. Those series of shots to demoralize Pakistan's pace attack put Kohli into his groove, and what followed was a stunning assault. A dazed Misbah-ul-Haq, Pakistan's captain, could do little else after the match but term Kohli's innings as one of the best he'd ever seen.
Indeed it was an exceptional innings, and one that will raise Kohli's stock higher. Gone are the days when Kohli's bravado attracted you to his batting, but too many times he was found wanting and not filling his boots. Timing the ball with verve was his forte from the start, but by patience and hard work he has learned how to show more than just flashes of talent. His flicking and driving was eye-catching, with one lovely loft over extra cover for six off Gul lingering in the memory. It was the complete ODI innings, an masterclass in how to script a match-winning century. As MS Dhoni said of Kohli, the Man of the Match: "He didn't slog at all; those were all proper cricket shots."
After a shambolic effort in the field, India needed something special to chase down 330 and they found that in their in-form batsman. Kohli's 183 off 148 balls delivered India their highest successful run-chase in ODIs, and was the highest score by an Indian batsman in a chase. "I still can't believe what happened out there," said Kohli after the match. "It was a crunch game again, and I needed to execute my plans for the team cause. It feels good. I had one thing in mind – to bat on, keep wickets in hand, and build partnerships. We knew that we could get three of four overs of 15-20 runs, so we waited."
Kohli has come a long way from the days when he was called brash and arrogant. Ray Jennings, his coach at Royal Challengers Bangalore, once termed him as "a very talented kid [who] sometimes thinks he is better than the game." Today Kohli is in excellent form, and knows that he is not better than the game. That, time will tell, could be his hallmark.