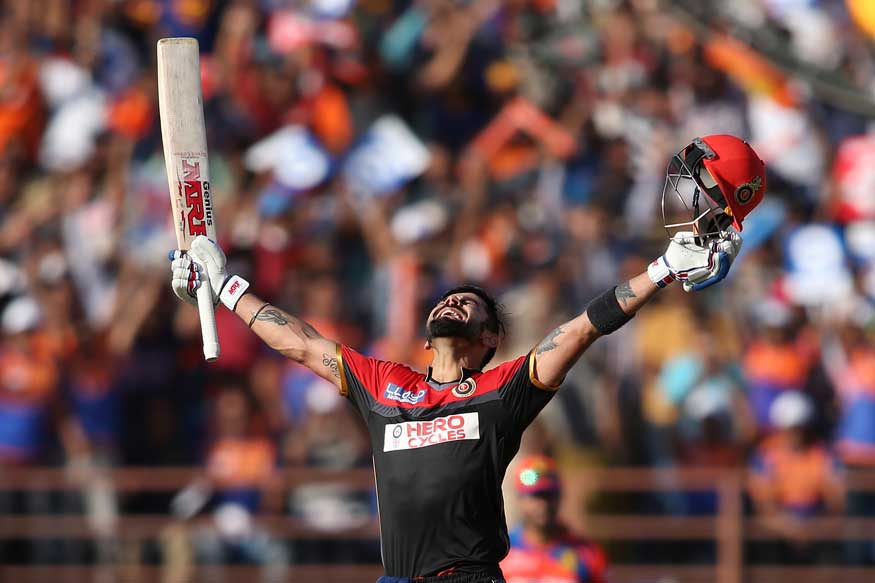 Royal Challengers Bangalore (RCB) and India's Test captain Virat Kohli is ensuring there's no roadblocks to him becoming a batting great.
From four Test hundreds in Australia to historic Test series wins against Sri Lanka and South Africa to a dream run in the T20s since the start of this year, he is now the standard of batting for others to aim for in international cricket.
Virat has stamped his authority on every format but if you talk specifically about his run in T20s, then even the likes of AB de Villiers and Chris Gayle are left far behind – whether it's the international arena or the Indian Premier League (IPL).
The latest in a series of examples over the last 12 months came on Sunday night in Rajkot.
Albeit in a losing cause, Kohli's form hit another acme when the RCB skipper hit his maiden T20 century scoring 100* in 63 balls.
The knock made his statistics in the last 10 T20 innings look even better – a hundred and 6 fifties, and not even once did he get out for a single-digit score.
Talking about international T20s this year, in 12 matches Kohli has scored 625 runs at a strike rate of almost 140.00 and average of 125.0. This includes seven fifties.
But Kohli's form hasn't rubbed onto RCB's fortunes as the team has managed only two wins in five matches in IPL-9 so far. Kohli, though has been batting on a different planet in all those matches with his knocks reading 100*, 88, 33, 79 and 75.
However, the Bangalore franchise is the only team this IPL season so far to win 2/2 matches batting first, and Kohli's form has had a huge role to play in that, which is a slight shift from his batting prowess while chasing targets.
But while the hunger of Kohli's bat continues to increase, RCB haven't won the IPL title in 8 years. That will surely hurt Bangalore's 'Batman' but don't be surprised to see him single-handedly carrying RCB to the playoffs, like he carried India to the ICC World Twenty20 semis just a while back.