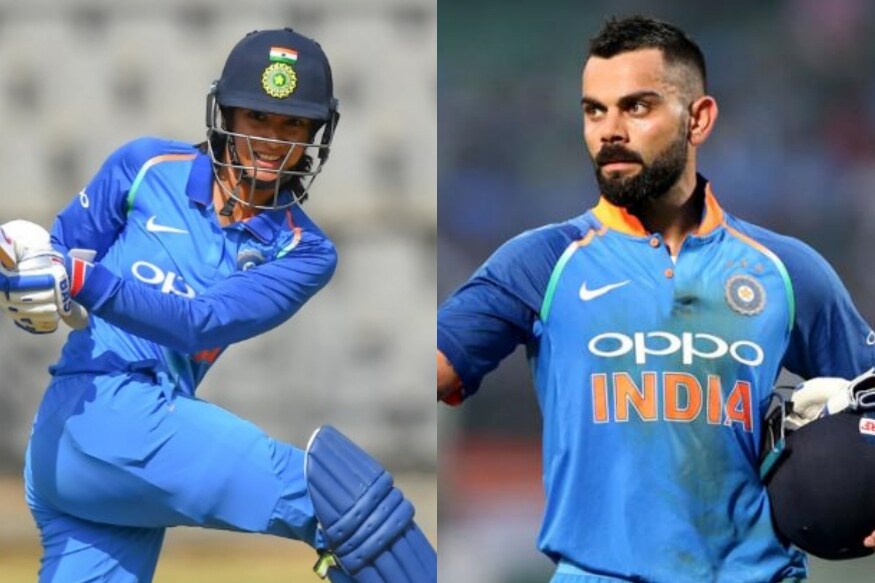 Indian captain Virat Kohli, for the third consecutive time, has been named as The Wisden Almanack's Leading Cricketer of the Year for 2018. Kohli is also one of the five Wisden Cricketers of the year alongside Tammy Beaumont, Jos Buttler, Sam Curran and Rory Burns. Smriti Mandhana has been named the Women's Leading Cricketer of the Year for 2018.
Don Bradman (10 times) and Jack Hobbs (8 times) are the only two cricketers who have bagged the Cricketer of the Year award on more than three occasions.
Kohli, who amassed 2735 runs across all formats in 2018, was in the form of his life during the tour of England – where in 2014 had seen him produce one of his worst displays in Test cricket. On the tour of England this time around, Kohli scored 593 runs and eventually finished the year with five Test centuries.
Left-handed Mandhana, who was named the Leading Women's Cricketer of the Year, scored 669 and 662 runs in ODIs and T20Is during 2018. Her brilliant form also saw her clock 421 runs in the Women's Super League with an astonishing strike rate of 174.68.
Afghanistan's ace spinner Rashid Khan was named Leading T20 Cricketer of the Year after he took 21 wickets in the IPL apart from another 22 wickets for his country at an average of 8.68.
Some splendid performances through 2018 saw the likes of Beaumont, Curran, Burns and Buttler get picked alongside Kohli as the Five Wisden Cricketers of the Year.
England's Jos Buttler made his mark in Test cricket with a total of 760 runs and a maiden Test ton against India. The wicket-keeper batsman also continued to do well in the limited overs format and averaged over 50 in ODI cricket. His teammate, Sam Curran also had a fantastic year finishing with 272 runs and 11 wickets in his debut Test series versus India. Curran was also named the Player of the Series against India.
Surrey man Rory Burns smashed four centuries in the County season and scored 1359 runs at an average of 64.71 to help his side win their first title in 16 years. That performance also earned him a spot in the English Test side that toured Sri Lanka and West Indies.
Beaumont, the England opener, compiled 452 and 430 runs in ODIs and T20Is. She also finished with 198 runs for Southern Vipers in the Women's Super League.
The criteria for Wisden's Five Cricketers of the Year is based mainly on their "influence on the previous English season". Wisden, often described as the "bible of Cricket" has been listing out Cricketers of the Year since 1889.