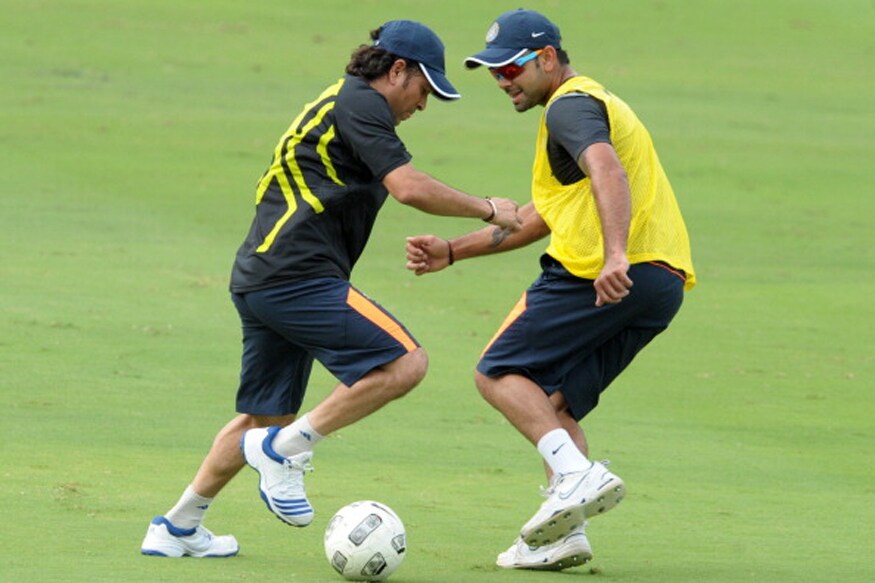 New Delhi: Back home after thrashing Bangladesh by 208 runs in the one-off Test at the Rajiv Gandhi International Stadium in Uppal, Virat Kohli took to Twitter to thank master blaster Sachin Tendulkar for praising the India skipper after his fine showing in the Test where he became the first batsman to score four double hundreds in four successive series.
Replying to Tendulkar's tweet, Kohli wrote: "Thanks @sachin_rt Paaji, your wishes mean the world. ."
Thanks @sachin_rt Paaji, your wishes mean the world.

— Virat Kohli (@imVkohli) February 14, 2017
This after Tendulkar took to Twitter to praise the man who has filled his big boots in Indian cricket. Tendulkar posted a message on twitter hailing Kohli's great batting.
The sweet spot on your bat speaks about the awesome form you are in, don't need scoreboards.May god always keep your bat like that @imVkohli pic.twitter.com/zSgLgTeTYY

— sachin tendulkar (@sachin_rt) February 11, 2017
Kohli has always made it clear that Tendulkar is the reason why he took to the game and has often spoken about growing up wanting to just meet the superstar.
"I started playing cricket because of him. I was inspired to do things he did for the country. I always visualise myself in those situations. It is just a great honour to share the same dressing room with him. I remember when I was small, my only dream was to see him in real life and to play with him now is just a great honour for me. I couldn't have asked for anything more," Kohli had said.
Also Read: Sachin Tendulkar Praises Virat Kohli Like a True Champion
Commenting on their equation, Kohli had said that Tendulkar's tips have also helped him grow as a batsman.
"If he saw something he would come up to me himself and tell the areas I need to work on, which is quite rare. People of his stature won't always do that. It always gave me confidence and I got a chance to bat with him and have big partnerships. That was the most special thing I could have asked for," Kohli had said.