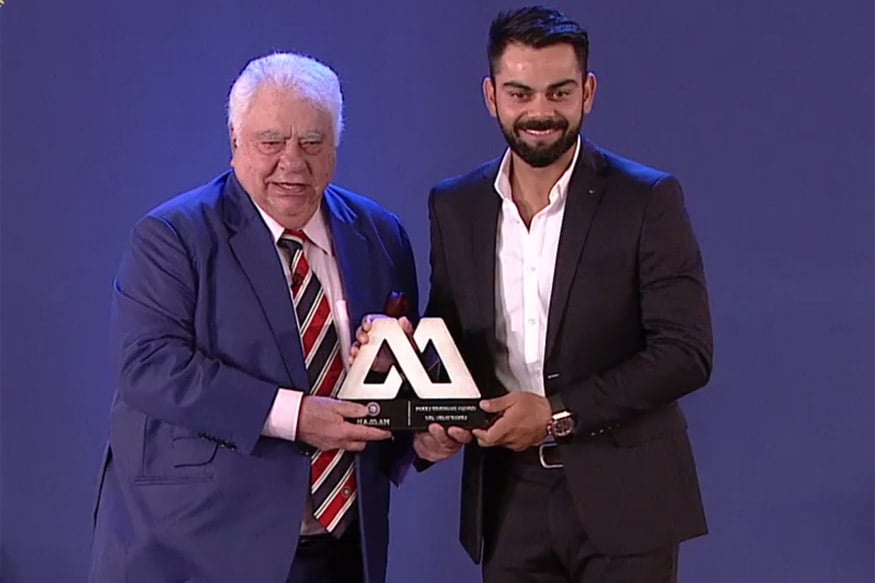 New Delhi: The annual BCCI awards night took place in Bengaluru on March 8 and as is the usual custom, it was also the night of the 5th MAK Pataudi Memorial Lecture. And this time, the speech was being delivered by none other than former India wicket-keeper Farokh Engineer. Known for his witty nature, he had the guests literally 'laughing on the floor'.
And it was on during this very speech that the talks veered towards how the Indians players during his time would play just for the love of the game and they would barely get Rs 50 a day, amounting to Rs 250 per Test match. Having said that, he immediately turned to current India skipper Virat Kohli and asked if he had heard that.
Kohli, one of the highest-earning players in world cricket at the moment, was left bamboozled and could only manage an embarrassed laugh. But it was strictly in god humour as Engineer later went on to add how Kohli has been a true inspiration for a million.
Starting from his own former colleagues in Pataudi, Ajit Wadekar to the current crop of Indian superstars like R Ashwin, he had everyone in his speech. While he teased some of the stars to leave the guests in splits, he also took the opportunity to recollect the wonderful time he has had playing with greats like Pataudi and former India skipper Sunil Gavaskar.
VIDEO: Farokh Engineer delivers the 5th MAK Pataudi Memorial Lecture https://t.co/8uDJOA6K3x #NAMAN #BCCIawards

— BCCI (@BCCI) March 8, 2017
VIDEO: @imVkohli receives the Polly Umrigar Award https://t.co/Y6lk34KCo6 #NAMAN #BCCIawards

— BCCI (@BCCI) March 8, 2017
But he also put his own foot in his mouth when he mistakenly asked Ashwin about the composition of the Karnataka water that it has over the years produced great spinner like BS Chandrasekhar and Erapalli Prasanna. Known for his own sense of humour, Ashwin was quick to rectify Engineer and clarify that he hailed from Tamil Nadu.
"What's there in Karnataka water that produces great spinners like Chandra (BS Chandrasekhar), Prasanna and you?"
Ashwin's reply was epic and had everyone roaring in laughter.
VIDEO: @ashwinravi99 receives the Dilip Sardesai Award https://t.co/5nyh0cJbrm #NAMAN #BCCIawards

— BCCI (@BCCI) March 8, 2017
"Not to bring politics in it but we had some Cauvery water recently in Tamil Nadu! I think it should be that," Ashwin said.
Ashwin also said that Engineer's speech was the most romantic one he had ever heard at the Lecture.
#TeamIndia are here for the MAK Pataudi lecture and #BCCIawards #Naman pic.twitter.com/Ja04BTZCSe

— BCCI (@BCCI) March 8, 2017
"I have been fortunate enough to be a part of five MAK Pataudi Lectures. We have had Rahul Dravid, VVS Laxman and our coach Anil Kumble give speeches but none as romantic as the one Mr Engineer delivered today. It's so romantic that it's hissing around this stage. I think every Indian cricketer should learn about Indian cricket. Thank you for entertaining us," Ashwin said.
@media only screen and (max-width:740px) {
.quote-box{font-size:18px; line-height:30px; color:#505050; margin-top:30px; padding:22px 20px 20px 70px; position:relative; font-style:italic; font-weight:bold}
.special-text{font-size:24px; line-height:32px; color:#505050; margin:20px 40px 20px 20px; border-left:8px solid #ee1b24; padding:10px 10px 10px 15px; font-style:italic; font-weight:bold}
.quote-box img{width:60px; left:6px}
.quote-box .quote-nam{font-size:16px; color:#5f5f5f; padding-top:30px; text-align:right; font-weight:normal}
.quote-box .quote-nam span{font-weight:bold; color:#ee1b24}
}