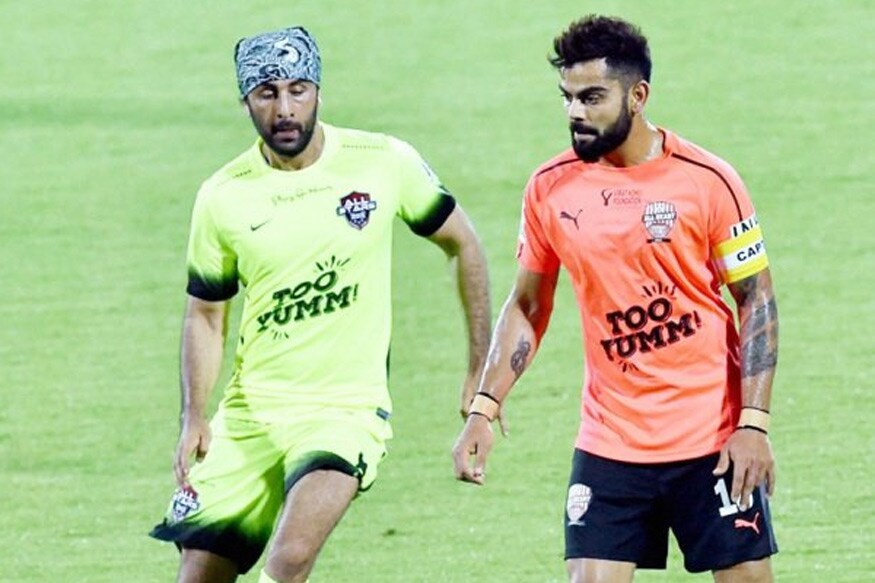 New Delhi: The Indian cricketers had a blast competing against top Bollywood stars led by Ranbir Kapoor in the Celebrity Clasico at the Mumbai Football Arena on Sunday. And while it was all about having some fun and soaking in the celebratory mood, All Heart FC skipper Virat Kohli also took time to thank the superstars for helping the Virat Kohli Foundation by participating in the benefit match.
Taking to Instagram, Kohli wrote: "Great day for Charity and for winning as well!!!
Thank you everyone who have made this possible and thanks to All Heart FC for the everlasting support. You all made my day! #CelebrityClasico #AllHeartFC #AllStarFC."
MS Dhoni's football skills left the sizeable crowd gathered at the Andheri Sports Complex ecstatic as he curled one in ala David Beckham style in a charity football match that Virat Kohli-led All Hearts side won 7-3 against Abhishek Bachchan's All Stars team.
Dhoni curled over the opposition wall a perfectly taken free-kick, which with filmstars' goalkeeper Mark Robinson had no answer. He scored another goal and was fittingly awarded 'Man of the Match' while playing for the All Hearts team led by Kohli against Junior Bachchan's All Stars team.
Kohli's fans were also not disappointed as he sprinted down the right flank to score once and then did an impromptu bhangra jig. Former India hockey captain PR Sreejesh and French Open mixed doubles champion Rohan Bopanna also played for Kohli's team.