Virat Kohli: The Captain With The Midas Touch?
Barring a brief spell a couple of months ago when Pakistan usurped the top spot, India have been the dominant side in the longest format, quashing all opposition, going from strength to strength and win to win.
Updated: December 6, 2016, 11:53 AM IST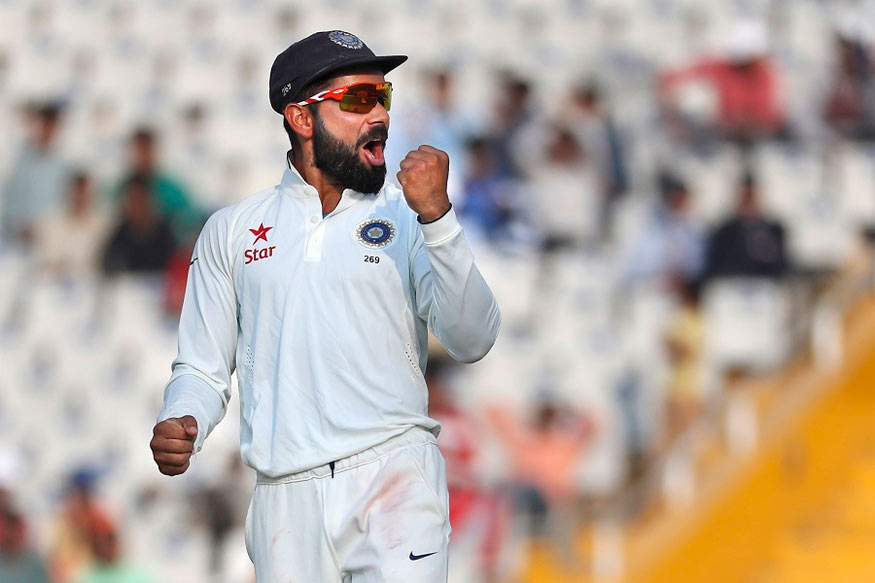 With 12 wins (and no defeats) in his last 16 Tests as captain, plaudits and accolades have followed every step that Virat Kohli has taken in the past year and odd. There has been a `gosh' and `gush' – not unjustifiably -- about his success rate, which is unarguably the best in the world over the same period.
This splendid run explains why India is the ICC's number 1 ranked Test team currently. It reflects sustained excellence over a 15-month period of time, against sundry opponents: in this case Sri Lanka, South Africa, West Indies, New Zealand and now England.
Barring a brief spell a couple of months ago when Pakistan usurped the top spot, India have been the dominant side in the longest format, quashing all opposition, going from strength to strength and win to win.
Given England's struggles this series, it is highly unlikely that India's numero uno position will change before the year is through. England (currently ranked no. 2) still have a theoretical chance to square the series and perhaps even topple India. But it would take a diabolically optimistic person to believe this is possible.
What seems more likely is that Kohli and Co will consolidate their position over the next two Tests, win the series handsomely and finish the year as undisputed leaders: by points as well as peer-cum-expert approval.
All of which will, of course, brings the focus back on Kohli. His own contribution as batsman in this `golden run' has been phenomenal. With every match he seems to have got better, and is now widely regarded as the game's best batsman: and across formats.
But just how good is he is captain?
By a quirk of fate, his stats as captain at this point in time match exactly those of Mahendra Singh Dhoni, the man Kohli replaced as captain in 2014-15 and with whom there will obviously be instant and hotly contested comparisons.
In their first 20 Tests at the helm, both Dhoni and Kohli had 12 wins, 2 losses and 6 draws. These are the best figures for any Indian captain ever, Sourav Ganguly coming in next with 10 wins, 5 losses and an equal number of draws.
Dhoni and Ganguly are being used as a frame of reference because the two are widely regarded as India's best Test captains, with opinion divided virtually down the middle as to who was the more influential leader.
For the record, Dhoni won 27 Tests out of 60 (losing 18 and drawing 15) while Ganguly won 21 from 49, losing 13 and drawing 15. On bald stats, Dhoni nudges ahead, but that does not stymie the debate about who was better.
The more pertinent aspect in this debate, however, is how these two fared overseas. Dhoni's success rate dips dramatically when leading overseas: only 6 wins compared to 21 at home. Ganguly actually has 11 overseas victories (compared to 10 at home), but of these, six came against minnows Bangladesh and Zimbabwe.
Since Indian teams have traditionally been poor tourists, the crux of the argument in determining the merit of Indian captains is how they have performed outside of their comfort zone, for at home there are several captains with matching records.
Indeed, there are many who still advocate that there have been other captains who `read' the game better than Ganguly and Dhoni and were better strategists. Mansur Ali Khan Pataudi, Sunil Gavaskar, Rahul Dravid and Anil Kumble for instance.
That their stats are not as impressive could be because they didn't captain in enough Tests, or did not have enough talent at their disposal, or that their players were poorly prepared – technically and temperamentally – to play overseas.
Kohli's own record overseas as yet is almost even stevens : 4 wins (2 v Sri Lanka, 2 v West Indies), and 3 defeats (2 in Australia 2014-15, 1 v Sri Lanka).
How to improve on this figure is the big challenge he confronts once this long home season is over, and India start touring overseas again next year.
There is very good reason to be bullish on this though. Kohli has shown already that he is fiercely combative, hugely ambitious, has won the respect of his teammates with his own performances and has the ability to draw the best from his players.
He relishes challenges, is a quick learner with an open mind, enjoys the onus and responsibility of being a decision-maker, is an aggressive, no-holds-barred go-getter involved in every aspect of the game at all times. And simply loves to win.
What also should work in his favour is the fact that Kohli has a well-rounded, young team flush with talent and enough depth of experience. Apart, of course, from an accomplished support staff led by chief coach, the redoubtable Anil Kumble.
Now, he just has to do it!
@media only screen and (max-width:740px) {
.quote-box{font-size:18px; line-height:30px; color:#505050; margin-top:30px; padding:22px 20px 20px 70px; position:relative; font-style:italic; font-weight:bold}
.special-text{font-size:24px; line-height:32px; color:#505050; margin:20px 40px 20px 20px; border-left:8px solid #ee1b24; padding:10px 10px 10px 15px; font-style:italic; font-weight:bold}
.quote-box img{width:60px; left:6px}
.quote-box .quote-nam{font-size:16px; color:#5f5f5f; padding-top:30px; text-align:right; font-weight:normal}
.quote-box .quote-nam span{font-weight:bold; color:#ee1b24}
}
---
---
Team Rankings
Rank
Team
Points
Rating
1
New Zealand
3198
118
2
Australia
3028
116
3
India
3085
114
4
England
4326
106
5
South Africa
2499
96
FULL Ranking
Rank
Team
Points
Rating
1
England
5405
123
2
India
6102
117
3
New Zealand
3716
116
4
Australia
4344
111
5
South Africa
3345
108
FULL Ranking
Rank
Team
Points
Rating
1
England
6877
275
2
Australia
6800
272
3
India
10186
268
4
Pakistan
7516
259
5
South Africa
5047
252
FULL Ranking