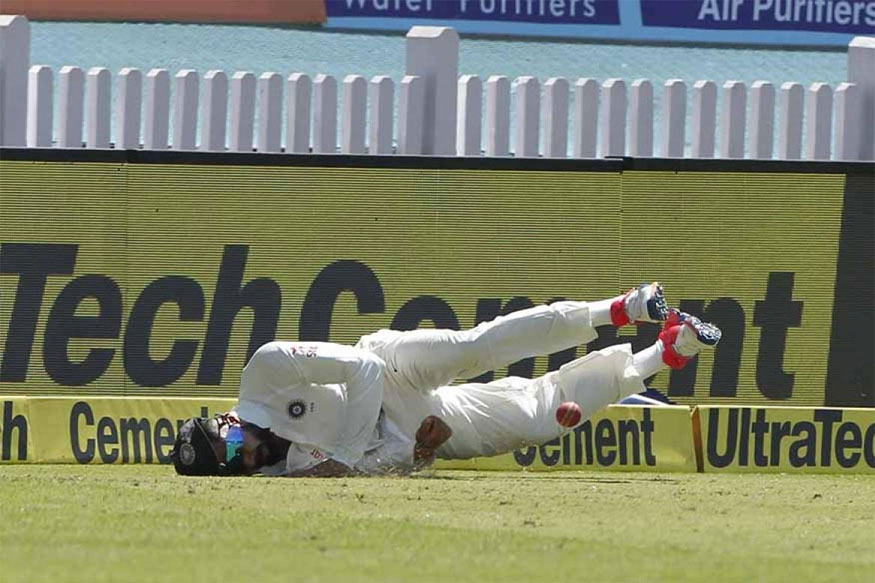 New Delhi: In what could be a worry-some news for the Indian team, skipper Virat Kohli has been placed under observation after undergoing scans for an injured right shoulder.
BCCI confirmed that Kohli's condition is being monitored and a call on his fitness will be taken only after the scan reports are out on Friday morning.
"The BCCI Medical Team confirms that Indian Captain Mr. Virat Kohli is presently undergoing treatment to recuperate from a strain in his right shoulder. He will continue to receive treatment, which will assist him to participate in the rest of the match," BCCI statement read.
A committed team man, Kohli dived in the outfield to save a boundary and tumbled over the ropes during the opening day of the third Test in Ranchi.
While he did manage to save the boundary, the Indian captain was seen grimacing in pain as he rubbed his right shoulder. Kohli had landed on his shoulder as he dived close to the boundary ropes.
"The exact status of Virat's injury will be known by tomorrow morning. He is going to undergo scans later today," India's fielding coach Ramakrishnan Sridhar told reporters in Ranchi after the end of the first day's play.
"We took a precaution (in taking him off the field) to make sure that he doesn't aggravate the injury," Sridhar said.
"It was quite an intense chase to the boundary line. In his intent to save that one run, he stopped the ball but landed on his right shoulder when he rolled over.
"The impact was quite heavy because of the momentum he was carrying and there was a shock on his right shoulder," he added.
WATCH:
Oh dear! Virat's in a spot of bother. Landed awkwardly chasing down the ball. Ajinkya will stand-in for him as he takes a break #INDvAUS pic.twitter.com/JCZzbeK6sX

— BCCI (@BCCI) March 16, 2017
Kohli didn't take any chances and walked off the field with the Indian physio in tow. Vice-captain Ajinkya Rahane took charge of leading the team in Kohli's absence.
Virat Kohli didn't look in a lot of pain, as he kept rotating his shoulder as he walked off, but the Indian captain wouldn'twant to take any chances with his own fitness, given his importance for the team.