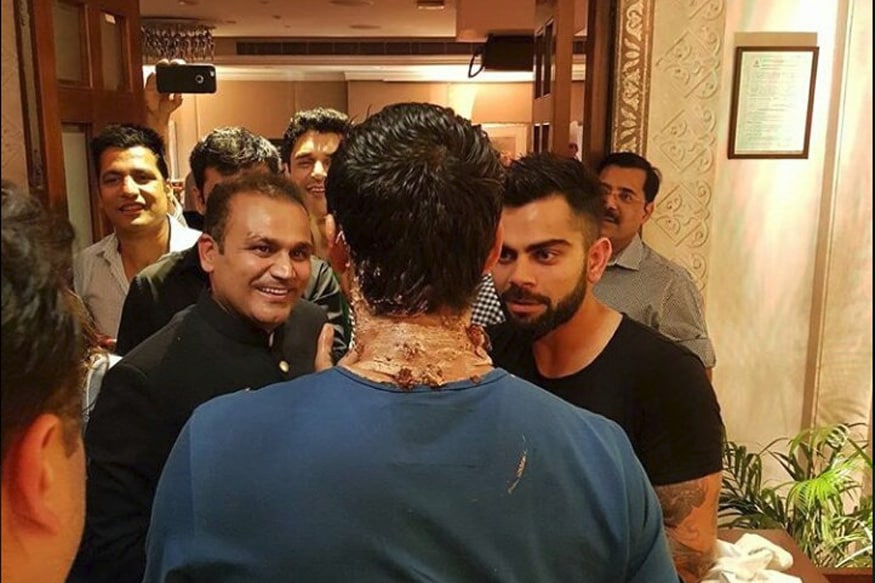 Ashish Nehra got a fitting farewell on the field as he bowed out at the Feroz Shah Kotla after India's first T20I against New Zealand.
Nehra ended his 18-year international career in front of his home crowd, a luxury which not many stars could afford.
His farewell party was attended among others by India captain Virat Kohli and Nehra's old friend, the former Indian opener Virender Sehwag.
Nehra's face was smashed with cake, as the pictures show.
#ViratKohli at Ashish Nehra's farewell party. #ThankYouAshishNehra pic.twitter.com/AU3vgdWvsX

— Captains (@dhonikohli_fc) November 2, 2017
#ViratKohli at #AshishNehra's farewell party. ✌ pic.twitter.com/kuchcYZtFQ

— Captains (@dhonikohli_fc) November 2, 2017
Kohli had paid rich tributes to the retiring Ashish Nehra as "one of the smartest cricketers" he has ever played with. The first T20 International was Nehra's final international match of a career that started way back in 1999.
"Nineteen years as a fast bowler is a great achievement. One of the smartest guys I've played with, always loves helping youngsters. He is someone who knew what to do in specific situations. Sad to see him go but it is happening at his home ground," Kohli said.
Having endured much pain in his 18-year-long injury littered yet successful career, Nehra says his body will be at peace as he bid adieu to international career on Wednesday.
"I will miss all this. That's what you train for. One thing which will definitely be at peace will be my body. I said earlier that I can go a couple more years, but there can't be a better time to walk away," Nehra said after his swansong game in international cricket.
Nehra was asked by skipper Virat Kohli to bowl the last over the first T20 match, which India won by 53 runs.
"I must be the one bowler who sent down the last over most number of times for India. But those times were different. There was no pressure today."