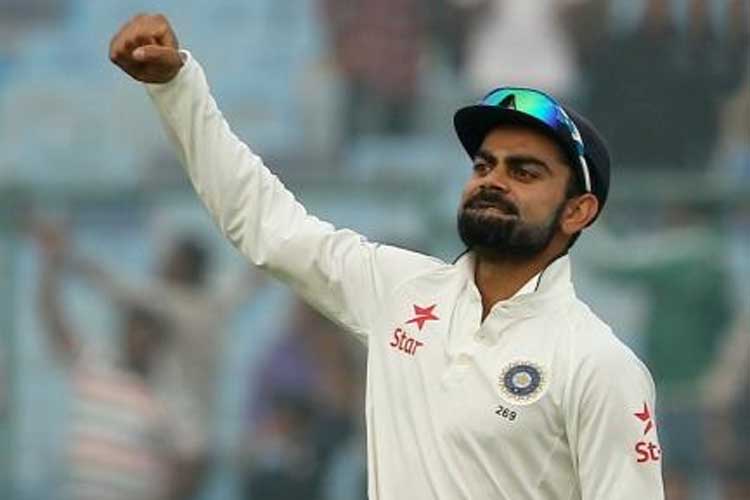 India scored an emphatic win in the 4-Test Freedom Trophy against South Africa with a 3-0 score line. There is little doubt that it would have been a clean sweep had it not rained in the Bengaluru Test.
India emerged on top in all departments of the game and the fact that it came against ICC Test toppers South Africa is very creditable indeed. By winning this series India has also jumped to the second spot in ICC Rankings.
Young captain Virat Kohli deserves all the kudos for his first home triumph as captain. Kohli is energetic and effervescent and makes sure it permeates all around in the field pumping his team to give their best all the time. For a captain who firmly believes that it is the bowlers who win matches for you, this moment must be a special one for it is his bowlers who brought a series win against a side that had never lost an away Test series in nine years.
Ravichandran Ashwin and Ravindra Jadeja bowled so well in tandem they hardly gave any elbow room for visitors to come out of the shackles. Even AB de Villers was cramped for most part in series and this doesn't happen often. He is the most feared batsman in the world in any format of the game and to tie him up means much of scoring was restricted for the South Africans.
Ashwin and Jadeja, along with Amit Mishra, showed Indian spinners are the best in the world, especially when they bowl at both ends. It was after decades one saw spinners gobble up opposition with the likes of Eknath Solkar catching close to the wicket.
It was fitting Ashwin became the Man of the Series with a haul of 31 wickets. That he has already 5 Man of the Series in his short career of 32 Tests and has equaled with Virender Sehwag (103 Tests) and Sachin Tendulakr (200) speaks volumes for his talent and striking rate.
Even Umesh Yadav bowled fiery spells taking some crucial wickets on the last day.
Indian batting was good in fits and starts.
No praise is too high for the centurion in each Innings, Ajinkya Rahane and captain Kohli, who featured in the highest partnership of the series to take India into match-winning position in the Delhi Test.
India has only 5 centurions in each innings so far in Tests and it augurs well for the future that two of them are in the present team in Kohli and Rahane. Little Master Sunil Gavaskar and Mr. Dependable, Rahul Dravid are the other two. Vijay Hazare scored a century in each innings against Don Bradman's team in Adelaide way back in 1948.
Rahane's fielding, especially catching in slips, for which he has a world record already, is another facet of his contribution to the team.
The lack of form of Shikhar Dhawan must worry him a bit but one hopes it is a temporary phase. Pujara too is getting bowled once too often and would do well to correct this as in faster pictures this could be a recurring feature.
Rohit Sharma's failure in this format befuddles one and all. As Sunil Gavaskar rightly advised, he should get back to Ranji Trophy and may be even club-level cricket to spend longer time at the wicket. One has only seen how murderous he can be when he stays longer at the wicket. This is a crucial period for him to think it over and get his confidence back.
Ravindra Jadeja in similar predicament sorted it out last season. Rohit Sharma must follow a similar approach.
The selectors have done a commendable job, but Ravi Shastri and Kohli could have given a chance to the reserves to see how they perform. These are the only times you can test your bench strength.
While the top order has some worrying chinks, the batting at lower order seems to be doing very well. Runs have been added at crucial times by Wriddhiman Saha (along with fine wicket-keeping), Jadeja and Ashwin to take the score to healthy 250+ levels from 120 for 5 scores.
For the visitors, absence of Dale Steyn was a major blow for he alone has been a chief-wrecker in many a series for them. Their spinners, not experienced as our spinners, failed to get similar response from the surface. Much was expected of Imran Tahir, but he didn't do much damage to Indian batting, barring in inconsequential patches.
The curator must be congratulated for preparing a good pitch for the Delhi Test. The ball did turn but not viciously as in other centers. Rahane played a lone hand in the first innings.
From 138 for 5 in first Innings, Rahane's partnership with Jadeja and Ashwin proved crucial in raising the score to 334. One could also see a wonderful 150+ partnership between Kohli and Rahane because the pitch also helped stroke-making. The visitors tried 'stone-walling' approach but it's a tall order to make it work for 2 days.
The young side led by Virat Kohli could turn into a classic team if only they play to their full potential. Their ability will be put to test when they play abroad.Their no-nonsense approach to the game, take-nothing- for-granted attitude and above all, ever ready to make it happen will stand them in good stead for the future.