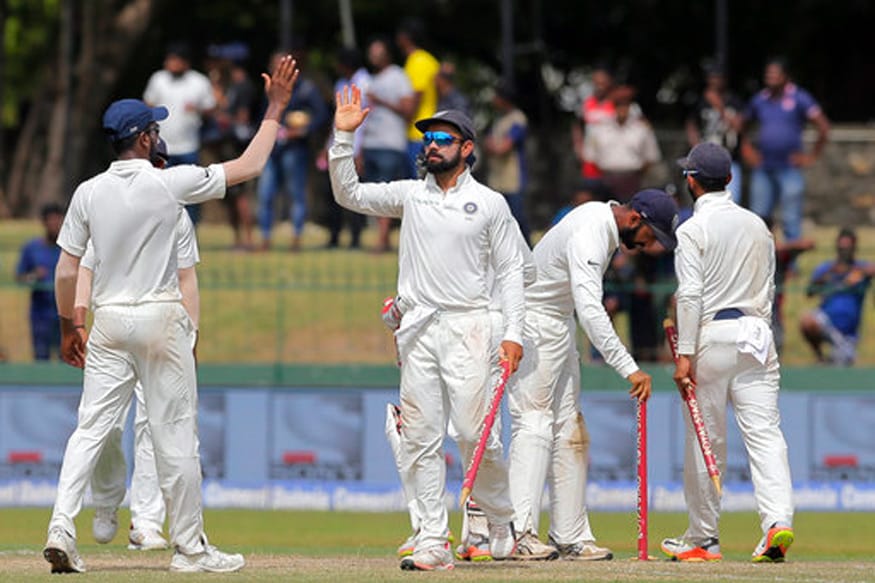 And so the juggernaut rumbles on. Since the Indian team landed in Sri Lanka two years ago for what was billed as a start-of-an-era series, they have won 19 of 26 Tests, losing only two. This was their eighth series win in succession. If they win the return series against Sri Lanka later this year – and it's hard to see how they won't – they will equal Australia's record of nine in a row.
What we do know is that these awe-inspiring numbers will be taken with a shovel-full of salt, both within India and overseas. And that isn't only because both Virat Kohli, the captain, and Ravi Shastri, the coach who has presided over the beginning and end of the sequence, polarise opinion as few other men do. The quirks of scheduling have played a part, with India not having had a truly challenging away series since they lost 2-0 in Australia in 2014-15.
"Virat hasn't been tested yet," said Sourav Ganguly recently. "Sri Lanka is probably not the strongest Test side at the moment. For me, the fans, as well as for Virat Kohli himself, the yardstick will be how well his side performs in South Africa, Australia and England."
You can't really fault that opinion. Winning in Australia and South Africa remains the Holy Grail for an Indian Test side. And after 4-0 and 3-1 drubbings on the last two tours of England, avoiding a similar fate next summer is also high on the wish list.
If some folk are eager not to get carried away, it's only because Indian cricket has been here before. In July 2011, when MS Dhoni led the side to England, they were ranked No.1 in the world. At that stage, Dhoni had led India 27 times, winning 15 and losing only three. What's more, he had survived his first big test, drawing a series in South Africa, with a VVS Laxman-inspired victory in Durban cancelling out the innings defeat at Centurion.
Over the next six months, India would lose all eight Tests in England and Australia. By the time Dhoni retired, further losses in South Africa, New Zealand, England and Australia had been added to the list. There was even a home defeat to Alastair Cook's England. When Dhoni quit, after 60 games in charge, the golden start alluded to earlier had been followed by a run of 12 wins, 15 losses and six draws. From boasting a win-loss ratio better than Steve Waugh and Mike Brearley, Dhoni is now remembered as one of the Test captaincy also-rans.
Shastri's comments about this team breaking new ground have come in for scathing criticism. His thoughts may have been clumsily worded, but there's little doubt that we do tend to view the past with a sentimentality that can obscure facts.
If, for example, you say that these Sri Lankans are not worthy opponents on account of being far weaker than their predecessors, then you could say the same of the Pakistan side that India beat in 2004. I still remember one of the great Indian batsmen telling me after the series decider had been won in Rawalpindi: "Is Fazl-e-Akbar actually one of the three best fast bowlers in Pakistan? I thought they had a great tradition."
A few months earlier, when India drew 1-1 in Steve Waugh's farewell series, the hosts were without Glenn McGrath, injured, and Shane Warne, suspended for taking diet pills. Among the bowlers India punished were Brad Williams and Nathan Bracken. Let's not pretend that either is a Hall of Fame candidate.
It's all too easy to pick holes in any achievement. Australia's nine-series streak started with a victory against an ICC World XI that was less a team and more an agglomeration of stars. It included two wins against hapless West Indies, and an away success against a South Africa side that had Andre Nel and Andrew Hall as second and third seamers for the opening match of the series.
There is some truth to what Shastri said. Even in the 1990s, considered an era of total dominance at home, India never pulverised teams as they did New Zealand and England last season. And what's more, they did so on fair pitches, with the fast bowlers like Mohammed Shami comfortably out-bowling their celebrated counterparts.
So, while it's too early for hosannas, we should fight the urge to trivialise these successes. You can only beat the teams in front of you, and while the next 24 months will provide keen reality checks, that shouldn't detract from what went before.
Test cricket isn't just about eye-catching hundreds and five-wicket hauls. It's also a game of patience. Several times over the past year – against England in Mumbai and Chennai, and the third afternoon at the SSC quickly come to mind – India have had to dig very deep and play the waiting game. That they have then prevailed says a lot about both the quality and perseverance of this team.
This charmed run will end at some point. But unlike the 2011 side, which was aging and falling apart at the seams, this is a team of individuals in their prime. If they get knocked out, they'll bounce back again. They really are capable of leaving a lasting legacy.