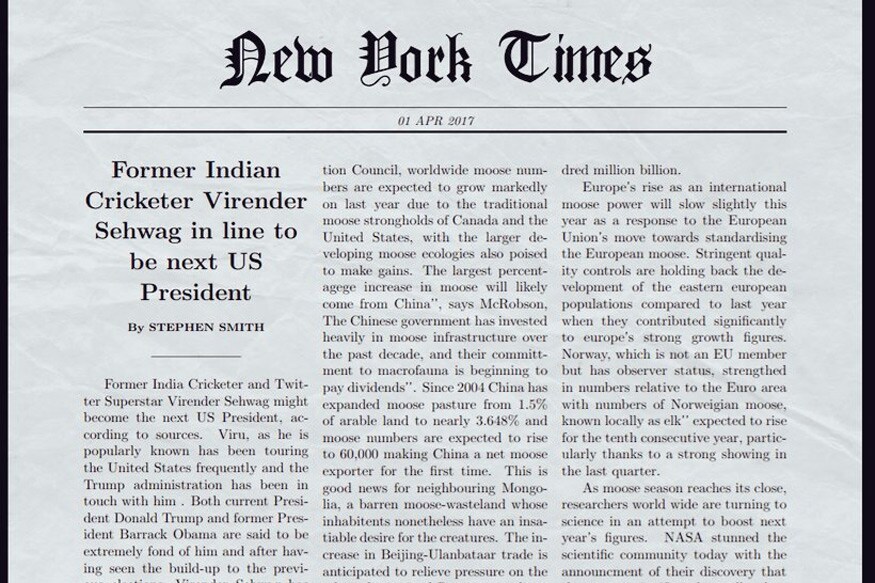 New Delhi: Not too many can match former India opener Virender Sehwag when it comes to humour and oneliners. And with April 1 known as April Fool's Day, Sehwag took to Twitter to leave fans across the world in splits as he shared a news article from a newspaper called the 'New York Times' which said that Sehwag is in line to become the next US President.
Interestingly, the article is written by a Stephen Smith. Considering the recent talks in the Australian media on how India skipper Virat Kohli is like Donald Trump, the article could well be an indirect dig at Australia skipper Steven Smith.
Sehwag's post read: "Hahaha ! pic.twitter.com/xyvzQV1Ug8."
Hahaha ! pic.twitter.com/xyvzQV1Ug8

— Virender Sehwag (@virendersehwag) April 1, 2017
The article also says that with Viru (as he is popularly known) touring the United States regularly, the Trump administration is in touch with him.
To make matters more humorous, the article goes on to add that both Trump and former US President Barrack Obama are extremely fond of the former India opener and he is a unanimous choice for the role. In fact, Trump is also expected to discuss the matter with India's Prime Minister Narendra Modi when the two meet later this year.
Apart from cracking the backbone of opposition bowling attacks in his heydays, Sehwag does know how to crack fans with his sense of humour.