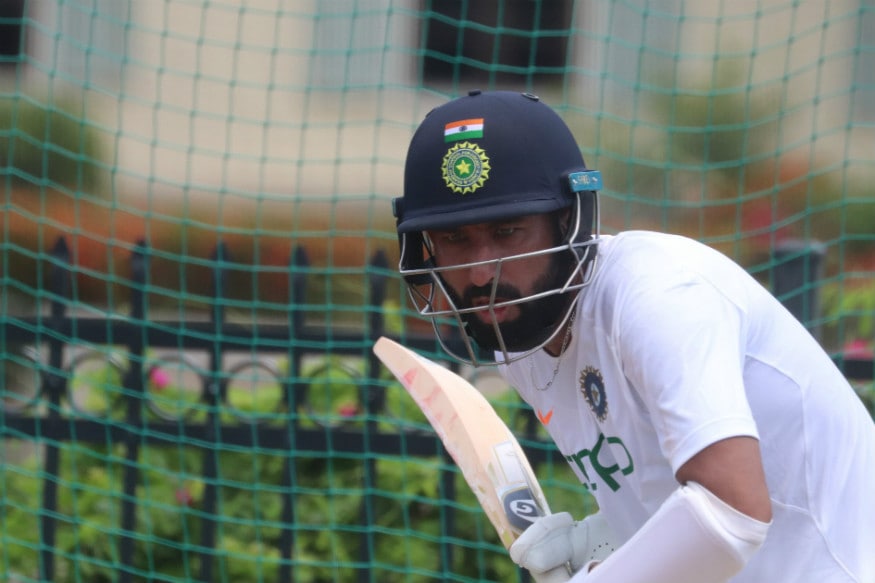 With visibility of the pink ball being a talking point in recent times, Cheteshwar Pujara has conceded that it can be a 'problem' especially under lights.
Speaking to Indian Express, Pujara said batsmen have to concentrate harder to get used to the pink ball. Pujara scored 55 in India's only innings of the victorious day-night Test against Bangladesh in Kolkata last week.
"Yes, you have to concentrate a little extra and spend little bit more time at the crease to get used to it," he said. "When it comes to red ball, visibility isn't an issue at all during the day. But with pink ball under lights, when you walk in to bat during the second or the third session, visibility can be a bit of a problem as you are sitting in the dressing room and suddenly you are walking in under lights. It swings a bit more. So you have to spend little more time at the crease, try to get used to that light and then may be you can start playing your shots."
Pujara said he was not picking the ball late, but 'slightly differently' from the bowler's hands.
"I wouldn't say late but it's slightly different for sure," he assessed. "May be since I have played just one innings in that situation, I felt it that way. May be if I play more, then I can comment on the exact thing, but it was different. I was there under lights for 30-45 minutes before dew started to come in and the ball stopped moving as much; it got a little easier. Also, it gets dark a bit earlier in Kolkata. The weather is different at this point of time — there was a bit of hazy atmosphere and that can also add some visibility issues. These are all guesses — I am not entirely sure as it's all early days as of now. How it would play in different venues needs to be seen."
The Saurashtra batsman also said the pink ball is harder than the red ball, travels faster and makes fielding in slips challenging.
"The pink ball is certainly harder than the red ball. And it does travel a bit faster than the red or even the white ball," he said. "I am guessing it's because of the extra coating of lacquer on it (more than white) and may be because of its hardness too I am not sure but it does travel faster. Also, it sort of moves/wobbles a bit, swings more than the white ball and that also makes it challenging in slips. But yes it does come through a lot quicker than the red."
Pujara welcomed the idea of pink-ball Test cricket, but like his captain Virat Kohli, he too said it should not be a regular affair.
"One-off Test match in a year is fine. If you want crowd to come in and create an atmosphere. But not on a regular basis I would say. I am sure Test cricket will be mainly played with the red ball. Once in a while, you might play with pink ball but majority of the game will be played with the red ball."