Srinagar: From throwing leather balls "like a bowling machine" at him in nets, packing his kit and tiffin-box to mopping snow on turf in freezing winters so that he does not miss knocking sessions, if there is one man behind the success of Qamran Iqbal – India's rising Under-19 cricketing star, it is his friendly but firm and sometimes eccentric father.

Iqbal Lone – a doctor in the Valley's Premier City Hospital and a cricket buff – is the mind, motivation and sweat that have gone into the making of Qamran - a 17-year-old strapping boy who dreams to be next Viv Richards or Virat Kohli.

"Yes, I am a dreamer," the stylish opening batsman and captain of the Jammu and Kashmir U-19 team told News 18. "My aim is to turn up for India seniors. I want to play Test cricket first and shorter format games."

On Monday, Qamran was named in India 'B' U-19 squad for the Quadrangular One-Day series after a string of impressive performances over the last three years. Two Indian junior teams, `A' and `B', Nepal and Afghanistan will feature in the tournament from September 12-18. Qamran is hopeful of making a lot of runs and flummoxing the opposition batsmen with his leg-spinners.

The young lad has been scoring runs at an average of above 50 in the U-14, U-16 and U-19 circuit for the state in the last six years.

"He has hit a few tons and notched a few fifties in last two years and based on those performances, he was selected for the Colts team," says Majid Dar, his coach and former J&K Ranji player, predicting Qamran to be the next big thing in state cricket.

"He is a natural stroke maker and plays big innings. His bat speed is amazing and he generates lot of power in his shots."

That promise and hunger were seen quite early by his father who decided Qamran, his only son, would become a cricketer no matter what it took.

"Qamran and I were sure he needs to do this though my wife was a bit sceptical initially," he says, refusing to distract Qamran who was beseeched by media on Tuesday.

Lone says his family and elder siblings did not approve of the idea of Qamran becoming a cricketer at the cost of studies but I told them "come what may, he will be a sportsman and God willing, he will make a career out of it."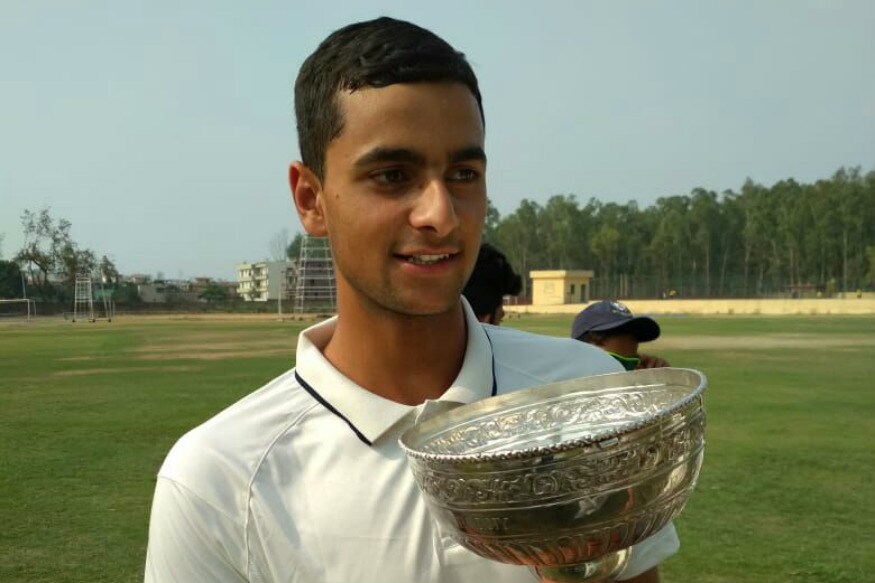 When Qamran turned 9, Lone took him to Sher-e-Kashmir cricket stadium and handed him over to Dar and former Ranji players. He would keep a watch on his progress by sanctioning leaves from the hospital and Qamran too did not disappoint his doting father. Over the last three years, he has trained at National Cricketing Academy and every such place the search to hone his game takes him.

"Every winter when the Valley is covered in snow, he trains in Delhi, Mumbai and Bangalore. He wastes no time," adds Lone.

Despite being a meritorious student, Lone says he isn't concerned about Qamran's academic progress. In fact, he has advised him to skip exams if it came "in the way of his training and match schedule".

"He cannot sail in two boats and get distracted from his goal. If he has to play cricket, he should just play cricket. No add-ons," Lone insists.

Qamran too is keen to follow his passion and his father's advice, soaking in the belief that there are simply no shortcuts to success.

"I have to support him and plan where he will get the best coaches," says Lone. "I am watching his every step and planning with him.

"My father was an IAS officer, almost everyone in the family is a bureaucrat or engineer or doctor. And when I tell them my son wants to be a cricketer, they are amused. No one believed me initially what I had set out to do but now there is a change in thinking.

"Qamran is making a steady progress. He is on the right track and now the criticism at home has died down somewhat. His mother is not complaining now."

And this discipline seems to have rubbed on Qamran.

"I am not wasting a minute," he says. "I start nets at nine in the morning and go back home at five. I take a small break for lunch and drinks in between."

At 6'3", Qamran is often confused for a fast bowler, but he isn't fussed.

"Two of the greatest openers, Gayle and Hayden, are tall. I am one of their kind," he beams.

Qamran is the third cricketer from Kashmir to have hogged limelight. Parvez Rasool has already played for India and big six hitter Manzoor Dar was signed on by the Kings XI Punjab in the previous IPL season though he did not get a game. Perhaps this 17-year old is destined to accomplish greater heights than his state-mates.

First Published: August 30, 2018, 1:05 PM IST