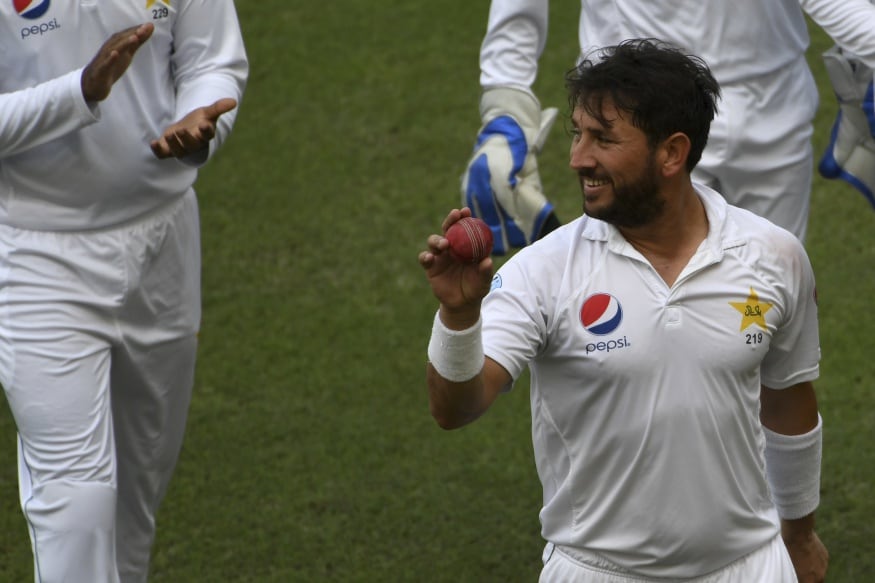 Pakistan legspinner Yasir Shah stepped out at the Dubai International Cricket Stadium with an expectation of picking up 10 wickets in the second Test against New Zealand but little did he know that he will end up achieving the feat in just one day.
Yasir picked up 8 for 41 in the first innings as New Zealand lost 10 wickets in the space of 40 runs on Day 3. The Kane Willamson-led side were bundled out for mere 90 in reply to Pakistan's 418 for 5 (decl). The 32-year-old then also took two wickets to fall in the second innings to become the first Pakistan bowler to scalp 10 wickets in a day.
"When I came (here) in the morning, I was thinking that I had to take 10 wickets in the match," Yasir said. "I didn't know that I would end up taking 10 wickets in a day. Now, I will try to help the team get those eight [second-innings] wickets as quickly as we can."
Asked to follow on, New Zealand are still 197 runs behind Pakistan's first innings total. Yasir said he has been working very hard on his fitness ever since returning from injury, and had plans for all New Zealand batsman.
"Of course I had a plan for each batsman, because every batsman has got their own weakness and strengths," he said. "Against Australia, I was getting my rhythm back slowly because I was just coming back from injury. You need time to get your rhythm after an injury. Today, I bowled really well. I had worked hard in training. I think that's one of the reasons. I bowled well in the last Test as well."
He conceded that there was a bit of pressure on him considering he is expected to take wickets in these conditions.
"Sometimes you do feel the pressure here. because spinners get more wickets. So everyone expects you to take wickets. So you need to work even harder."