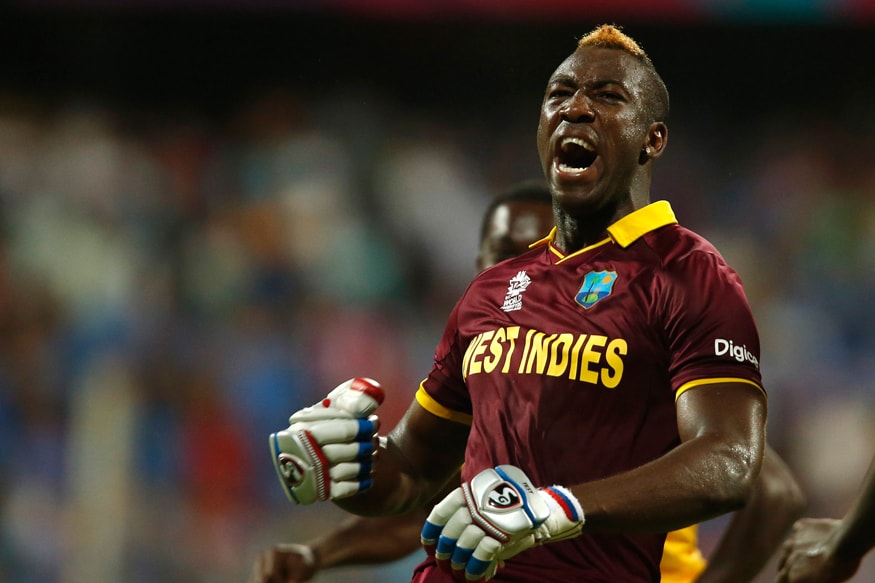 The nonchalant walk hardly gives it away. While batsmen traditionally get intimidated by the upcoming prospect of taking the field against a thousand roaring supporters, the burly West Indian is considerably excited. Exuding a larger-than-life persona, with the Mohawk and the nose ring (yes, you heard that right) in place, the cricketer sprints ahead to the crease where his team needs him yet again.
The job of a saviour can have a humongous toll by bringing with it unnecessary pressure but Andre Russell has risen to thrive in crunch situations time and again. Almost like Sachin Tendulkar in the 1990s, Shivnarine Chanderpaul in the early part of this decade and Virat Kohli recently, Russell too stands tall as a one-man army in a squad that has now accustomed itself to his heroics in almost every game. With the ball, he is ferocious. With the bat, he is unforgiving and on the field he is breathtaking. His swagger is flamboyant, his attitude charismatic and his zeal, infectious.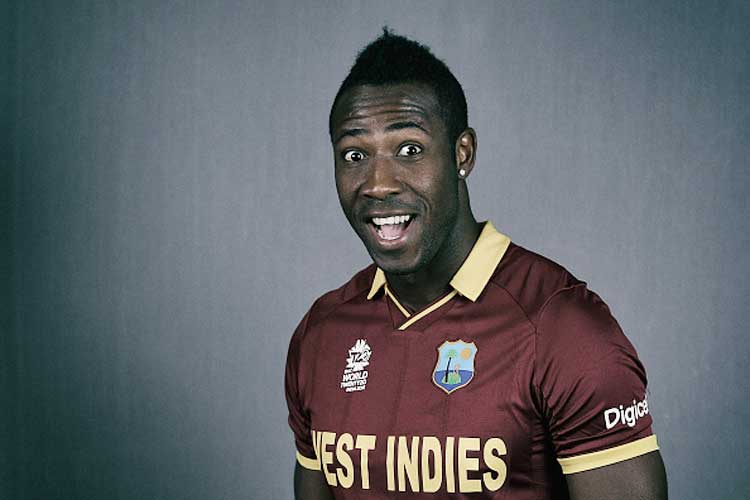 Image Credit: Getty Images.
In an era where genuine all-rounders are biting the dust, the 30-year-old has stood tall with almost identical batting and bowling averages in T20s. Even as the general criteria for selecting a match-winning all-rounder is that his batting average should be greater than his bowling's, Russell's staggering strike-rate of 168.25 with the willow reflects his domineering presence and his vital importance in the team. With a boundary every 4.20 balls, the right-hander is the most dangerous striker among cricketers who have played more than 105 T20 matches, even more than compatriot Chris Gayle, who has a boundary every 4.50 deliveries.
This is not where his impact with the bat ends. Once again, Russell beats the T20 specialists like Colin de Grandhomme, Chris Gayle, Chris Lynn and Kieron Pollard by smashing a six in every 8.29 deliveries. The Kolkata Knight Riders player faces 10.91 balls in a T20 innings on an average, where almost 71.78% of the balls are boundary balls. With the sixes overpowering the fours, Russell ensures that even in his short stay, his average score per innings hovers around the 18 mark, which signifies a strike-rate of 180. If he stays longer than that, more often than not, the team has been pulled out of trouble and the bowlers have been scared off with a massive dent to their confidence.
However, the hallmark of Russell is in his ability to transfer the same energy and perform with the ball as well. His 233 wickets in 257 matches have come around with a strike-rate of 18.7, which is marginally bettered by Dwayne Bravo. However, the fact that he bowls 19.1 deliveries in a game, taking at least 2 wickets in every match makes him indispensable and his pace, especially against the left-handers makes the West Indian a real threat.
So, even if Russell's economy rate is on the higher side the fact that he has wickets to show against his name speaks volumes, and the captain will not mind a few extra runs if the dangerous men are sent back, especially in the death overs. He relies on variations throughout his bowling innings, with his slower balls difficult to read and his bouncers - he bowled 44 bouncers in this year's IPL, the most by any bowler - leaving the batsmen surprised.
The match-winner in the IPL, Big Bash League, the PSL, Ram Slam, the CPL and the Friends Life T20 has grappled with injury issues in the past, with his hamstring remaining a major cause of concern. However, it hardly poses a problem when DreRuss is gliding and taking on improbable catches, thus ensuring that he is never pushed out of the game
Russell's journey to the high league started when KKR put all their faith in the then-young and inconsistent all-rounder in 2014 even as news of his off-field antics were swiveling around. Though he played only two games in his maiden season with the Shah Rukh Khan-led franchise, by the time 2015 ended, he had earmarked himself as a future superstar A strike-rate of 192.89 with the bat and 14 wickets with an impressive economy rate of 7.96 earned him the MVP award and as his aura grew, the inconsistencies paved the way for a mature and a fearless cricketer who was the go-to player in pressure moments.
It was brought to the fore when KKR had needed 158 for a win during the Champions League back in 2014. Struggling at 51 for 5 in eight overs, the West Indian stormed away to a 22-ball 50 and his eventual score of 58 comprised of five sixes that was scored at a strike-rate of 232. It was brought to the fore when KKR's top-order had yet again failed in a match at Pune against Kings XI Punjab in 2015. Stuttering at 60 for 5 whilst chasing just 156 runs, a win seemed improbable till the West Indian romped away to a 36-ball 66 at a strike rate of 183.
It was brought to the fore again when his Big Bash side Sydney Thunder needed a steadying hand in 2016 against Perth Scorchers who had managed 175 runs on the board. Then, Russell had already impressed with a 2 for 31 in his quota of overs but he was back at it again blasting five sixes as he raced away to 42 in just 20 deliveries. Though his team ended up second best, there was no stopping the might and the brute force of the player in the coming years.
When KKR retained Russell for the 2018 edition of the auction despite him having missed out after he was banned in 2017, the positive influence could be sensed. As he took a hat-trick and then raced away to a 49-ball 121 in his captaincy debut for Jamaica Tallahwahs, the flamboyance that has since segregated the cricketer was evident yet again. But more than his skills, it his Russell's acceptable and his belief that he indeed is the best player currently that strikes a chord.
As Russell had helped his IPL side over the line in the Eliminator against Rajasthan Royals with an unbeaten 49 in 25 balls this year, the presenters asked him the secret for his continued success.
"A belief that I am the best."
No arrogance or haughtiness. Just a queer confidence that transforms into insane performances, with both bat or ball every time he takes the field.