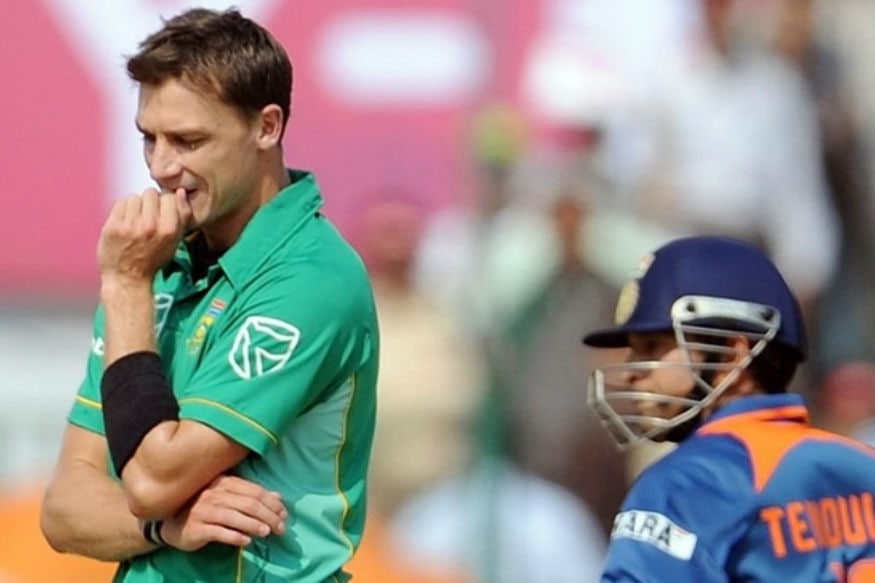 On Saturday, South Africa fast bowler Dale Steyn created quite a stir in the cricketing world, when he accused umpire Ian Gould of not ruling Sachin Tendulkar out LBW when he was in his 190s, in the iconic match at Gwalior.
"Tendulkar scored the first double hundred in ODI cricket, and it was against us in Gwalior. And I actually remember -- I think I got him out lbw when he was about 190-odd. Ian Gould was the umpire, and he gave him not out," the South Africa pacer said during the Sky Sports Cricket Podcast with England bowler James Anderson.
"And I was like, 'Why, why did you give him not out!? That's so dead.' And he was like, 'Mate, look around – if I gave him out, I won't make it back to the hotel'."
But as it turns out, the events mentioned by Steyn, never transpired on the field. In fact, Steyn bowled only three deliveries at Tendulkar, when the latter was in his 190s, in the 47th over.
According to a statistician, these were the only balls that he bowled to Tendulkar after he crossed 150. Also, none of the 31 balls he bowled to him in the entire match produced a close lbw shout.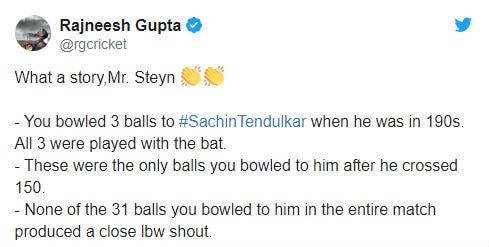 On the other hand, Gould had another interesting incident involving Tendulkar and that was during the 2011 World Cup semi-final between India and Pakistan in Mohali. While he gave Tendulkar LBW, the batsman took DRS and the decision was overturned.
Gould said that he would stick to his decision of giving Tendulkar out in the 2011 World Cup semi-final and that he could not believe it when his decision was overturned after Tendulkar went for a review.
"When I gave him out at Mohali, I'm thinking this is out. I will sit here and guarantee you, if I see it again, I'd still give it out, simple as that. He talked to Gambhir and looked like he was going to walk out, and I'm thinking thank God for that, then he spun on his heels and made that T sign and the world stopped," Gould told BBC 5 Live Sport.