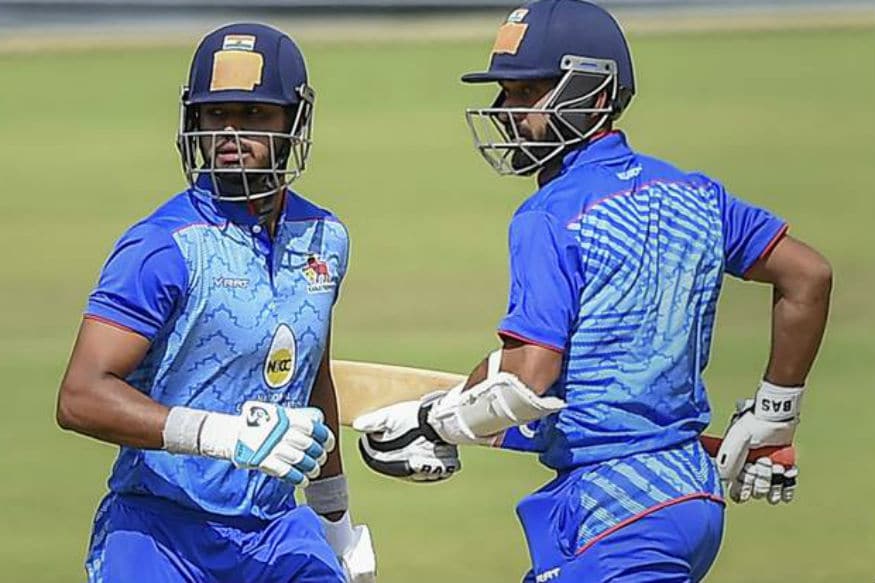 "We're a perfect team". That's how Mumbai captain Shreyas Iyer described his side after they won the Vijay Hazare Trophy at the M Chinnaswamy stadium in Bangalore, defeating Delhi by five wickets. It capped an unbeaten run in the tournament, where they were hardly challenged apart from Delhi in the final.
"Amazing is the one word to finish off with, because the consistency which we have shown in the tournament has been amazing from the first match," he said after the game. "Everybody in our team can bat and bowl, and it shows. We are a perfect team that is why we have won the tournament. Kudos to the players and support staff, they've been great throughout."
The victory ended Mumbai's drought of limited-overs title in recent years. The last time they won the 50-over competition was in 2006-07. Yet, being the powerhouse in domestic cricket that they are, the young Mumbai side hardly showed any nerves in the final even when they were 40 for 4 chasing 178.
Iyer gave an insight into the Mumbai school of thought, saying they consider a final as a final, and not just another game as teams often say.
"We play as a last game, since it's the final," he said. "We decided yesterday that we'll play as a final and not as just another match. Right from the toss, it went with me and I gained momentum from there onwards. We were a little bit confused when we saw the wicket and couldn't analyse how it would play. The best chance was to bowl first and everything went really well until we came on to bat.
"What sets us apart is that all of us gel together really well. Even off the field we stay together, cherish each other, play around with a little bit of tantrums and fun. This is what the team is made up of."
Mumbai's dominance in this tournament, especially with the bat, is evident from the lack of opportunities for their middle-order batsmen. The forms of Prithvi Shaw (356 runs from 5 matches), Ajinkya Rahane (257 runs from 5 matches) and Iyer (373 runs from 6 innings) himself meant the middle-order was rarely needed. Coming in to the game, Aditya Tare had batted only 48 balls in the tournament while Lad only 124 deliveries.
Being the champion side they are, though, that didn't become an excuse. The two added 105 for the fifth wicket from 40 for 4, showing their experience and sealing the win.
"The lower order batsmen, they hardly got a chance to bat and today when they got an opportunity to bat, they showed what they are made of," Iyer said.
"They are the batsmen who have performed previously in pressure situations. Today we believed in them because we knew that they would finish off the game. Me and Ajinkya were chatting with one another that we believe they would win us the game. At the back of the mind we had faith in them. Tare has got good experience. He has played plenty of matches for Mumbai. He also led Mumbai so he is a good overall performer."
All the talk around Mumbai's campaign has surrounded on their batsmen, but the bowlers have silently done a tremendous job too. Dhawan Kulkarni and Tushar Deshpande have 18 and 15 wickets respectively, while Shams Mulani too played a big role with 17 wickets in the tournament. While Tare and Lad sealed the win in the final, it was their bowlers who set it up.
"Our bowling has improved really well. Since the batting has been really strong through the league phase, it was a bit of a worry for us on how our bowling unit would perform," said Iyer. "
"They lived up to the expectations and we had planned how we would go up against such and such batsmen, and they really executed plans really well. Not only against Delhi but also against other teams. In few matches, I wasn't there, Ajinkya wasn't there, Dhawal was leading and we defended a good total (245) against Punjab. From there on we got the momentum, they've been really focused and motivated since the start of the league phase, and they wanted to do something good for the team."
Talking about the tricky chase, Iyer said they had no option but to attack their way out of trouble as Delhi were all over them in the initial phase. Mumbai kept losing wickets to Navdeep Saini and Kulwant Khejroliya, but batsman after batsman walked in to play his shots. The top-order failed in the process, but Tare and Lad succeeded, with plenty of luck going their way.
"We (top order) were also doing the same, but we got out," Iyer explained. "We had to play in that way as they had put an attacking field and if we bogged down, they would have come on top of us. You never know and we might have lost five - six wickets and the match would have been sealed (in Delhi's favour). At the same time, our team were going at six runs per over, which was positive sign for the dressing room and the batsmen. They were on the backfoot and they were building pressure. We just knew that they (Tare and Lad ) had to play out this phase. Delhi did not have fifth bowler as sadly (Pawan) Negi got injured."
Leading Mumbai to the title was also a good start to the season for Iyer himself. His career kick-started when he smashed 1321 runs in the Ranji Trophy 2015-16, and after three years filled with ups and downs, he's now one of their senior players apart from being a contender for the Indian team's middle-order positions.
"There have been ups and down, but at the same time, I have learned a lot as well," Iyer said on his journey from Mumbai to India to Mumbai again. "I have got different roles in different teams. There always has been a learning process. Yes, winning and losing always happens, but you tend to learn a lot from those things. Personally, I feel I have grown really well, adapted to the situations and realised the mistakes that I was doing. If I got out early and corrected it in the next game. That is what has made me a bit matured as well. When I see other batsmen, I also try and grasp new things from them and try to improve."