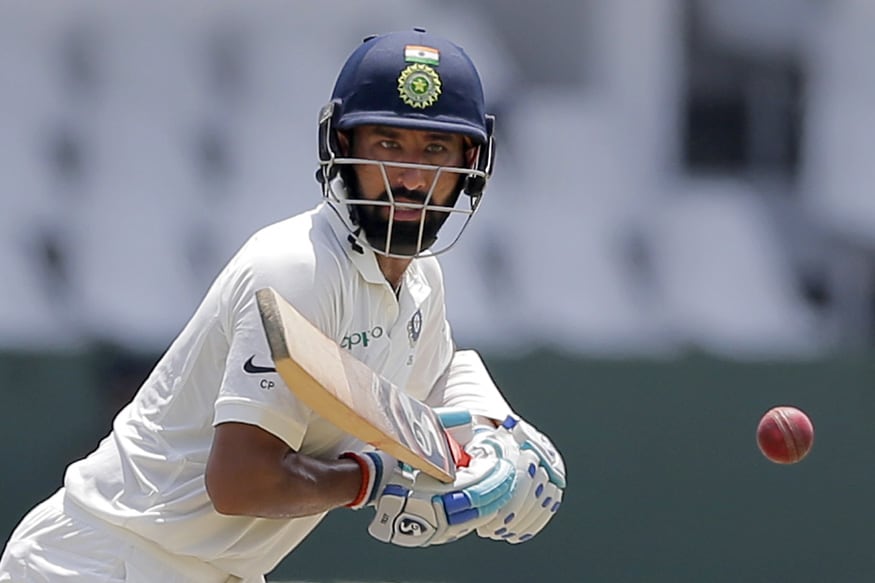 New Delhi: He is considered one of the backbones of Indian batting in Test cricket. So, when Cheteshwar Pujara says that England is one of the toughest places to take strike, you wish to understand how India's Test No.3 plans to tackle the likes of James Anderson and Stuart Broad in the upcoming five-match Test series.
Pujara reveals that playing county cricket in the lead-up to this series was his way of getting used to the conditions and prepare for undoubtedly one of India's biggest challenges on foreign soil. In fact, newcomer Rishabh Pant has made no bones about the fact that handling the Duke ball in seaming conditions will be the major challenge for Indian batsmen.
"Playing county cricket is always helpful as it allows you to get used to the conditions. England is the toughest place to bat because you have to get used to the weather, and the seaming conditions. We have played a lot of cricket outside the sub-continent since our last tour of England in 2014 and that experience will also come in handy," he told Hindustan Times.
"There have been some seaming tracks in India as well and most of the batsmen are experienced in handling the conditions now. We are better prepared this time."
Asked about the technical changes he has brought into his game for the series, Pujara refused to divulge much. "I don't want to comment much on technique, but this experience (county) will definitely come in handy. The ball swings for good 40 to 50 overs in England and playing more in these conditions allows you to know where to focus.
"Temperament is the key in these conditions. One should be ready to grind it out when the ball is moving. Once you settle in, you can gauge the movement off the pitch and in the air and that is when you can play your shots."
While Pujara has been a regular at No.3 for India in Tests, KL Rahul was sent ahead of him in the one-off Test against Afghanistan, raising questions on whether the team management wants someone who can set the pace. But Pujara feels that planning and execution changes according to match situations and there is no set role for anyone.
"There is no set role for anyone to be honest. You need to change your game according to match situations. When you play in difficult conditions, you have to play according to the merit of the ball. I know what things to do to succeed in this format and I play accordingly. The track also determines what kind of a strategy you have as a batsman, and that is why there can't be any particular roles. As a team we discuss what needs to be done and that's how we go out and perform," he said.
Pundits have spoken about how James Anderson and Stuart Broad returning from injuries could be a boost for the Indian batsmen. But Pujara begs to differ and says that England is not a team of individuals.
"You need to understand that they are a good team. You can't have a strategy around two or three players. Anyone can be dangerous. As batsmen we know their seam duo (James Anderson and Stuart Broad) are tricky customers, but we have to prepare against the others too. Similarly as a bowling unit we will have to work on all their batsmen. Yes, some have been more successful against us but we will have a plan for all of them," Pujara said.