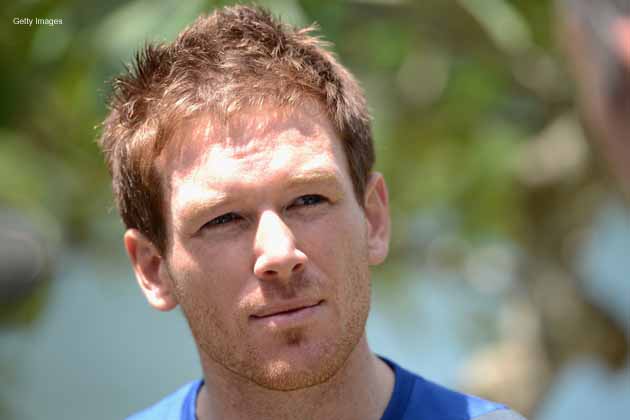 Mumbai: England Twenty20 captain Eoin Morgan conceded that his side fell short by 10-15 runs after getting off to a blistering start in the lost opening Twenty20 international against India in Pune.
"We got off to a fantastic start - Alex [Hales] and Luke [Wright] really came together as a pair - but from there we didn't really kick on," said Morgan.
"We lost wickets continuously which halted our momentum and didn't do us any favours. The total we did creep up to was probably about 10 or 15 short of par," said Morgan who is standing in for the injured regular skipper Stuart Broad.
Morgan praised the whirlwind 56 scored by Hales, off just 30 balls with seven fours and two sixes and his stand of 68 runs in quick time with Wright (34) before India's Yuvraj Singh, later named the man of the match, halted his side's progress with a three-wicket haul in 10 balls.
Yuvraj's victims included the second-wicket pair and Morgan himself as England fell off from 89 for 2 to be contained to 157 for 6. Later, Yuvraj smashed 38 off 21 balls to give impetus to the successful run-chase following the dismissals of openers Gautam Gambhir and Ajinkya Rahane in close succession.
"We said at the halfway stage we would have to do things exceptionally well to win this game, because the wicket did play so well, and we just lacked a bit of discipline really," said Morgan.
Morgan rued the mid-innings stutter followed by some poor bowling. "Losing wickets in Twenty20 cricket doesn't help - and batting first, you never know how much is enough because you play on a small ground on a good wicket. We didn't compensate for the wickets and again didn't set it up for the finish. We lost wickets at the wrong times," said Morgan.
But he said he would continue to encourage his batsmen to go for their shots on good tracks. "I'll continue to encourage the guys to play positively and again build partnerships and continue momentum if the wicket is good," he said.
Morgan also praised Yuvraj for his match-changing all round display.
"He's a very clean striker of a cricket ball, and again always has that danger factor. He can clear the ropes and he did that tonight - he had one over when he went berserk.
"...all credit to him; he bowled well. He does a great job, and has done for years," added the England captain when asked about how Yuvraj's part-time spin has been so effective in the limited overs.