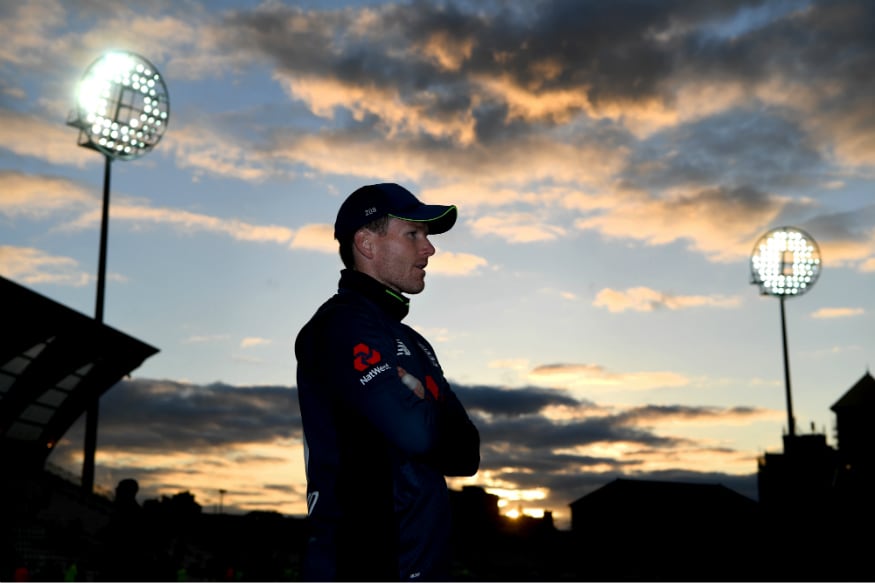 The top-ranked One-Day International side, England will go into the 2019 World Cup as favourites and it's something that skipper Eoin Morgan and his team have come in terms with.
"Well we're managing quite well at the moment and have done for the last eight or six months," Morgan told The Telegraph (UK).
"We've gone into every series for the last year and a half as favourites. And we've grown in confidence by dealing with that. It's something we've come to terms with, we see it as a huge opportunity not only to win some silverware but inspire a new generation as well.
"One of the big confidence boosters for us is that we can win a game with the ball or the bat. That's something we didn't have at the last World Cup.
"We could win the game with the ball, with Jimmy [Anderson] or Broady [Stuart Broad] with the new ball, they'd take two or three early wickets and we'd be on the front foot before we'd even started. And we could chase down anything south of 270, which is great, but sides were scoring 330. We didn't have those capabilities with the bat. It's great that we have both at the moment."
Things, however, weren't the same for England when they featured in the 2015 World Cup in Australia and New Zealand. The Morgan-led side were humiliated in front of the whole world for playing old-dated cricket as they failed to qualify for the knockouts.
"It's probably best to start at the 2015 World Cup and actually what came out of it. I think in essence – extremely poor performance. And I think we got what we deserved in many ways, because we weren't competing with the best in the world at the time, we were playing a brand of cricket that was dated, and we weren't adapting to any trends that had happened in the six to eight months leading into that 2015 World Cup," Morgan reflected.
"And it cost us. So coming out of that we needed to change things, we needed clarity, and that clarity came from Andrew Strauss. He gave great direction to myself, Paul Farbrace and Trevor Bayliss when he came in. The selectors played a big role in that. We needed to expand the way we played.
"We needed to play aggressive cricket. We also needed the freedom to select guys for a prolonged period of time and back them in the way we wanted to play. I think that's allowed us to grow as a team."
Former captain Andrew Strauss was then appointed as director of cricket, and alongside Morgan, he completely changed the way England go about their business in limited-overs cricket. Strauss left his job as director of cricket to be with his wife Ruth, who died in December, aged 46, but by then England had already emerged as a dominant force in the ODI format.
Morgan, who has led the country 90 times in ODIs, recalled how Strauss conceived the change to attacking cricket, breaking the tradition of executive self-preservation.
"He selected me for England when he was captain, he backed me when I was first involved – so there's a huge amount of debt to Andrew. You can't emphasise enough – to take on that role and make decisions like he did, straight away – not a lot of people do that," said Morgan.
"The first thing they [administrators] do in my experience is have a survey or an analyst to look into something for eight months, then they come up with a three-year plan to save their job. Keep it long lasting, you're in there for four years.
"Straussy wasn't in there like that. He was there to make a difference, and the decisions he made, even if they were the wrong ones to start, he was gutsy enough to make them and pull the trigger on them. I have a huge amount of admiration for that."
England also have someone like Jofra Archer waiting in the wings and Morgan believes competition will do only wonders for the team.
"He has to qualify for a start. I've played against Jofra a lot at Middlesex. I've been very impressed with what he has to offer. He's an extremely talented guy – not only at Sussex, you watch him at the IPL, you watch him at the Big Bash. He enjoys the big stage. And I think the demand for him around the world is justified, and the hype around him is justified. We're very open to how we can improve our squad or our team, but we'll make an assessment when we know what day he qualifies and what fixtures lie ahead for him," Morgan says of Archer.
"It's worked extremely well for our batting unit knowing there's a lot of competition. Jonny Bairstow for the first two years of our cycle was in and out of the side, waiting on [Alex] Hales or [Jason] Roy to get injured or out of form – and he's now one of our key players at the top of the order."
Morgan said the individuals enjoy each other's company and there's mutual respect among them.
"A group of guys who enjoy each other's company within a culture of… you know, respect. And that respect is earned. It plays a big part, especially when you're trying to learn. Trust obviously develops when you reinforce what you say you're going to do by actions."