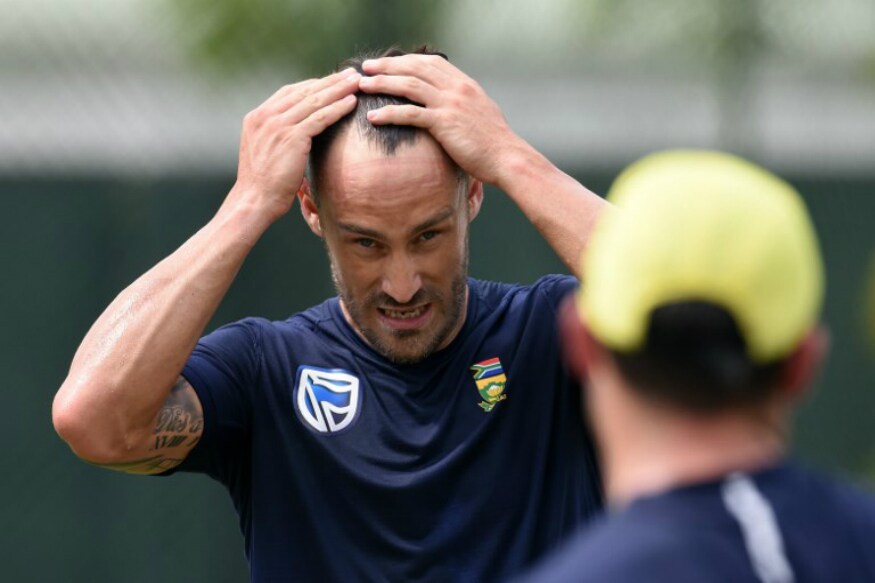 After conceding the two-match Test series 2-0 to Sri Lanka, South African captain Faf du Plessis said his team's confidence has taken a massive hit. The Proteas are usually a difficult opposition to beat in their own backyard, and only England, Australia and now Sri Lanka have won a series there.
"Massive dent," du Plessis said after losing the second Test in the first session of the third day in Port Elizabeth.
"I thought up until this Test series we were looking good and playing well at home, but the last two Test matches, I wish I can give you an answer but we prepared the way we do and we didn't take them for granted. Maybe, mentally the boys were off the boil at the end of a long season, but that's not an excuse once again. It's probably up there with the most disappointing series loss, certainly from my own personal point of view and also from a team perspective."
In the first Test at Durban, a heroic innings from Kusal Perera helped the visitors pull off one of the greatest Test wins. The South African captain had then said the second Test would see conditions that were more helpful to the hosts, unlike Durban. 32 wickets fell on the first couple of days but the Proteas captain swatted away all talk of an extra spicy pitch contributing to their own downfall.
"I would see that as an excuse if anyone in the team used that," he said. "Certainly, that's not the language I've heard in the dressing room. Whatever happened in the past has absolutely no bearing on the Test match you are playing. Everywhere you go as a batter, you need to adapt your mindset and score runs on whatever you see in front of you on the day. So, for me that's an absolute no-no.
"This was a very good pitch and I think both teams throughout this series have batted poorly. Today was the first time two guys put a partnership together and made it look easy. When I was batting in both innings, I felt it was a really good batting pitch and like I said both teams did not put on the runs like they should have. I can't tell you why - 30 wickets fell in two days on a wicket where you should be scoring a lot more runs. Mentally, we were a bit soft in giving our wickets away and cricket is about fighting it out and grinding it out.
"Bowlers have to earn your wicket and for most of the series all of our batters gave away their wickets pretty easily. There are no fingers to be pointed at the wicket. They bowled well but the biggest disappointment lies with the team - the batting line-up and we have got some really good batters there. Probably 99 percent of our dismissals were soft, judgement errors and that's the only finger pointing backward at ourselves."
For the hosts, their main problem area was batting. Even though there were more questions raised than answered in the recently concluded series, du Plessis does not think there is a need for a massive overhaul or panic.
"It's difficult to say. You're talking about a top order that is experienced. You are talking about guys like Dean Elgar and Hashim Amla - talking about them to be replaced is a big call. They've done well for a very long time. One series doesn't make you a bad player. If it happens over two or three or four series, then of course. Every player in the team needs to perform. If you play for a long time, you're allowed to have a bad series.
"But if it happens over a period of time of course you take a look. I can also tell you that it's not easy to walk in from domestic cricket and start performing. [Theunis] de Bruyn and [Zubayr] Hamza are the other guys waiting - if you take their records it's not better than Dean Elgar or Hashim Amla or myself. It's Test cricket and it's supposed to be harder. But our top order did not score as many runs against an attack we should have."