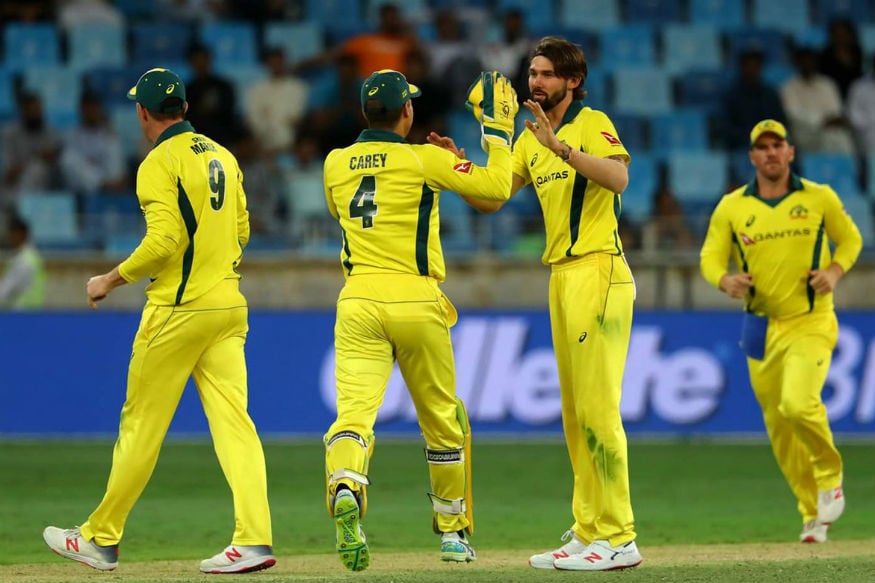 Australian ODI skipper Aaron Finch couldn't have asked for a better build-up to the 2019 World Cup than the five-match ODI series whitewash against Pakistan in the UAE, and he said that the back-to-back ODI series wins over India and Pakistan in their own backyards means that the team will head to the World Cup full of confidence.
"We'll go to the World Cup with a lot of confidence now, even after a lot of people wrote us off," said Finch said after the fifth ODI. "Potentially we had a real focus coming here and that was our last hit-out before the World Cup 2019 so we wanted to go into that tournament with a lot of momentum," he added.
However, Australia now have a problem of plenty with the returning David Warner also in sublime form in the IPL with the Sunrisers Hyderabad.
"There will be some unlucky guys," said Finch of the squad that could also see the return of fast bowlers Mitchell Starc, Jos Hazlewood and Pat Cummins after injury. "Everyone who has an opportunity has played some great cricket. At the end of the day there will be some tough calls, but it's exciting for Australia at the same time because six month back a lot of people were slamming us."
Not only did Finch secure the series for Australia with a 5-0 margin, but the Aussie opener put his patchy form with the bat behind him to score 451 runs in five games at an average of 112.75, with two hundreds and two fifties including a career-best 153 not out. No wonder that the Australian skipper was named the player-of-the-series, as he was dismissed for under 50 just once in the series to fall 27 short of George Bailey's Australian record of 478 — the most runs scored in a bilateral series.
Finch begun his tour with totals of 116 and 153 not out in Sharjah, before scoring 90 in Abu Dhabi and then 39 and 53 in the final two games in Dubai.
"It was probably my most consistent (series) as a batter," Finch said on Sunday. "I think if you look back through my career, there's been times when I've got a couple of hundreds and there will be some really low scores in there as well.
"It was nice to get a good start each game and still kicking myself at a couple of chances, (and innings) where I could have gone on and got some really big match-winning scores. It was nice to start the series really well and set the tone early," the 32-year-old said.
Finch carried the form that he found in the last two games of the series against India, which Australia managed to win 3-2 after losing the first two ODIs.
"A couple of really good chases as well, which is something that's been really pleasing recently that we've been able to chase 360 in Mohali (on the preceding tour of India) and then 280-plus twice in Sharjah on wearing wickets was a real positive both times."
Finch's opening partnership with Usman Khawaja was one of the high-points of the series win, with the pair now statistically the greatest opening pair in their side's ODI history. Khawaja was the second highest run-getter for Australia in the series after Finch with 272 runs in five games at an average of 54.4 with three fifties.
The Finch-Khawaja combination's average partnership has been 81.70 and they recorded their third 100-plus run stand on Sunday as Khawaja fell two runs short of a century.
"When he's timing the ball, he hits the gap a hell of a lot," Finch said of Khawaja. "He doesn't hit the fielder too often. That was a brilliant innings that he played. I was disappointed he didn't get a hundred because he really did deserve it, the series that he's had, the way that he's been playing."
Coach Justin Langer has praised Finch for his leadership and the Victorian opener said he's delighted with how far Australia's 50-over side has come in recent months.
"If you think back to six months ago, a lot of people were slamming us, a lot of people were writing us off for not just one-day cricket but all forms of cricket," said Finch.
"So it's been a really positive last couple of months and we've been really building and building really nicely. When you're building towards something and you've changed a bit of your strategy and game plan, I think it can a little bit of time to develop. It took a bit of time for guys maybe to fully buy into it and believe that it was the right way to play one-day cricket and the right strategy to go with," Finch, who has 13 ODI tons now in 109 games, said.