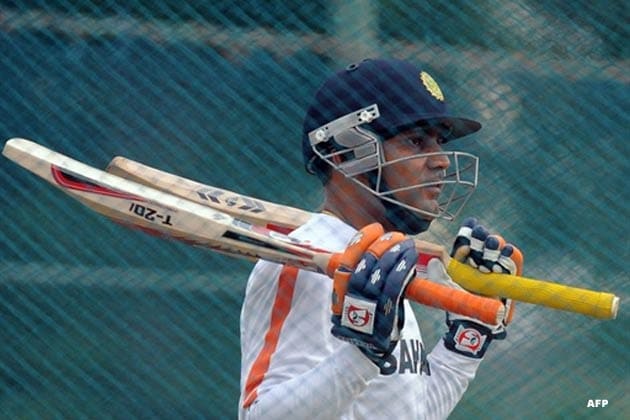 Bangalore: Left-handed batsman Marcus North is in good touch and India would try to remove him early on Sunday to restrict Australia to a moderate first innings score in the second cricket Test, said opener Virender Sehwag.
"He (North) is playing well in this match and this is also his second Test against India. At this moment, he looks competitive and tomorrow morning, we will try to get him out as quickly as possible," Sehwag told a press conference after the day's play.
The opening batsman said their strategy would be to skittle out the visitors as quickly as possible so that they get to bat for a longer time.
"That is our team strategy. As of now, the ball is coming up slowly to the bat and hopefully the wicket will get better as the match progresses. Perhaps on third and fourth day, it would dry enough and the ball will come nicely onto the bat," he said.
Captain Ricky Ponting's 77 helped the visitors reach 285 for five in the opening day of the match before the play was called off due to bad light after 85.5 overs. North remained unbeaten on 43.
Sehwag also defended the decision to rest VVS Laxman, saying the right-handed batsman was not fully fit.
"We tested him this morning and he said the back is still stiff and we did not want to take any chances. If something goes wrong and he cannot continue, then we would not get a fielder for Laxman. So it was a good decision to not to play him," he said.
The swashbuckler batsman also praised Suresh Raina, who got the big breakthrough in the form of Ponting in the post-tea session.
"The wicket that Suresh Raina took to dismiss Ricky Ponting today was the best amongst the five wickets that we could garner. We started off well but at one stage during the tea session, we thought they would score around six runs an over but we are happy to restrict them," Sehwag said.
On playing at the M Chinnaswamy Stadium, he said, "We are always happy playing before the supportive Bangalore crowd and I am sure they could come in good number like today for all five days."
Talking about the pitch, Sehwag was of the opinion that the strip is wet and the side portions are not fully dry. "May be it would get better," he said.
Asked whether they would celebrate senior batsman Sachin Tendulkar's feat of surpassing 14,000 runs (he is 27 runs short of the mark), Sehwag said, "We always celebrate his feats and new marks and that would be continued in the dressing room and the practice."
Meanwhile, Australian opener Shane Watson credited Ponting and North for chipping in with valuable runs.
"Marcus started his innings well. It is a nice batting wicket and he has been doing a good job getting useful runs for the team," he said.
"Ricky also batted very well today. It was disappointing that he could not get a big one. He was playing so beautifully but unfortunately losing wicket after batting so well will be frustrating. He held on well with (Mike) Hussey and Marcus North very well," he added.
Asked whether he was satisfied with his own batting, Watson said, "I could have scored a century-plus runs here as it is a very good batting strip. It is disappointing.
"But, we are sure that we will be able to post a good total in sub-continental conditions, close to the one that we did in Mohali," he added.
He predicted that the pitch may remain good for batting in the days to come. "At this moment, the pitch is nice to bat on and will swing and carry through."