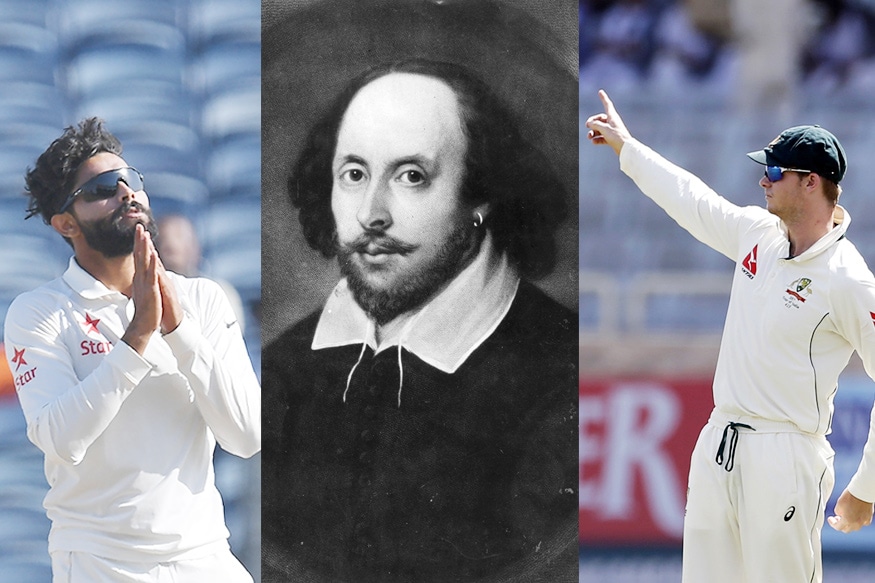 New Delhi: 'Johannes factotum' was a term used famously by the 16th century English dramatist Robert Greene, in a pamphlet, to attack a young playwright who had dabbled in acting.
The Latin term loosely meant 'jack of all trades' and was used by Greene to lambaste a certain William Shakespeare. Despite the criticism, Shakespeare would go on to become the most famous English playwright of not just his generation, but of all time.
That is probably because Shakespeare soon realised that his real calling was in writing and not being on stage.
Something similar happened to two of world cricket's current leading players very early in their career.
Steven Smith, the top Test batsman (if you go by ICC ratings), and Ravindra Jadeja, the world's top Test bowler by the same yardstick, were both bits and pieces cricketers in their formative years. A few years of international cricket and a fiercely fought Border-Gavaskar series later, the two are being hailed as the best in the world and there is every reason for it.
Smith finished the series as the highest run-getter with 499 runs and is the only current cricketer to have a career Test batting average of above 60. Ravindra Jadeja was the highest wicket-taker of the series with 25 scalps to his name, and he has slowly come out of the shadows of his more illustrious bowling partner, Ravichandran Ashwin, to carve a niche for himself.
Rewind a few years and both found it extremely difficult to be accepted by the cricket purists as Test cricketers and were often, Jadeja till recently after being 'knighted' on the social media by his own captain, the butt of several jokes.
Smith was a leg-spinner who could bat and in fact made his Test debut in 2010 primarily as a bowler. But after picking just 4 wickets in his first five Test matches, the then 20-year old was dropped from the team. Interestingly, he had two scores of fifty-plus in his first five Tests while coming in to bat lower down the order.
The youngster went back to the grind of the domestic circuit and soon realised that his potential as a batsman was a lot more than as a bowler. After sitting out for two years, Smith finally made a comeback to red-ball cricket in 2013 against India and made an immediate impact with a knock of 92.
But the Sydney-born blond with an unconventional batting stance and scratchy movement on the crease was an apology for an Australian batting great for many. Yet, he remains the closest that an Aussie has got to the great grand daddy of batting, Bradman, although Smith still has several years of international cricket left in him and a final call on his greatness would be taken after looking at his career numbers at the time of his retirement.
But there is no denying the fact that on current form and his achievements over the last couple of years, Smith is undoubtedly a notch above the likes of Williamson, Root, Pujara, Azhar Ali and, if you wish, Virat Kohli in Test cricket.
There is a reason why he is the third fastest behind Don Bradman and Sunil Gavaskar to the twin marks of 5000 Test runs and 20 Test centuries.
Ravindra Jadeja too has had to earn the respect of fans and pundits the hard way. Making his presence felt as a utility cricketer in the IPL, Jadeja soon found himself representing India in limited overs cricket.
The left-arm spinner with an ability to tonk a few sixes made his limited overs debut for India in 2009, but had to wait for three more years to earn a Test cap. It was only after Jadeja became the first and only cricketer to score three triple centuries in Ranji Trophy cricket, all within a span of a year, that the southpaw was considered for the longest format of the game.
He still essentially remained a bowler who could bat and his role in the team was that of a support bowler to R Ashwin. He achieved fair bit of success as a bowler but never got the due for his efforts. There were some who were of the opinion that Jadeja was part of a coterie backed by India's then captain MS Dhoni.
The axe fell on Jadeja's Test career after a lean patch in 2014 and he too went back to the domestic circuit to prove his credentials. Just before the start of India's home season against South Africa in 2015, Jadeja picked up a bagful of wickets in Ranji Trophy and earned a call up to the Test team.
But the naysayers were there again, picking on the left-arm orthodox bowler for getting those wickets on a 'dustbowl' in Rajkot. Jadeja ended the series against South Africa with 23 wickets from four matches, 8 behind Ashwin but was equally responsible for the 3-0 thrashing of the world's top Test playing nation.
In 2016 India embarked on their longest ever home Test season. The three-Test series against New Zealand saw Jadeja finish with 14 wickets, a distant second to Ashwin's 27 which fashioned the whitewash.
England were next and Jadeja slowly and gradually closed the gap on his bowling partner. Ashwin finished with 28 scalps but anyone who followed the series would know that Jadeja's 26 wickets were more timely and came at moments when India needed them the most.
He tied Ashwin with a 6-wicket match haul in the one off Test against Bangladesh and came into his own in the all important final tussle against the Aussies where he finished the series as the leading wicket-taker with 25.
The clear difference between Ashwin and Jadeja in the series was that the left-arm spinner did not depend on the nature of the surface to get his wickets. All this and Jadeja even leapfrogged Ashwin to claim the top spot in the ICC Test rankings.
The Rajkot 'rajput' went on to say in the post match conference at Dharamsala that he has hit an 'auto-mode' when it comes to his bowling. Somewhat similar to what Smith has hit with a bat in hand.
So, Smith and Jadeja are two of modern day Test cricket's bards, writing their own prose on a cricket field in their own inimitable style and meter.
@media only screen and (max-width:740px) {
.quote-box{font-size:18px; line-height:30px; color:#505050; margin-top:30px; padding:22px 20px 20px 70px; position:relative; font-style:italic; font-weight:bold}
.special-text{font-size:24px; line-height:32px; color:#505050; margin:20px 40px 20px 20px; border-left:8px solid #ee1b24; padding:10px 10px 10px 15px; font-style:italic; font-weight:bold}
.quote-box img{width:60px; left:6px}
.quote-box .quote-nam{font-size:16px; color:#5f5f5f; padding-top:30px; text-align:right; font-weight:normal}
.quote-box .quote-nam span{font-weight:bold; color:#ee1b24}
}