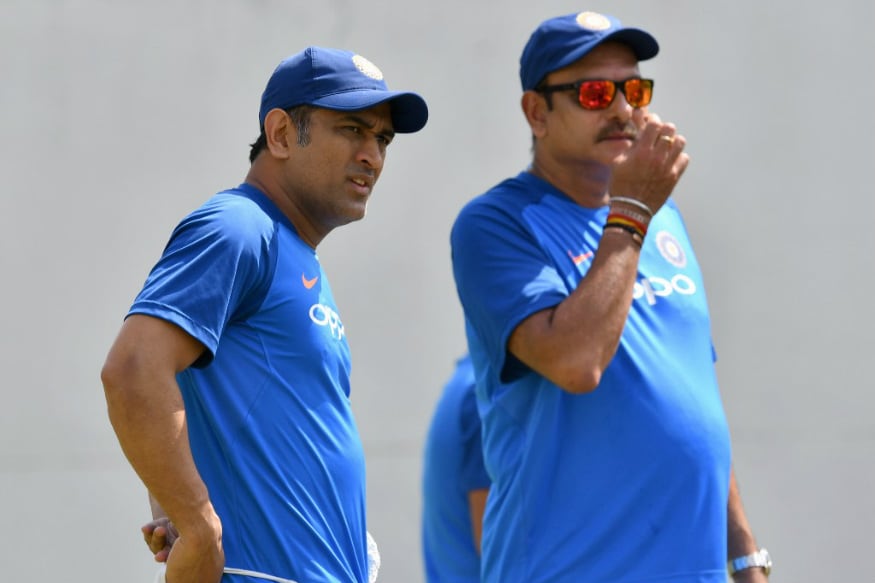 While India train their sights on Bangladesh for the upcoming T20I series, one of the topics of a lot of discussion in recent days has been about the future of MS Dhoni. Newly elected BCCI President Sourav Ganguly has claimed that he wants clarity on the situation from the selectors, who led by MSK Prasad steered far away from discussing Dhoni after announcing the side for the Bangladesh series.
India coach Ravi Shastri however wasn't as kind when it came to reacting to the oft asked questions about Dhoni.
"Half the guys commenting on MS Dhoni can't even tie their shoelaces. Look at what he's achieved for the country. Why are people in a hurry to see him off? Maybe, they don't find enough talking points. He and everybody who knows him know he'll be going away soon. So, let it happen when it has to. Making statements at his expense is downright disrespectful. After 15 years of playing for India, wouldn't he know what's the right thing to do? When he retired from Test cricket, what did he say? That Wriddhiman Saha was good enough to be handed over the wicket-keeping gloves. He was correct. He's been a shadow when it comes to the team, always sharing his mind, lending his views," he told Times of India.
For India and Shastri the focus now is back to building for the upcoming T20 World Cup in Australia next year, and next on the agenda is the series against Bangladesh where the likes of Sanju Samson and Shivam Dube have been called up and Kohli is taking a break with Rohit Sharma named skipper for the series.
"I made it clear that T20 selections won't be based on reputations. We'll be looking at it very differently. The path to finding the combination is already on, but make no mistake, T20 will be seen from a fresh perspective and a horses-for-courses policy will be followed.
"We will ensure that if there's any lack of communication between the selectors and the players, the team management will step in and make sure that everybody's on the same page at all times. Look at Rishabh for instance - it is my responsibility to get him back to his best when he's struggling. I have the right to scold him when I'm unhappy as much as I'm sure I'll give him a standing ovation when he does well.
"The point I'm making here is that it is extremely important for players to be given a long rope. Constant chopping and changing, without letting the players know what's going right or wrong for them is not correct. Virat shares the same vision. And let's not forget that one of the pioneers in pursuing this line of thought was Sourav (Ganguly) himself. He was such a great captain during his hey days primarily because he backed his men, trusted in their abilities. In return, they put their best foot forward. This is something the team management will take up with the selection committee."
Giving the player a long rope is what Shastri and the management promised with regards to Rohit Sharma as an opener in Test cricket, and the right handed batsman responded in some style against South Africa in the recently concluded Test series which India won 3-0.
Rohit scored three centuries, with the third being converted into a double century too, all of which left Shastri mighty impressed and even forced a comparison with the legendary Virender Sehwag.
"What Rohit Sharma has managed in this series is phenomenal. He took complete control. When someone like Rohit finds this kind of confidence in a format, I'll only say this: 'Any opposition will be wary'. He's potentially in the space that Virender Sehwag once occupied. It is something we had discussed a couple of years ago. He finally made up his mind to enter that space. His ability to convert 100s into 200s is something we all know. At the top, if someone like Rohit finds his feet in Test cricket, and with a beast of run-maker like Virat to follow, what else can a team ask for?," Shastri said.
Continuing with his praise for the side Shastri also pointed that the Indian team is not just about individuals but everyone in the squad as they are all expected to deliver whenever called upon. Just like Shahbaz Nadeem did when brought in for the Ranchi Test.
"It's about the entire team, whether the guy is in the eleven or in the 15. Raise your hand and deliver - that's been the motto. Umesh and Shami were outstanding and then we had someone like Shahbaz coming in and making this his own Test match. He's been phenomenal in the domestic circuit. He's picked up 400-plus wickets? Speaks volumes of the work he's put in all along. There was some classical spin bowling from him."
While Shastri prepares his wards for the World Cup, former India captain Sourav Ganguly has his task cut out as BCCI President and the coach believes that having Ganguly and Rahul Dravid (NCA) in the places that they are in will only help Indian cricket grow.
"He's (Ganguly) always been a natural leader. When someone like him - who already dipped his feet into cricket administration four or five years ago - takes over as president of the BCCI, it's a win-win for Indian cricket. These are difficult times for the Board and there's a lot of work to do to bring BCCI back on the path of glory. With Sourav as president and Rahul at NCA, what better combination can Indian cricket ask for?"