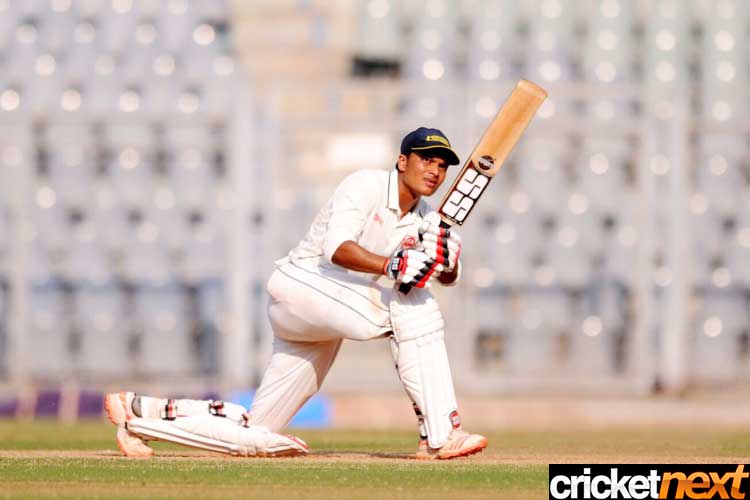 It was a Ranji Trophy match when a young Saurabh Wakaskar, the highest run-getter for Railways in Ranji Trophy this season, came across his childhood hero - batting maestro Sachin Tendulkar.
Wakaskar, who previously played for Baroda, always wanted to meet the Indian batting icon but never got a chance. The moment came in 2012, when he bumped into Sachin in the dressing room, shook hand and the legend gave a two-minute pep talk. The meeting not only changed the youngster's life but also his approach towards cricket.
Recalling the meeting with Sachin, Wakaskar, in an exclusive interview with Cricketnext, said: "I still remember that moment. It was our [Baroda] match against Mumbai. After the match, Sachin sir paid a surprise visit in our dressing room. He said hello to me and my teammates. I was awestruck. He came to me and said "well played", then gave a few tips. Somehow, I managed to say a few words. Before I could ask something, he answered all my questions – temperament, area of improvement, etc. Whenever I think of that moment, my confidence gets a boost.
"He has been my inspiration since childhood. I have grown seeing him play. The way he conducted himself in his long career was incredible. I can't be like him but I will try to be some part of him. I admire him because of his commitment towards the game, which is extraordinary. His innings at Sharjah (in 1998 against Australia when he scored 148 runs) will always be memorable for me," Wakaskar said.
Wakaskar, has played three seasons with Baroda (from 2012 to 2014) and also featured in 21 first-class matches. He scored 1506 runs at an average of 44.29 with four centuries to his credit.
The 24-year-old left Baroda after getting a clerical job with Railways. The Gujarat-born batsman said securing his future was the reason behind the switch.
"Government job in Railways was the main reason for switching the team. Honestly, future is uncertain in cricket. If you are lucky you can prolong your career and go on to play for the country or you may have to leave the game in four or five years. So job security has to be there. This is my opinion. That is why I applied for a government job," the Railways opening batsman further explained.
During his stint with Baroda, he played alongside the experienced Pathan brothers - Yusuf and Irfan.
"I had an amazing stint with Baroda team. When I debuted, I was surrounded with seniors like Irfan Pathan, Yusuf Pathan, Munaf Patel and Ambati Rayudu. They supported me a lot. They never made me feel that I was junior. They used to crack jokes, eat and practice with me. I left the team with sweet memories," he said.
Wakaskar also took trials for Indian Premier League outfit Mumbai Indians, but things didn't work out for him as he failed to impress the selectors. The youngster, who has had a good run with the bat this season (649 runs in 8 matches), is hopeful to get an IPL contract this time.
"Last year, I took trials for Mumbai Indians but things didn't work out. I had a wonderful 2015-16 season. No IPL team has approached me yet. I want to play in IPL because it has some of world's biggest players and playing alongside them will help me a lot experience-wise," Wakaskar said.
Just like any other cricketer, the former Baroda batsman also has a dream to wear the Indian team jersey.
"Every cricketer has a dream to represent his country someday. I also have the same dream. I will keep working hard and I am sure I will wear Team India jersey one day," he said.
Wakaskar, who has also played 20 List A matches scoring 527 runs, said he still misses his former team-mates and seniors.
"I really miss my Baroda team-mates but we all are in touch. I recently met them during the Ranji Trophy and the Syed Mushtaq Ali matches. I met Irfan, Yusuf and Munaf too. They wished me luck and give me a lot of tips," he added.
Recalling a prank played by his senior Yusuf during the 2013-14 Ranji season, Wakaskar got jovial. "We were playing against Saurashtra in Rajkot. I scored a century in the first innings and followed it with a fifty in the second. We won the game comfortably. I was sure that I would be getting the Man-of-the-Match award. Before the announcement, Yusuf bhai told me that I was not the one who would get the MoM trophy and someone else was selected for it. I was standing silently. At the time of announcement, the match referee announced my name. I was delighted and the same moment Yusuf bhai broke into laughter and hugged me."
Playing for Railways for the first time this Ranji season, Wakaskar said he felt pressure while facing his former Baroda team-mates.
"There was a bit of pressure when I was facing Baroda. But I knew them and they knew me. I knew the bowlers and also how I will tackle them. We faced each other once in the Ranji Trophy and once in the Mushtaq Ali Trophy," Wakaskar said.
Though Railways finished eighth this season, Wakaskar impressed everyone with his performance as he was top run-getter for his team. The opening batsman said poor team effort resulted in Railways' average performance.
"I think team effort was not there. To win a game, team effort is more important than an individual's effort. We need to encourage each other more. Our preparation was good but we couldn't execute our plans well. I am sure our team will produce good result in the upcoming tournaments," he said.
"It feels really good to know that I contributed for my team. Whatever experience I got from Baroda, I am applying here.
"Last year, Railways did pretty well as they finished sixth in their group. This is a game, and ups and downs are part of it. Sometimes we lose and sometimes win. It is good that we learn from our mistakes and move on. I am sure we will do well next season and will qualify for the knockouts too," he added.
Wakaskar gave credit to his father, a retired bank cashier, for his success.
"My father is a cricket lover. Since childhood, I have seen him listening cricket commentaries. He used to sit in the balcony and cherish the commentary. He wanted to see me as a cricketer. He bought me a small bat and used to bowl to me in the balcony. He got me admitted to a cricket academy at an early age. He is my idol and whatever I am today, it is because of him," the batsman said.