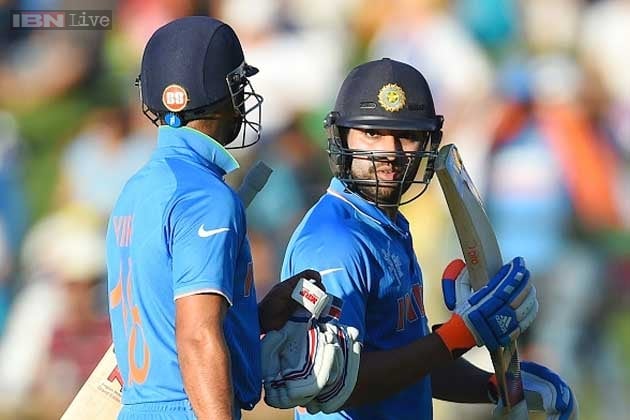 "I have never seen a guy, after he gets set, be so dangerous," that's how high Virat Kohli rates his India team-mate Rohit Sharma.
Replying to a question on whether T20 cricket has changed batting, India's new Test captain was quick to point at how success in the IPL has transformed Rohit's game for the better.
"He [Rohit] has scored two double-hundreds in ODIs opening the innings. Could you have imagined all these things without gaining confidence from T20 cricket, where guys keep hitting so consistently that they build confidence to do it throughout 50 overs?" Kohli replied during an interview to ESPNCricinfo.
In India's successful run-chases in ODIs, Kohli has already contributed 13 hundreds, which is only one behind Sachin Tendulkar's 14. And Kohli, who captains Royal Challengers Bangalore in the Indian Premier League, credited his ODI success to T20s as well.
"I have got the same confidence [as Rohit] from T20 cricket. Take that century off 52 balls against Australia in Jaipur, where we were chasing a huge target. I was so committed to playing positively, I did not have a second thought in my mind. No negatives. No doubts. And proper cricketing shots with conviction," he said.
Kohli, who will captain India in the one-off Test on Bangladesh tour starting June 10, then continued his praise for Rohit.
"You take the best finishers in the game - [Kieron] Pollard, [James] Faulkner, [Eoin] Morgan - but when Rohit gets set, it is almost impossible to stop him. I mean, it is ridiculous the kind of hitting he does after getting 50. You know if Rohit Sharma is on 50 with four overs to go, you are in troubled waters. Literally, save yourself. I'm not joking."
The India No. 3 in limited-overs cricket then said that T20 cricket has changed the mental set-up of batsmen.
"It is all about the mental set-up and confidence that guys are gaining from playing T20 cricket against the best bowlers. When you, as a young kid playing for India and growing up in his career, are hitting Dale Steyn, Morne Mokel, Mitchell Johnson or Mitchell Starc in the IPL, it gives you a massive boost," Kohli said.