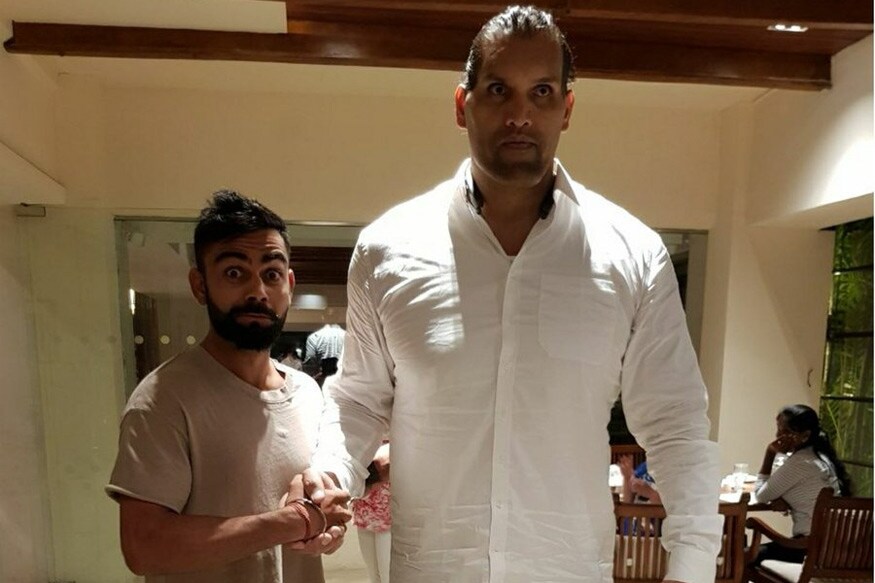 New Delhi: Virat Kohli might have fan swooning for him every time he steps out, but the India skipper was mighty pleased on Sunday. Having just won the Test series against Sri Lanka in the Island Nation, he had a special visitor in WWE fighter The Great Khali. Kohli took to social media to share pictures from the meeting on Friendship Day.
Kohli posted a couple of photos which read: "It was Great to meet The Great Khali, what a guy! "
It was Great to meet The Great Khali, what a guy! pic.twitter.com/FoUhHMWFcX

— Virat Kohli (@imVkohli) August 6, 2017
Earlier Kohli said that the boys have developed a habit of winning, irrespective of geographical boundaries, and it is hungry to extend the consistent run. India on Sunday defeated Sri Lanka by an innings and 53 runs in the second Test to take an unassailable 2-0 lead in the three-match series. It means India have already retained the series that they won here 2-1 in 2015, and now have a chance to complete an overseas whitewash when the third Test starts in Pallekele on August 12.
"Well, it's obviously nice to win this series again. We won this last time also, in 2015. Yes, we do have that chance, but honestly speaking, we are not looking at Test matches or Test cricket now as home and away anymore. We are just looking at Test matches as Test matches and we want to win anywhere that we play," Kohli said.
"If we can believe enough in our abilities then we are not really bothered about where we are playing. That kind of energy I can sense in the team, and the team believes that as well. We are creating a habit of winning that I think can be carried on in future as well."
Kohli said his team plays with a lot of passion and savours each other's success and understand the importance of consistency.
"For us, this is priority. Test cricket is the most important thing for us. And everyone plays with a lot of passion. If you see, last nine Test matches, six times we've got 600 runs. That shows the hunger of the batsmen, they are waiting for an opportunity, there are lower order contributions as well," he said.
"In the dressing room we feel really proud of each other's efforts, that we're really putting in those consistent, convincing performances, and winning Test matches more often than getting the other results. We really feel good as a team that we're able to win consistently right now, but we realise that it's very important to keep carrying on the same way as well," he added.