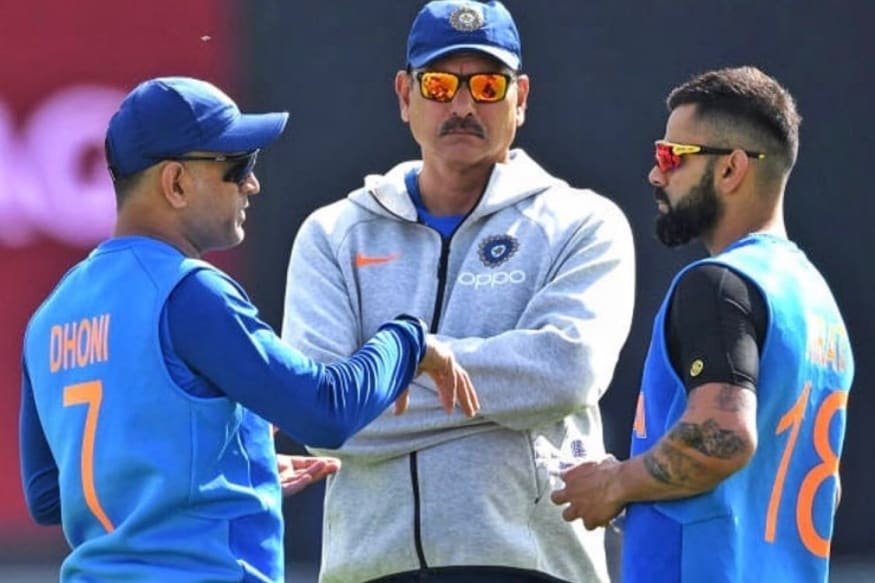 With the Indian cricket team in the midst of a Test series against South Africa, the immediate focus has moved away from what was previously a hot topic of discussion – MS Dhoni's future plans. Coach Ravi Shastri, who says he hasn't met the veteran wicket-keeper batsman since the end of the World Cup, believes Dhoni will end up as one of the greatest to have played for India but that the decision on his future is his and his alone.
"Whether he wants to come back, that's for him to decide. I have not met him after the World Cup. He has to first start playing and let's see how things go. I don't think he has started playing after the World Cup. If he is keen, he will definitely let the selectors know," Shastri told The Hindu.
In Dhoni's absence, Rishabh Pant has been expected to fill in some very big shoes, but even though the team management has decided to back the youngster to the hilt, it was Wriddhiman Saha who got the nod for the first Test against South Africa, and is likely to keep his spot in the home season.
"Saha was injured and that was the reason Pant came into the Test side. Saha is the best 'keeper' in the world, and at home, where the bounce can be variable, his 'keeping is invaluable. Pant has scored Test hundreds in England and Australia, is talented, but he is still very young and has the time to improve his 'keeping'."
"This Indian team is about the Team and not individuals. Some tough calls have to be made. Imagine, Kuldeep Yadav not playing a Test since his five-wicket innings haul in Sydney. It is never nice or easy to tell people who have performed that you are not picked. But this is about the Team."
After the World Cup, India's first Test series was in West Indies, where Pant played and R Ashwin was dropped. Back home that's been reversed and the ace-off spinner reminded everyone about his qualities with a seven-for in the first innings in Vizag. But there's no resting on your laurels is the clear message from the management.
"He's (Ashwin) world class. A top-class off-spinner. But the demands of the game are such that you cannot afford to rest on your laurels. It's the same with everyone in the team."
While Ashwin's comeback was a talking point in Vizag, the resurgence of Rohit Sharma at the top of the order was remarkable.
"I would hate to see a player of his quality sitting in the reserves. In the West Indies I was very clear that he should open and had a chat with Kohli about it. This was his opportunity."
"Opening is about the mindset. You got to respect the new ball. A lot of guys in India should have opened in the last 20 years for the sake of team balance, but they didn't have the stomach for it," Shastri explained.
The home Test matches may not be the toughest for India, but the tour to New Zealand is expected to be a difficult task for Kohli and Co, who only recently managed to win a series in Australia after more than seven decades.
Shastri believes his team his raring to go.
"As the No. 1 side we like to go and play against tough teams in their backyard. We are confident against New Zealand. Didn't we beat Australia down under after 71 years?. West Indies had beaten a strong England team at home in Tests and we absolutely smashed them. We like to go and play against tough teams in their backyard. We are confident against New Zealand. We are the No. 1 team in the world," Shastri claims.
But for India to do well in New Zealand Shastri and Kohli will need their best bowlers firing on all cylinders.
Injured currently, one expects Jasprit Bumrah will have been well rested and hungry as ever by that time. However, a cautious approach with Bumrah is what the think tank is banking on.
"He (Bumrah) is precious, special, different, and a match-winner. They are taking opinions on whether he needs surgery. We have to be careful about his workload because he plays all three formats," Shastri said.
Mohammed Shami though has won over the coach with his performances.
"To bounce back from personal issues and bowl the way he did was remarkable. He is relentless, very skillful and at you all the time. I would have hated to face him. He is at you all the time, he is very skilful and in conditions like yesterday few bowlers in the world are better than him."