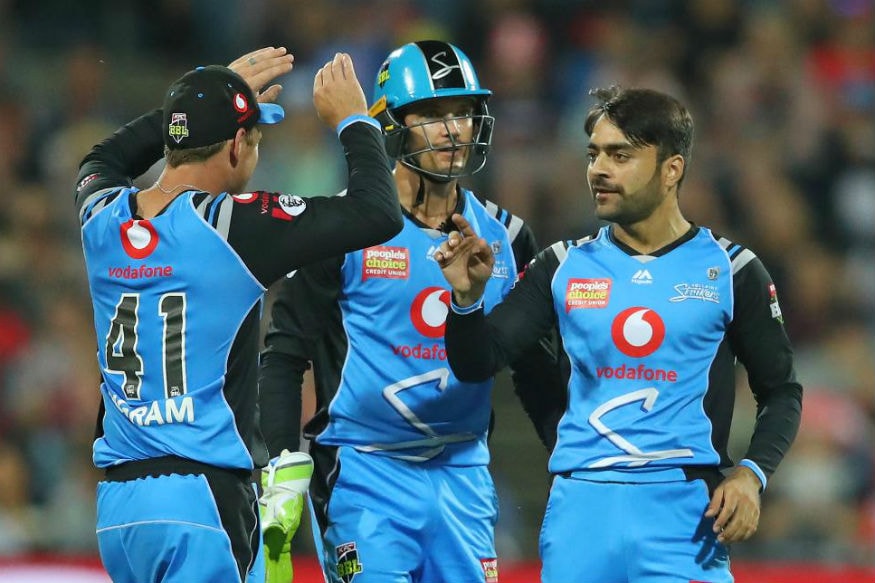 Afghanistan leg-spinner Rashid Khan has said he will continue playing for the Adelaide Strikers for the remainder of the Big Bash League despite the death of his father, declaring that the whole of Australia was his family.
The 20-year-old lost his father on December 30, 2018 but still turned out for the Strikers against Sydney Thunder the very next day on New Year's eve, returning figures of 2/34. He later revealed it was his family back in Afghanistan who had urged him to continue playing as that is what his father would have wanted.
"It was tough. I lost my Dad, the one who is very close to us and to my family," Rashid told reporters. "He really supported us - he struggled a lot while giving up (a lot) with how he (raised) us.
"He was always watching my games, he didn't understand cricket a lot but he just was always asking my family how I had done.
"In this situation, my family has really supported me… especially my mum, my brothers, my nephews. They were encouraging me a lot from back home. They were calling me again and again. They were like, 'you have to be there, you have to play for us, you have to play for your Dad. We can see you're sad, you're alone there, you're (a long way) from home'."
Rashid said that he might travel back to Afghanistan during the eight-day break between matches, but insisted he will not miss any of the games. The leg-spinner also thanked the Australian public and his Strikers teammates, saying he has been touched by the condolence messages he has received over the past few days.
"I didn't feel like I'm alone here. The whole Australia is my family, everyone is looking after me very closely and very friendly and like a family member. They give me lots of love and I didn't feel myself to be alone here. I just keep in good energy," he said.
Rashid put on another excellent performance for the Strikers on January 3 against Melbourne Renegades in Geelong, first smashing 21* in 7 balls then picking 1/18. He said that he spent a lot of time with Mohammad Nabi, his Afghanistan teammate, who is also a part of the BBL with the Renegades and the 34-year-old had plenty of pearls of wisdom for the youngster.
"I spoke with him (Nabi) a lot. He said … 'it's life - someone will go, someone will come. We all will go one day. It's not like we will be here for all of time'," Rashid continued.
"The way the team, my captain, my coaches, my management – the way they supported me has been great. They were in my room until late (after the New Year's Eve game), encouraging me.
"I really love that – that kept me alive there, fresh and fine. They were coming to me after five minutes and hugging me," said Rashid.