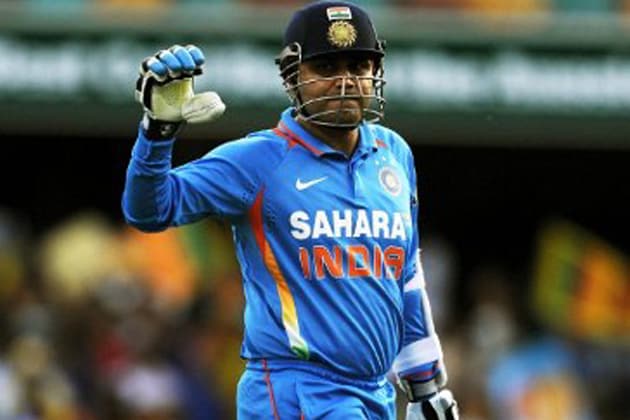 At 2:27 on Wednesday afternoon, after nearly three hours of deliberation in the corridors of the BCCI's headquarters in Mumbai, Indian cricket's governing body tweeted from its official Twitter account a list of 14 players selected for the Asia Cup. Less than ten minutes later, it released an official email with a 15-man squad. During those ten minutes, outside the Wankhede Stadium, the chairman of selectors Kris Srikkanth began to address a horde of frenzied media personnel. Srikkanth's interaction ended with a snap at a persistent TV reporter – "Boss, you just shut up now!" – and a couple hours later he was defending himself and the selectors' Asia Cup decisions in front of news channels.
It all added up to a rather surreal sort of day, in which the selectors picked a team for the Asia Cup with a decidedly muddled look about it. It has neither entirely kept the future of the Indian cricket in mind – how else do you describe the presence of Sachin Tendulkar in the team? – nor has it laid down the law for struggling players who may think they are passengers on the team bus despite carrying outdated tickets.
Following a tough tour of Australia in which India were blanked 4-0 in the Tests and are, by the admission of their captain, going to be out shopping instead of sitting with fingers crossed in front of their TV sets on Friday hoping that Australia beat Sri Lanka, it was expected that the Indian selectors would take some harsh calls. The Asia Cup, of which India are defending champions, is not a major tournament anymore and this was an ideal time to blood a bunch of fresh players. It was also an opportunity to give MS Dhoni, who has played non-stop cricket since the 2011 World Cup and who looked jaded and at a loss for ideas in Australia, a break.
Instead, the selectors picked a team that raised eyebrows and then tried to defend that motley crew with statements such as "there aren't capable replacements" and "we have acted on medical advice", "I think we have done pretty well" and "this is a typical World Cup-winning team." So we are supposed to believe that medical reports influenced the selectors' decisions, not damning statistics?
So Virender Sehwag has not been dropped because he averages 13 in the CB Series, but because a doctor apparently said he needs rest. And Suresh Raina, Rohit Sharma and Ravindra Jadeja can continue to play poorly. Raina has made 182 runs from eight matches, Rohit 79 in five, and Jadeja 101 runs at 16.83 and three wickets at 109 apiece from seven. These are clearly players several notches below their estimated value, yet they have been given a clean chit. There has to be a penalty for poor form, and by not dropping out-of-form youngsters like these the selectors have sent the message that they can continue to coast.
And if Sehwag was 'rested' after scoring 65 runs in five innings, what about Tendulkar who averages 20.42 from seven innings? Tendulkar did not play a single ODI from the World Cup final to the start of the CB Series this month, but has been included despite managing just 143 runs in seven ODIs in Australia with a best of 48. He has been stuck on 99 international centuries since March 12, 2011 and it appears the selectors have given him the chance to reach the unprecedented landmark.
Clearly, Tendulkar is playing ODI cricket when and where he pleases, but for the sake of the future of Indian cricket the selectors must chalk out a plan for the legend. Srikkanth argued that what happens behind closed doors is to stay there but there is an uncomfortable feeling growing that the selectors do not have the gumption to bring up retirement talk with Tendulkar. Are we, as a sporting nation, afraid to use the word 'drop' when it comes to big players?
Speculation is also rife that Sehwag was omitted due to his alleged rift with Dhoni, and that appointing Virat Kohli as vice-captain ahead of Gautam Gambhir – who has captained India to an ODIs series whitewash of New Zealand and has been deputy before – was a reaction to Gambhir's public questioning of why Dhoni chooses to take chases right to the end of an innings. Gambhir is also reportedly in Sehwag's camp, and there has been a tactical move to separate the Delhi pair. Even if it is not true, there is enough evidence to suggest that all is not stable within the Indian camp.
And so, we have a team that is neither the reaction to a dismal tour of Australia or one assembled keeping in mind the long-term future. It is, in a way, a reflection of the mess that the BCCI is in today. There appears to be little direction and even lesser proclivity for addressing the issues that are dragging the Indian team down.