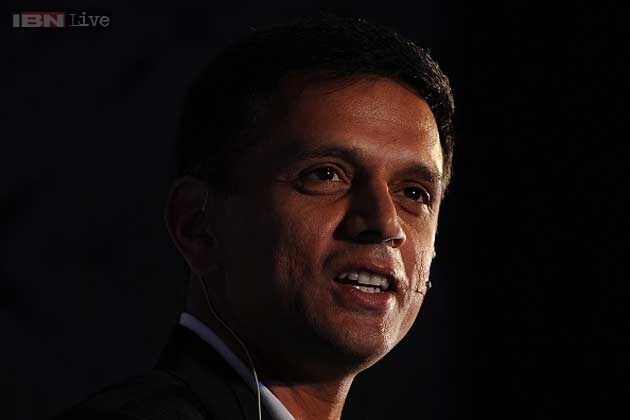 A significant announcement from the BCCI office on Monday had a very significant omission. Rahul Dravid's name was nowhere to be found, neither in Anurag Thakur's tweets nor in the official BCCI release that announced the return of Sachin Tendulkar, Sourav Ganguly and VVS Laxman - but not Dravid.
Three of India's 'Fab Four' have agreed BCCI's offer to join its Cricket Advisory Committee, a move that was on the cards but feels more warm now that it's been made official - because lack of former players in the BCCI administration was always rued. Good that an attempt has been made to plug that hole.
Reports suggest Sachin (batting advice), Sourav (overseas success) and VVS (preparing bench strength) will have specific roles, apart from voicing their opinion over critical decision-making related to the board's cricketing matters.
While that sounds music to ears, it multiples the curiosity over one question - why no Dravid in the scheme of those things?
Initially, after the BCCI's Working Committee meeting on April 26, it was suggested that the board was keen on availing the services of Tendulkar, Ganguly and Dravid as advisors; however, the BCCI didn't divulge names of the former cricketers it was interested in. But it was a given that Dravid will be an automatic choice since he is already working in a similar capacity as mentor of the IPL franchise Rajasthan Royals.
And Dravid was even willing to consider the role once formally offered. But either it never arrived, which is hard to believe, or it arrived and ricocheted off 'The Wall'.
"I have heard from the media [about being offered the role of an advisor]," Dravid had said during the IPL. "I have not thought about it. If it does come to fruition, I will cross the bridge when it comes. I have been busy with the IPL and had no time to think about it."
India's former Test No. 3's statement never indicated a clear 'No' or a 'Yes'. Then what led to his name not being there to complete the 'Return of Fab Four'?
Dravid doesn't want any conflict of interest
It's quite possible that Dravid turned down the offer to be a BCCI advisor due to his job with Rajasthan Royals.
Dravid, Tendulkar and Laxman are all associated with the IPL franchises they represented during their playing days. And it won't be a surprise if the 'conflict of interest' issues are raised with them doubling up as BCCI advisors.
Knowing Dravid, he would never want to get embroiled in such a controversy and be happy with mentoring the Royals.
BCCI wants Dravid as coach?
It's quite possible that the board is trying to return to its roots by appointing an Indian as Duncan Fletcher's replacement and have zeroed in on Dravid. It also makes sense now that three Indian legends will oversee the team's development. In such a scenario, Dravid's appointment will only make the coordination smooth since all four played together in the same era.
The batting legend, though, in the past has not been willing to take up the responsibility.
"With the time constraints and the time required to do the coaching job - nearly 11 months in a year - it is extremely hard to devote that kind of time... Time permitting, may be I will coach India A or India U-19...not really the Indian coaching job at this point of time," Dravid has said in the recent past.
Moreover, accepting India's coach job will mean that Dravid will have to give up his mentorship of the Royals.