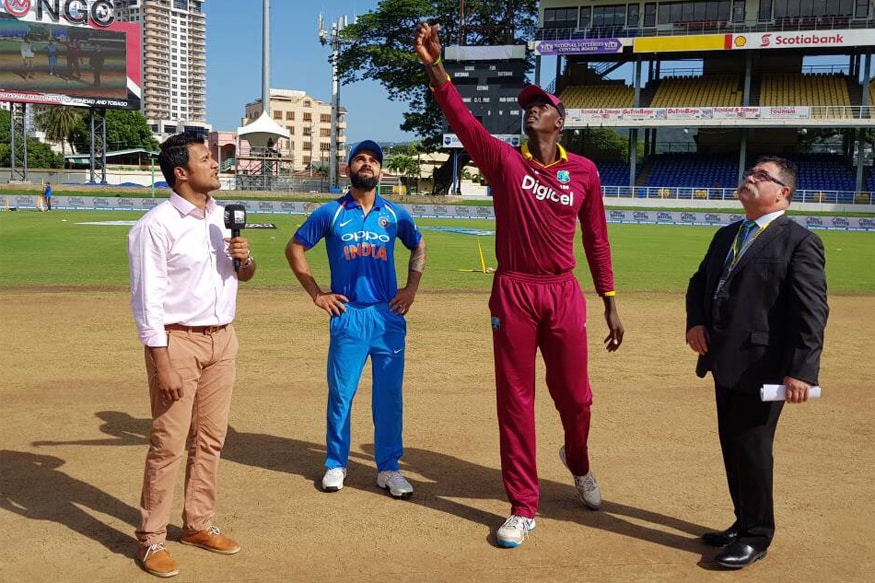 The first three matches on the current West Indies tour have been a cakewalk for India. Compunctions that the bitter fall-out between Anil Kumble and Virat Kohli may have a bearing on the team's performances have been proved unfounded.
As I write this on the eve of the fourth ODI, India are already in an unassailable position in the 5-match series. Two matches were won comprehensively. While the third was badly hit by rain, there was little to suggest the result would have been any different.
In such a lop-sided contest it is reasonable to infer that India are just too good and the West Indies simply not good enough. But embedded in this equation is also the tragedy of the decline of cricket in the Caribbean.
India vs West Indies, 4th ODI: Live Blog
India vs West Indies, 4th ODI: Live Commentary
Watching the current team play would make George Headley, Learie Constantine, the 3 Ws, Malcolm Marshall – to name a few -- turn in their graves; Sobers, Kanhai, Lloyd, Viv Richards, Hall, Griffith, Lance Gibbs, Andy Roberts, Mike Holding – to name a few still living – would be no less mortified.
There was a flavour and character to West Indies players that was the toast of the cricket world. Brilliant skills, supreme athleticism and a joi de vivre were the attributes that compelled attention. West Indies teams of the past may not have always won, but never reneged on providing heady cricket.
In contrast, West Indies teams these days are pedestrian and lacklustre, short on skill, energy and passion. Brian Lara – just perhaps Chris Gayle if one has to stretch the time frame – were the last in the tradition of great players from the Caribbean.
The problem has been even more manifest from the turn of the century. In the new millennium, West Indies cricket has slumped massively: to the extent that even their failure to qualify for the Champions Trophy is not considered extraordinary.
What has caused this nosedive in West Indies cricket is far too complex to be treated adequately in this space, but clearly inept administration ad short-sightedness of those responsible for the sport – officials and players – are at the core.
Suffice to say that if the best players – Gayle, Dwayne Bravo, Kieron Pollard, Sunil Narine – are not available for whatever reason, there is no way the team can excel. Worse, it will turn away spectators and sponsors, which seems to have already taken its toll.
As if this is not bad enough, what should worry the game's minders more is that trouble is now brewing elsewhere too: the pay dispute in Australian cricket, several South African cricketers -- A B de Villiers included -- mulling whether they want to play for the national team or become T20 professionals etc.
These are trying times, especially where Test matches and playing for the national team are concerned. Even as the game has got two new full members in Afghanistan and Ireland, dark clouds are beginning to hover elsewhere.
How to address this should be uppermost among the high-powered delegates (Sourav Ganguly is one) when they meet for the MCC's World Cricket Committee conclave in London on Monday.
****** ****** ***** *****
The good news for Indian cricket is that Rahul Dravid has agreed to extend his tenure as coach for the under-19 and India A teams for two years more.
When resigning from the Committee of Administrators, Ramchandra Guha had highlighted some instances of conflict of interest, one of which pertained to Dravid being coach of junior teams as well as mentor of Delhi Daredevils in the IPL.
Dravid's plea was that he was not in contravention of any rule. His contract with the Indian juniors was for 10 months in a year. The IPL assignment was for the remaining two months, which did not overlap with the first one.
To his credit, Dravid's handled the matter squarely, maturity and respect. He asked for total clarity on the rule so that it would allow him to make a choice.
He's done that -- by forsaking the IPL mentorship and/or other assignment. In my opinion, this works splendidly to the advantage of Indian cricket going by how young Indian cricketers have been shaping up under him over the past year.
The larger lesson to be drawn from this is,however, is for the BCCI. Why keep rules hazy?
Playing XIs:
India: Ajinkya Rahane, Shikhar Dhawan, Virat Kohli (c), Dinesh Karthik, MS Dhoni (wk), Kedar Jadhav, Hardik Pandya, Ravindra Jadeja, Kuldeep Yadav, Umesh Yadav, Mohammed Shami
West Indies: Evin Lewis, Kyle Hope, Shai Hope (wk), Roston Chase, Jason Mohammed, Jason Holder (c), Rovman Powell, Ashley Nurse, Devendra Bishoo, Alzarri Joseph, Kesrick Williams