Afghanistan only won two of their five matches at the 2018 Asia Cup and were the first team eliminated from the Super Four stage of the competition. However, despite not even reaching the final they were arguably the team of the tournament.
Both of Afghanistan's defeats were in the last over of the match and by very fine margins: three runs against Pakistan and three wickets against Bangladesh and in their final match of the tournament they scrapped to a historic tie against India. Amazingly, they were a thick edge here or there away from winning all three of their Super Four matches and thereby qualifying for the final.
More significant than the margin of their results was the manner of them: in this Asia Cup Afghanistan's performances were built on more than simply their exceptional spin attack which has until now carried them in the 50-over format. Instead, their batsmen, fielders and to a lesser extent their pace bowlers, made significant contributions to their performances. With the World Cup now less than a year away this would be a significant reason for optimism against any teams but to do so against elite ODI teams such as Pakistan and India—who competed in the Champions Trophy final last year—was particularly impressive.
Since the last World Cup Afghanistan have exhibited a very clear strategy: they prefer to bat first and have done so on 26 of the 29 occasions they've won the toss; post a total of around par and defend it with their exceptionally strong spin bowling attack of Rashid Khan, Mujeeb Ur Rahman and Mohammad Nabi. In the Asia Cup, they didn't divert from this trusted method but they refined and strengthened it.
Afghanistan's batting order is clearly structured with Mohammad Shahzad as their aggressive top order hitter alongside no fewer than four anchor-style batsmen in Ihsanullah Janat, Rahmat Shah, Hashmatullah Shahidi and Asghar Afghan before the lower order hitters such as Mohammad Nabi, Najibullah Zadran, Gulbadin Naib and Rashid Khan come in and accelerate in the death overs. In this Asia Cup, they executed this strategy near-perfectly, scrapping their way to platforms after 40 overs and kicking on to challenging totals in the last 10 overs.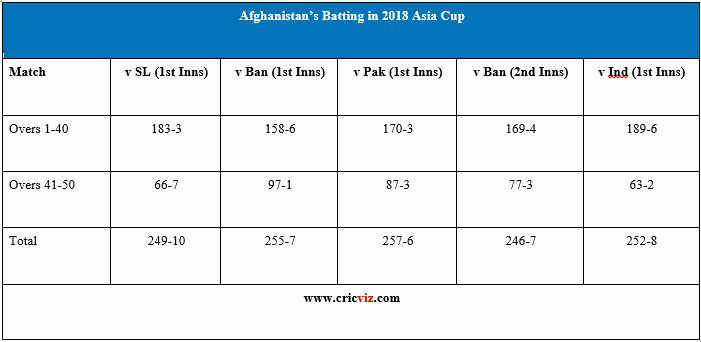 All four of Ihsanullah, Shah, Shahid and Afghan made at least one fifty across the five matches and although Ihsanullah and Afghan finished with disappointing tournament statistics; as a unit of four they did their job, maintaining a stabilising dismissal rate of 45.1 whilst scoring at 4.46 runs per over—giving them a 40 over total of 178—and that's without accounting for Shahzad who made four bright starts before memorably converting against India. At the death, Nabi and Rashid were consistently excellent—maintaining run rates of 6.43 and 8.55 respectively but Naib and Najibullah also made useful contributions.
CricViz ball-tracking analysis shows that Afghanistan didn't face easy bowling either - only Hong Kong's batsmen faced a higher average wicket probability than Afghanistan in this tournament. Yet despite the quality of the bowling, only India played a lower proportion of false shots. The combination of these two metrics shows Afghanistan maintained control despite facing excellent bowling and this suggests both skill and confidence in their strategy.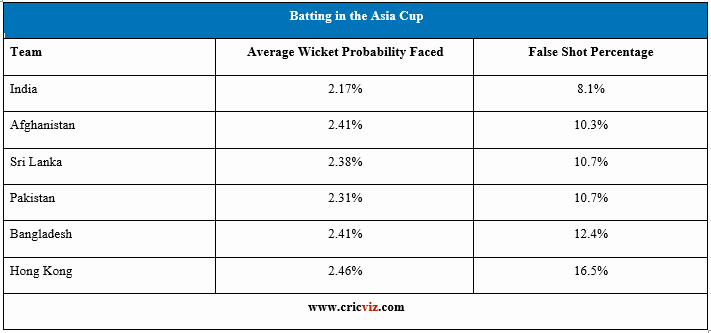 Admittedly in better batting conditions in next year's World Cup—where 300 rather than 250 is par—this anchor-heavy, platform-laying strategy is unlikely to suffice, but in this Asia Cup it was perfect.
It wasn't only the batting though. According to CricViz's unique fielding metric Afghanistan's fielding saved them an average of 11.08 runs per match across the tournament - the highest fielding impact of any team. This not insignificant number was predicated on the highest catch success in the tournament of 89% and the second-highest run out success of 88%. In their thrilling tie with India two run outs in the last fiveovers—one from a direct hit—swung the match back in their favour.
Afghanistan have long been known as an outstanding spin bowling unit; if they can start squeezing teams with their fielding the challenge they pose to opponents is going to become significantly more difficult.
The pace bowling also showed signs of improvement. Across the series, their numbers weren't brilliant but both Aftab Alam and Naib made important contributions by taking timely wickets and keeping a lid on the run rate. Given the brilliance of the spinners Afghanistan's quicks are always going to be targeted and are likely to be more expensive; the pace bowlers, therefore, have the task of keeping a lid on the scoring rate and an economy rate of 5.66 across the tournament suggests they managed that well.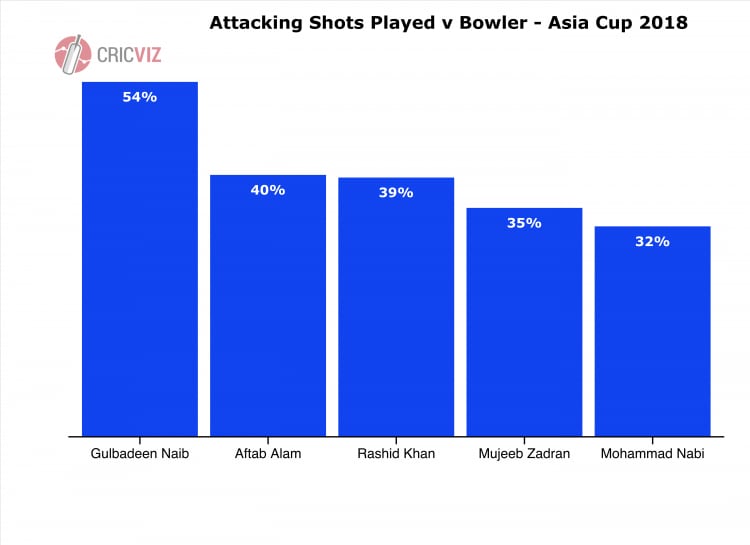 Of course, the slow, low pitches in the Asia Cup are likely to be very different to the flat pitches expected in England next year which will certainly suit Afghanistan's batting and bowling strategy far less. But with under a year until the start of the World Cup, the 2018 Asia Cup showcased an evolution to Afghanistan's cricket that represents a significant step in their development.
For the first time in Afghanistan's ODI history, their strategy consistently worked as it was intended to against full member nations. At the very worst that gives them something to work with before the World Cup; at best—and this might happen on slower, lower pitches towards the backend of the tournament—it gives them a strategy to challenge the world's top teams regularly on the biggest stage.
(Freddie Wilde is an analyst at the cricket data analytics company CricViz. He tweets @fwildecricket)