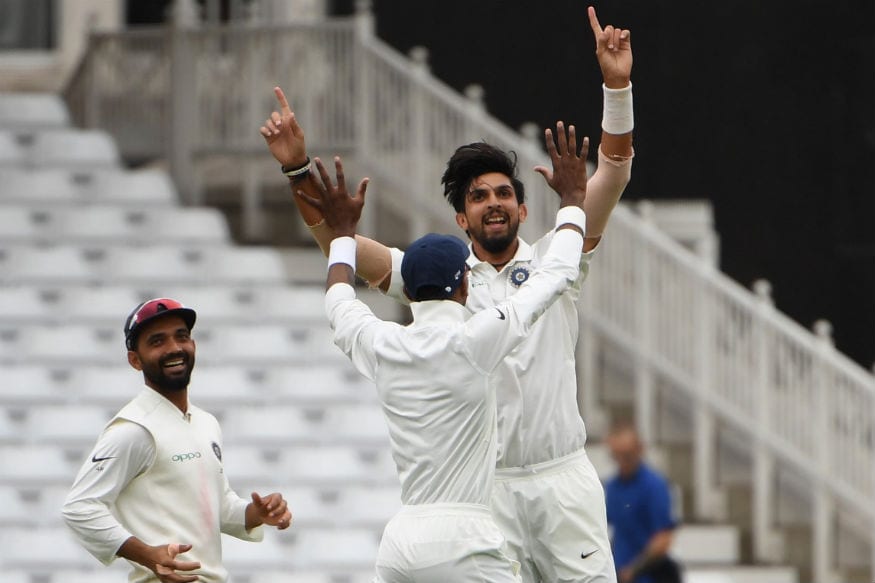 Two away series played and two series defeats. While India have failed in their quest to win landmark series away from home in South Africa and in England in 2018, they have improved significantly over the course of the seven Tests.
Perhaps, most importantly, they are now not only surviving but thriving in what have been exceptionally unfamiliar conditions. This Indian team may not be winning series away from home but they are getting a lot closer.
Historically bowling and playing pace bowling has been India's weakness when playing outside Asia where conditions assist big lateral movement in the air and off the pitch, and a high proportion of overs are delivered by pace bowlers.
In very difficult conditions India's batting against pace has got steadily better but more comprehensive has been the manner in which India's pace bowlers have been consistently effective.
Admittedly, conditions both in South Africa and England have been ideal for swing and seam bowling, but India have exploited them with hitherto unprecedented regularity.
Their pace attack has been impressing in Indian conditions for a number of years which has resulted in improving bowling averages but the translation of their skills to foreign conditions is hugely encouraging. India's pace bowling average in 2018 of 23.25 is their lowest in any calendar year when they've played more than five Tests. For perhaps the first time in their Test history India have a pace bowling attack to be genuinely feared.
India's bowling average of 26.46 in this series against England is only slightly higher than England's 23.54. Given England's pedigree in these conditions and the strength of their attack which includes two of the greatest fast bowlers of the modern age in James Anderson & Stuart Broad, India's performance is impressive.
Analysis of ball-tracking data shows how well India competed — and in some areas eclipsed England — from a technical perspective. India found less swing and seam movement than England but they bowled faster and more accurately than the home team, and as a result forced the batsmen to play more often and draw more false shots.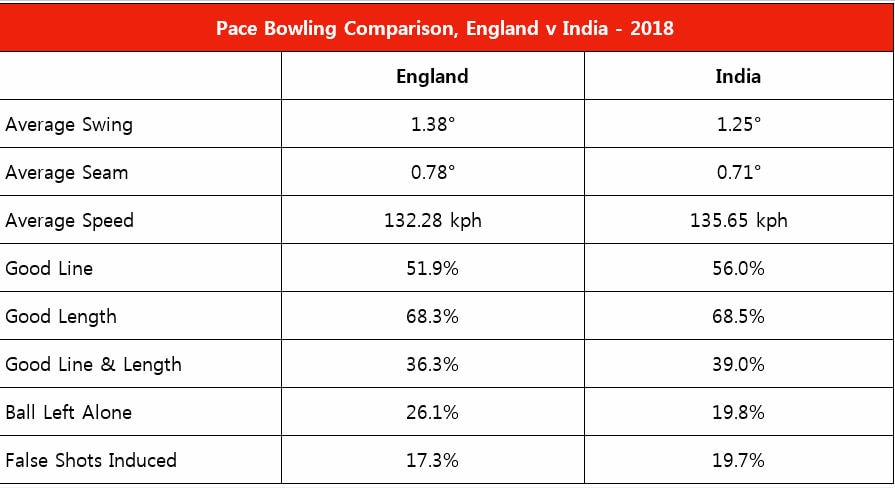 India achieved these impressive numbers despite missing one of their premier bowlers and the man most suited to English conditions: Bhuvneshwar Kumar. Kumar is India's most prolific swing bowler: his average swing of 1.24° is higher than any of his colleagues in India's squad. However, even without him India's three frontline quicks have displayed exciting and impressive variety.
Ishant Sharma has bowled the fullest average length 6.67 metres from the stumps and moved the ball the most, both in the air and off the pitch. He has been particularly lethal to left-handers averaging just 19.50 against them by getting the ball to swing away 57% of the time from round the wicket.
Jasprit Bumrah has also bowled full and moved the ball particularly off the seam and his angle of release to right-handers delivering 98% of deliveries wide of the crease, which has forced them to play at deliveries they might otherwise have left, has caused particular problems. Against right-handers in this series he has averaged 16.83.
Mohammad Shami does not bowl as many magic balls as Sharma and Bumrah and has not yet bowled a truly devastating spell in the series but he is arguably the star of the attack. 19% of his deliveries have been faster than 140 kph and his average speed of 137.49 kph is the fastest of the three.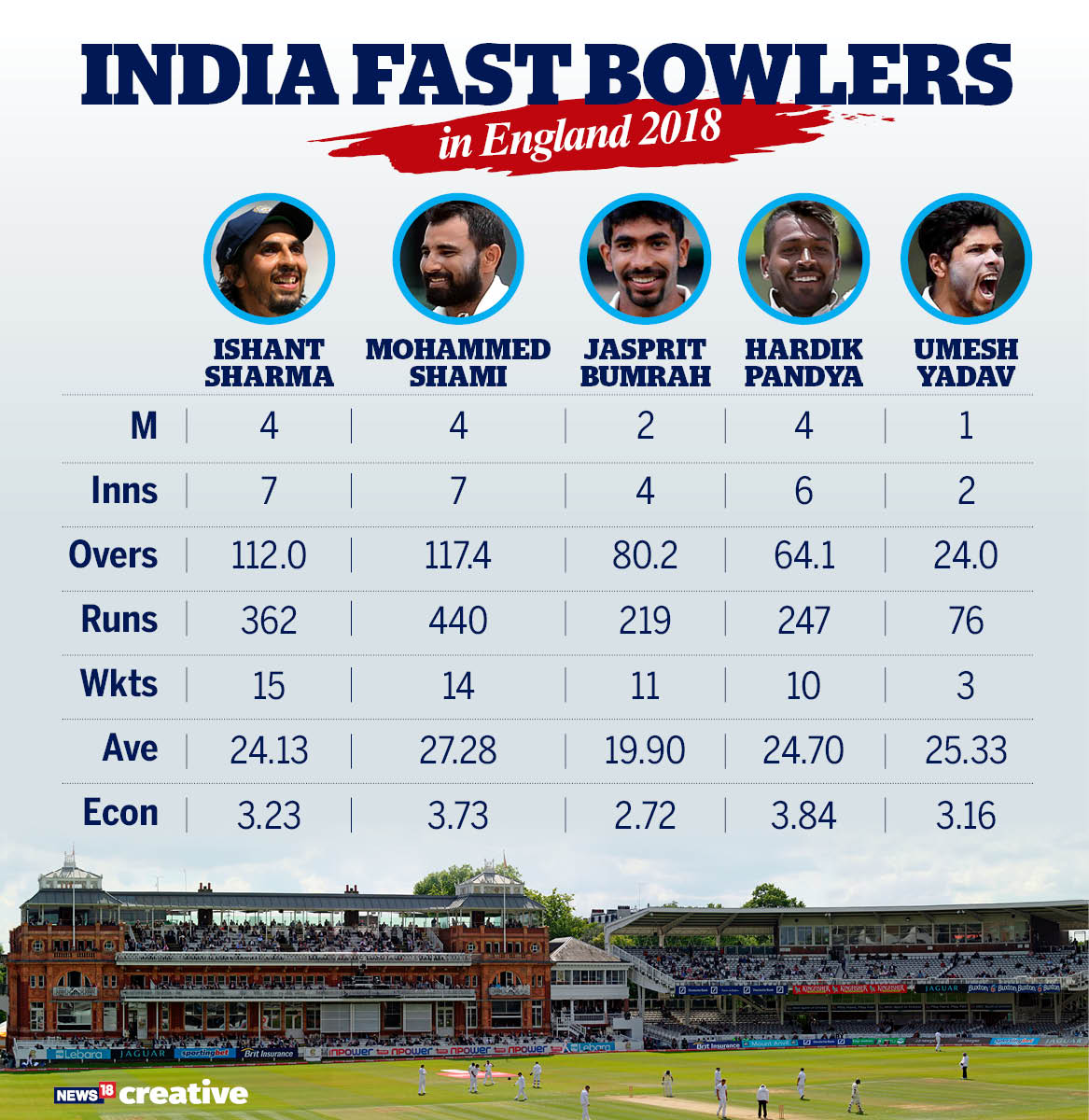 Not only has he bowled fast but he has been accurate as well - his 42% of deliveries on a good line and length is the most of any Indian pace bowler in the series. Additionally, he has got the ball to swing and seam in both directions. Appropriately for a bowler who has high pace, accuracy and movement, the 21.9% false shots drawn by Shami is the highest for any Indian bowler in the series.
Performing well in South Africa and England represents significant progress for India but their greatest challenge is yet to come. The conditions in South Africa and England, with overcast skies, green pitches and in England the Dukes ball, provide more assistance to pace bowlers than India can expect in Australia later this year where dry heat, flat pitches and the Kookaburra ball make for a particularly unique challenge. Indian pace bowlers have historically struggled in Australia, averaging above 40 in Tests there.
Pace bowling in Australia is unforgiving. The pitches are flatter which gives smaller room for error in line and length and provides far less assistance for seam bowlers. The Kookaburra ball swings less and for a shorter period of time than the Dukes ball and hard outfields scuff it up faster. Opening bowlers are under pressure to capitalise on the brief period of time when the ball does move and after that point at the very least require control and ideally command a mastery of reverse swing and can bowl at high pace.
India have cause for optimism. Ball-tracking data suggests this Indian attack has the tools to succeed in Australia as well. Most significantly since the start of 2016 no team has found more old ball swing which is most probably, but not certainly, reverse swing than India's 1.05°. The only attack to bowl faster than India since the start of 2016 is Australia themselves.
Of course, having the requisite skills is only part of the challenge. India's fast bowlers need to stay fit and in form, they require support from all-rounder Hardik Pandya, spinner R Ashwin, back-up from Umesh Yadav and perhaps Mohammad Siraj who is in sensational form for India A. On the first morning of the series against South Africa in January, India missed their lengths and by the time they adjusted them the damage had been done. Back then, India could blame naivety but after eight Tests on the road they'll have no such excuses in Adelaide later this year.
(Freddie Wilde is an analyst at the cricket data analytics company CricViz. He tweets @fwildecricket)