Chris Gayle has been in a formidable form this season, managing to score at an average of 77.50, his best in any season of the IPL. He has managed 25 sixes this season, only MS Dhoni has hit more sixes this season (27). But things don't look that good when it comes to the Universe Boss and his tryst with Rajasthan Royals in the cash-rich league.

He has failed to cross the 20-run mark just once this season, which came in the last game against the Rajasthan Royals. He has struggled historically against Rajasthan Royals as well, managing just 290 runs in 12 innings. In fact, his 290 runs in 12 innings against Rajasthan Royals is his lowest tally of runs against any side with whom he has played a minimum of 10+ innings. His average of 29.00 against Rajasthan Royals is also his worst against any side (Min 5 innings). He hasn't been able to score freely against the Royals as well. He has an SR of 121.34 against them, his lowest against any IPL opponent.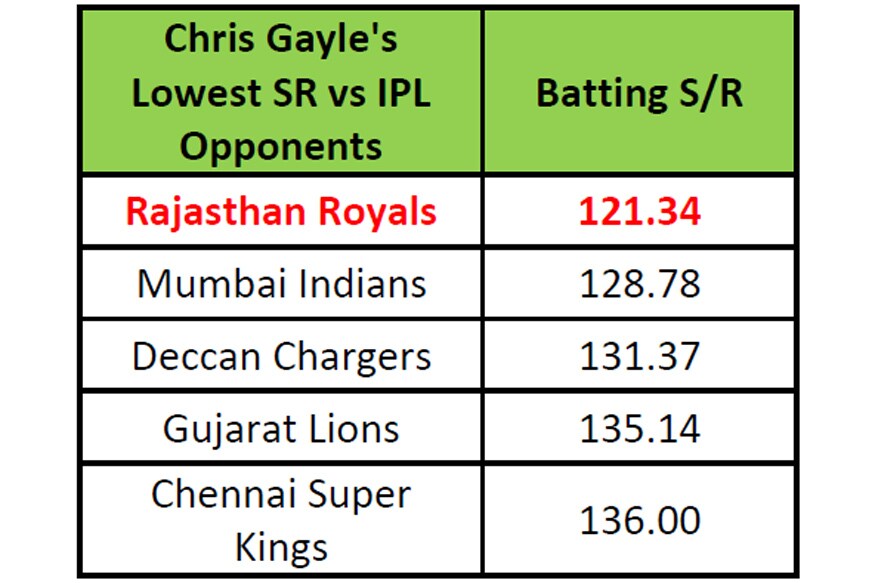 But Gayle has been in splendid form this season and teammate Aaron Finch feels that he has shown why he is the best in the T20 format. "Gayle is one of the best T20 players and Rahul has also played like one of the best. Gayle is playing injury-free and enjoying the game and that is important. They are playing beautifully and I would love the opportunity to bat at the top, but I think these guys are doing really well," he said.

Coach Brad Hodge also feels that Gayle has been at his best this season. "To be honest, picking Gayle was a decision we made during the course of the action. When you have someone of his experience available, you don't really think twice. And he has justified our faith and shown why he is the Universe Boss. He has been brilliant for us and accepted the challenge that lay in front of him with both hand. It is this attitude that separates legends from the others. He will only get better as the tournament progresses," he revealed.

KXIP are currently seated third on the points table with 6 wins in 9 games. But they have lost 9 of the 16 games that they have played in the IPL and would definitely look to change that.


IPL 2018 POINTS TABLE
| Team | Mat | Won | Lost | Tied | NR | Pts | NRR |
| --- | --- | --- | --- | --- | --- | --- | --- |
| SRH | 14 | 9 | 5 | 0 | 0 | 18 | +0.284 |
| CSK | 14 | 9 | 5 | 0 | 0 | 18 | +0.253 |
| KKR | 14 | 8 | 6 | 0 | 0 | 16 | -0.070 |
| RR | 14 | 7 | 7 | 0 | 0 | 14 | -0.250 |
| MI | 14 | 6 | 8 | 0 | 0 | 12 | +0.317 |
| RCB | 14 | 6 | 8 | 0 | 0 | 12 | +0.129 |
| KXIP | 14 | 6 | 8 | 0 | 0 | 12 | -0.502 |
| DD | 14 | 5 | 9 | 0 | 0 | 10 | -0.222 |
First Published: May 8, 2018, 12:34 PM IST